London 2012: 5 Questions We Want Answered When US Faces China in Women's Soccer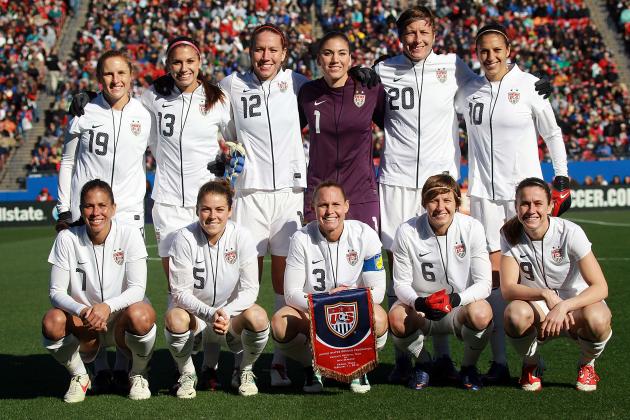 Ronald Martinez/Getty Images

The United States Women's Soccer team has a busy summer ahead of them preparing for the London Olympics, and it starts this Sunday against China.
Hope Solo, Abby Wambach, Alex Morgan and the No. 1 ranked USA will take on No. 18 ranked China at PPL Park in Philadelphia Sunday evening. The USWNT has been on a good run ever since last summer's World Cup, losing just once since the final, 0-1 to their new nemesis Japan in April.
With just under two months to go before the girls begin Olympics group play, Pia Sundhage and Co. still have some questions to be answered.
What do we need to learn about the USWNT this Sunday against China? Read on to find out.
Begin Slideshow

»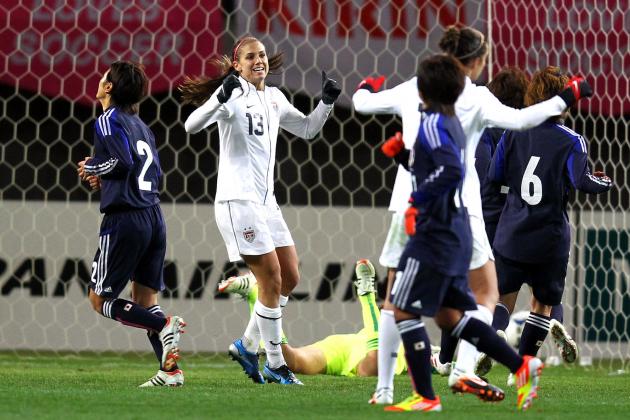 Koji Watanabe/Getty Images

The USWNT has a big problem when it comes to its striking options. A great, big problem, that is.
Alex Morgan, Lauren Cheney, Amy Rodriguez, newbie Sydney Leroux and, of course, Abby Wambach have all seen plenty of action in 2012, and they've each taken advantage of their opportunities.
Morgan can't stop scoring, Wambach is still going strong, and Leroux has had everyone talking since her five-goal performance against Guatemala during qualifying earlier this year.
Cheney and Rodriguez haven't been lighting up the scoreboard as much as the others, but they're doing their part from a supporting role these days.
So, like I said, Pia Sundhage has a big problem on her hands, but it's one every coach wants.
Wambach and Morgan are clearly the leaders of the pack and are sure bets to be starters during the Olympics, despite them having contrasting styles. Leroux's recent exploits may still not be enough to earn her a spot over Cheney or Rodriguez, who may have to play as midfielders to get some action.
Since Sunday's match is just a friendly, it would be great for all of these players to get on the pitch for some amount of time.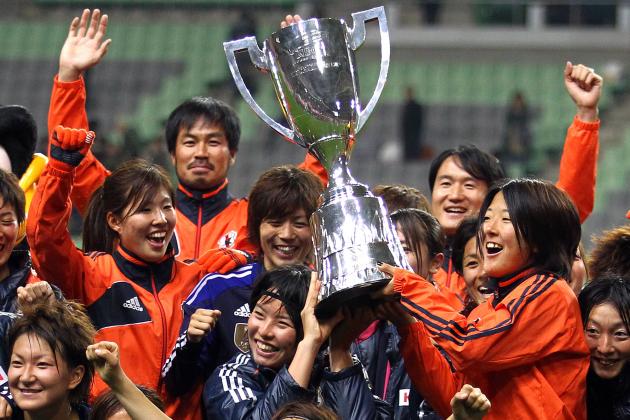 Koji Watanabe/Getty Images

Team USA is a loaded, offensive powerhouse. Almost every player has a quick pace and good control, and everyone but the goalkeeper comes forward rather often.
Lots of teams sit back against the US—and teams built like it—soak up the pressure and hope for one or two chances to steal a winner.
This is essentially how Japan has played in the last year, and they've seen good results because of it. This will most likely be China's game plan on Sunday, and you can bet Colombia and North Korea will display something similar in a couple months.
This team isn't build to grind out wins against lesser teams, and we can't get frustrated by negative tactics. The USWNT is particularly quick on the wings with Heather O'Reilly and super-sub Megan Rapinoe, and it'll be up to the wide players to unlock defenses.
A fast start is always the key to games like this. An early goal would do wonders for the US on Sunday evening. Which brings me to my next question...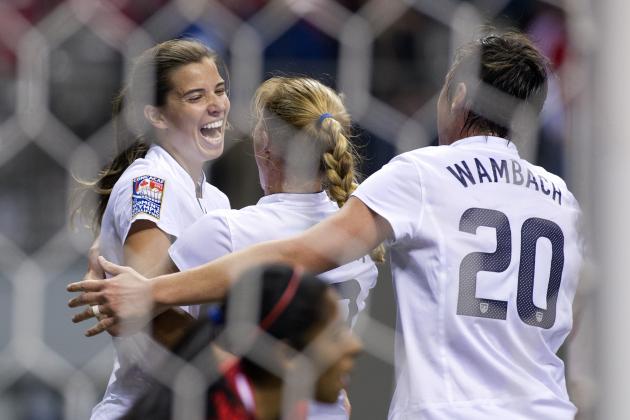 Rich Lam/Getty Images

The first step is getting past the stifling defense; next you've got to actually put the ball in the net.
While the Domincan Republic and Guatemala (ranked 93 and 81 respectively) aren't the most impressive opponents, the fact that the USWNT put up a combined 27 goals against them, and allowed none, earlier this year is a great sign no matter how you look at it.
The USWNT is the best in the world all over the pitch, but they've been known to waste too many chances in front of goal (see, World Cup final 2011).
Even though it was against vastly inferior opponents, seeing the ball hit the back of the net that many times had to feel good, and Alex Morgan and Co. haven't slowed down a whole lot since.
They've scored three or more goals in eight of 12 games in 2012, and it's not just the forwards getting it done either.
Carli Llyod, Shannon Boxx, Heather O'Reilly and Tobin Heath are all helping out from midfield.
If this team can fix their scoring woes, they will really light it up this summer in London.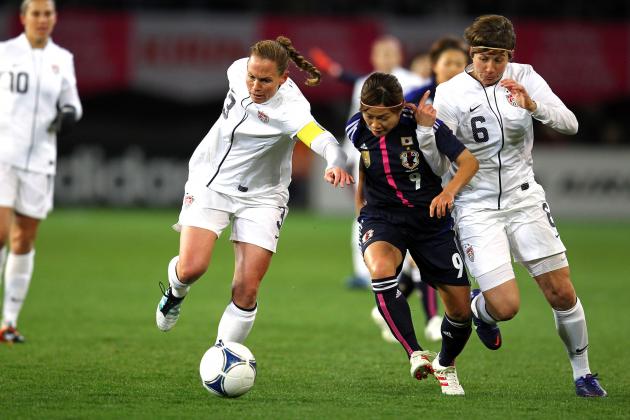 Koji Watanabe/Getty Images

Pia Sundhage has been a fan of the typical 4-4-2 lately, but with the speed the USWNT possesses all over the pitch, Sunday may be great time to change things up a bit. Especially up front.
With the scoring streaks Alex Morgan, Abby Wambach and the young Sydney Leroux have been on lately, it would be great to see the three of them starting together up front against China.
If not Leroux, why not put Lauren Cheney or Amy Rodriguez in her place?
The US will need to score and score plenty this summer, so three up front makes a lot of sense.
What doesn't make sense is to leave attackers on the bench in favor of defensive-minded midfielders against a team like Japan (who the US could meet in the final again).
Whatever our best formation is, it's one with plenty of attack-minded players on the pitch, including the defenders.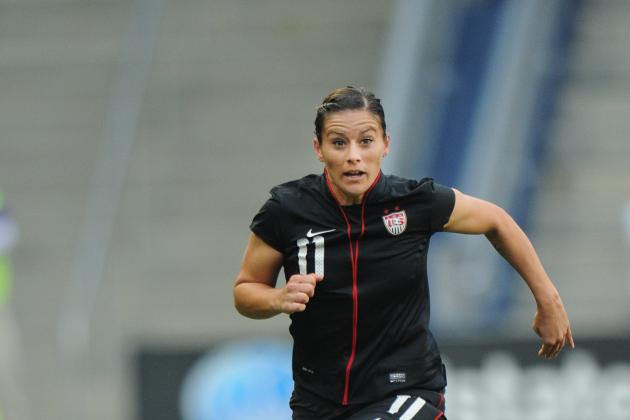 Peter Aiken/Getty Images

When Ali Krieger went down earlier this year with a torn ACL and MCL, it looked like very bad news for the USWNT's Olympic hopes. Fast-forward to now and Krieger is ahead in her rehab and should be back to full fitness about a month before the Games begin.
But will she have a spot waiting for her?
The right-back position has switched feet over recent months between Amy LePeilbet, Kelley O'Hara (very attack-minded), Stephanie Cox and veteran Heather Mitts. Considering the side has only allowed four goals in 2012 since Krieger went down, you'd have to say she hasn't been missed too much.
But she will be in London against teams like France, Japan, Canada or Great Britain.
Krieger has owned the right-back spot in recent years, and she balances attack with defense wonderfully. She can turn on the speed at a moment's notice, provides good cover for Heather O'Reilly to move farther inward at times and can deliver a killer cross.
The problem is she won't have much match fitness when the Olympics begin, so Pia Sundhage needs to prepare for life without her.