Landon Donovan Needs a Career Rejuvenation Only England Can Provide
May 24, 2012

Victor Decolongon/Getty Images
American soccer fans, can we please pool our money together to buy out the last few years of Landon Donovan's contract with the L.A. Galaxy so we can send him back to Everton and the EPL where he clearly needs to go? This would not just be for his own good, but for the good of American soccer. Let's do it for the good of the country.
Donovan is too talented and, yes, still too young to give up on his career. Yet if you read between his lines to a group of assembled media in Florida for this weekend's U.S. national team friendly against Scotland, you'd think America's most recognizable soccer commodity is ready to hang up the cleats for good.
Q: How have you changed in these last two years?

Donovan: Candidly, the last few years—last year included, even though we won the championship (in L.A.)—there's more of a reality that I'm not going to be able to do this forever. I'm not going to want to do this forever. I know that I have many better things and greater things to do in my life still.

There's a natural point where it's not as fun anymore, not as enjoyable, and you still try to find ways to keep it enjoyable. I used to think maybe if I'm still fit I can play a long time. I think from a mental standpoint now I'm realizing if I'm not enjoying it I'm not going to play. I still enjoy it to a large extent, but I've always promised myself that if that ever goes away I'm not going to play just to play.
Please read the entire conversation and try not to bang your head into a wall. He sounds like a guy trapped in a loveless marriage, just waiting until the kids go off to college so he can finally get a divorce.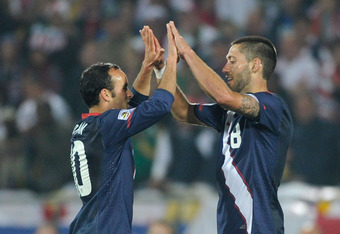 Kevork Djansezian/Getty Images
Donovan has been America's most talented field player for the better part of a decade. Clint Dempsey has probably passed Donovan for that honor this season—a discussion Donovan wants no part of either way—but Donovan is still on the short list of the greatest Americans to ever play the sport.
Moreover, Donovan's involvement in the future of American soccer is vital, but based on his quotes, he doesn't even know how much longer he plans to be around the sport at all. He even said (in the same interview), "I'm actually excited for the day when I can kind of step away from it and really just be a normal person again." 
No. Not yet. He is too important to this generation to be a normal person again (When was the last time Landon Donovan was a normal person, anyway? When he was 16?).
The ironic answer to the problem of trying to reinvigorate one of America's best players is to get him the heck out of America as fast as possible.
Reading his interview, it's clear Donovan feels he has done all he can do in MLS and laments the shackles of a contract that will have him stuck in Los Angeles until his mid-30s (his own doing, by the way). 
When his MLS deal expires, there is no way Donovan will have the skills, stamina or desire to start a full-fledged EPL run. But now? He knows he can do it now.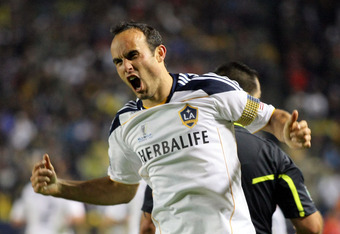 Victor Decolongon/Getty Images
Donovan was a key member of Everton's first team during his loan spell this winter. He knows he has the skills to compete at the top tier of the top league in the world. In two years, when he wants to "re-evaluate" his career, it will certainly be too late.
 Now is the time. Now. Now. Now.
Well, not now, as the EPL season just ended. But in August when the new season begins, the Galaxy should have a better handle on how their own miserable season is going.
Through 12 games, it can't get much worse for L.A. The Galaxy are in last place in the Western Conference, just one season removed from winning the Supporters Shield and MLS Cup with almost the same team. If this season continues the way it has, it may not be a terrible idea for the Galaxy to get something in return for Donovan as soon as this season.
Should this year have a turn in fortune for the defending champs, the Galaxy still know Donovan is going to walk away at the end of his deal. We just have to hope he isn't walking away from the sport altogether. 
To ensure that—to make certain he doesn't completely lose the fire that has made him one of the best players in this country for years—it might benefit everyone if Donovan were shipped out to the familiar confines of Goodison Park in August.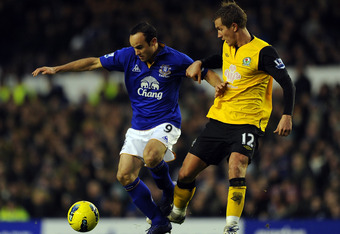 Chris Brunskill/Getty Images
Now, look. I know the Galaxy would be crazy to sell Donovan in the middle of the MLS season, especially the way the playoffs are structured in America. Selling Donovan in January would make a lot more sense. 
Donovan can play out the remainder of this season with MLS and reinvigorate his career with a mid-season transfer to the team he's played for twice on loan. Heck, if for some reason Everton can't afford the transfer fee MLS and the Galaxy will surely demand for Donovan, he would likely garner interest from one of the richer EPL teams in the table. Someone will want him.
It just makes too much sense. He sounds like he's on a retirement tour already and with the World Cup still two years away, it would be incredible to see the United States prepare for Brazil without Donovan in top form on the field.
Let's be smart about this, powers that be. Help the guy get his soccer mojo back by sending him back to England for good this time. He clearly needs it.