April 22, 2016
Phil Steele has made a name for himself in college football circles as the publisher of the nation's premier preseason college football magazine. Steele released his preseason All-SEC team on Wednesday, and we already pointed out a couple of spots where he missed the mark.
Steele released his All-American team on Thursday. It should come as no surprise that the SEC's top two teams litter the list.
Eight Alabama players made the list, including three Alabama offensive linemen on the first-team offense—offensive tackle D.J. Fluker, offensive guard Chance Warmack and center Barrett Jones.
Defensive tackle Jesse Williams and linebacker C.J. Mosley made the second team. Linebacker Nico Johnson, cornerback Dee Milliner and safety Robert Lester made the third team.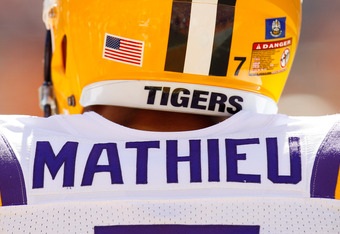 LSU cornerback Tyrann Mathieu
Kevin C. Cox/Getty Images
LSU cornerback Tyrann Mathieu's name appears on the first team twice, as a cornerback and as a punt returner. Punter Brad Wing, safety Eric Reid and defensive end Sam Montgomery made Steele's second team. Offensive tackle Alex Hurst made the third team roster, while fellow offensive tackle Chris Faulk was named to Steele's fourth team
Nine SEC players received first-team honors from Steele, which is 32 percent of the first team. If the six straight national titles doesn't impress you, that stat should.
But who are some of the players on Steele's list that could move up by season's end?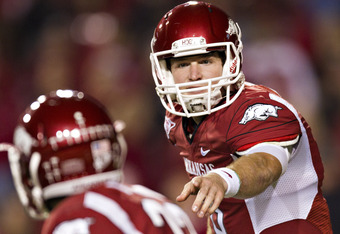 Arkansas quarterback Tyler Wilson
Wesley Hitt/Getty Images
Arkansas running back Knile Davis was named to the second team, and quarterback Tyler Wilson was named to the third team. It wouldn't surprise me at all if either one (or both) of those players find their way to New York this December for the Heisman Trophy presentation.
Alabama safety Robert Lester has, at least to some extent, played in the shadow of Mark Barron and the rest of that Alabama All-Star roster the last few years. If there's one Alabama player that can go flying up the list, it's Lester, who was listed on the third team.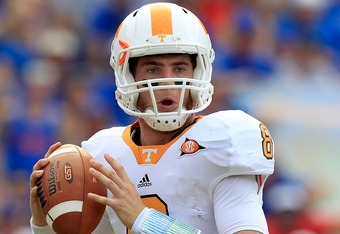 Tennessee quarterback Tyler Bray
Sam Greenwood/Getty Images
Tennessee quarterback Tyler Bray seems to have gotten lost in the preseason discussion. He wasn't listed on any of Steele's four All-SEC teams, probably due to the fact that he hasn't played a full season yet.
Other than Wilson, Bray probably has the most NFL potential of any SEC quarterback. With Da'Rick Rogers and a healthy Justin Hunter outside, Bray not only could earn All-SEC honors, he could find his way on to Steele's postseason All-American team.
Like the new article format? Send us feedback!