Texas Football: 5 Strongest Assets for 2012 Season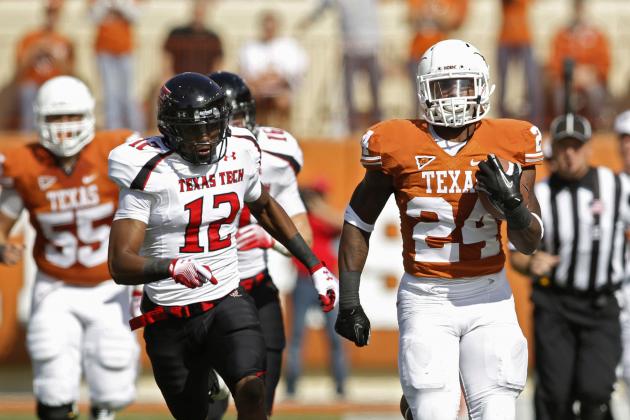 Erich Schlegel/Getty Images

A season after finishing 5-7 and missing a bowl for the first time in 13 years, the Longhorns were able to rebound in 2011 behind a significant culture change.
Now, with the new systems of coordinators Bryan Harsin and Manny Diaz firmly in place, the Longhorns are looking to build on the success of last year's 8-5 season and re-establish themselves as the class of the Big 12.
Though quarterback is still a point of concern for the team and fans alike, 2012's version of the Longhorns has plenty to be smiling about heading into the summer.
Without further ado, let's have a look at the team's five strongest assets for the upcoming season.
Begin Slideshow

»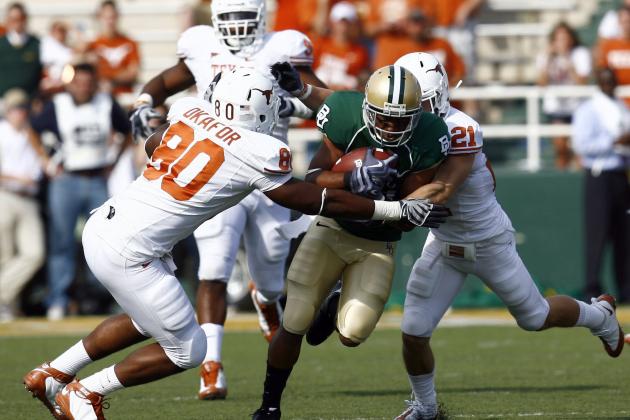 Tom Pennington/Getty Images

On the whole, the Longhorns defense is going to be stellar this season as they return six starters for a unit that finished ninth nationally in Football Outsiders' defensive efficiency numbers (second in the conference).
And the defensive line is going to be where it all starts.
Spear-headed by defensive ends Jackson Jeffcoat and Alex Okafor, defensive coordinator Manny Diaz's two-deep defensive line is going to wreak havoc this season.
According to Todd McShay's early 2013 mock draft, Jeffcoat and Okafor are first-round talents, going No. 3 and No. 25 respectively, which means these two figure to be among the most-feared pass-rushing duos in the country.
While the interior line is less formidable after the departures of Kheeston Randall and Calvin Howell, the team does have some experience with Ashton Dorsey, Desmond Jackson and Chris Whaley. While these three may not fill up the stat sheet quite like Jeffcoat or Okafor, they will do their job, and they will be receiving plenty of backup.
In his effort to go two-deep on the line, Manny Diaz has brought in plenty of talented freshmen, such as four-star DT Malcom Brown, as well as junior college transfer Brandon Moore, who are both expected to see action immediately.
Thanks this past year's top-five recruiting class and plenty of returning talent, Diaz hopes to go as many as 10 deep along the defensive line in order to keep fresh legs on the field and wear opposing offensive lines.
This combination of NFL talent and depth will undoubtedly give Big 12 quarterbacks and offensive coordinators plenty of headaches next season, as well as take pressure off of their own quarterback and offensive coordinator.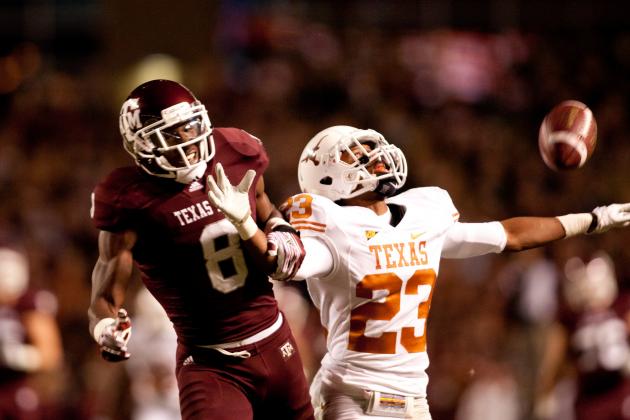 Darren Carroll/Getty Images

The Big 12 is a passing conference, and the Longhorns are more than happy to deal with that this season.
Returning three out of four starters from last year's conference-leading unit, Duane Akina's secondary will once again be among the best in the country. First-team All-Big 12 safety Kenny Vaccaro is the ring leader for this group and figures to be among the best in the country at his position.
Opposite the senior Vaccaro is junior Adrian Phillips, who replaces four-year starter Blake Gideon. Phillips may not have started last season, but he was a regular on the field for the Horns and had a career game in the Holiday Bowl against Cal in which he had a tackle-for-loss, a sack and a forced fumble.
On the outside, the duo of sophomore Quandre Diggs and junior Carrington Byndom will also be among the best in the country.
In his freshman season, Diggs tied a Texas freshman record with four interceptions en route to being named the Big 12 Defensive Freshman of the Year.
But opponents would not be wise to avoid Diggs and throw at Byndom, who had a career game in the Thanksgiving classic against A&M in which he battled it out with Jeff Fuller, the Aggie's best receiver, and had a game-changing interception return for a touchdown.
If the defense can generate a perfect storm in which Byndom and Diggs can man up on the outside, Vaccaro and Phillips can roam where needed, and the line can generate a consistent pass rush, this could be the best Texas D we have seen in a good while.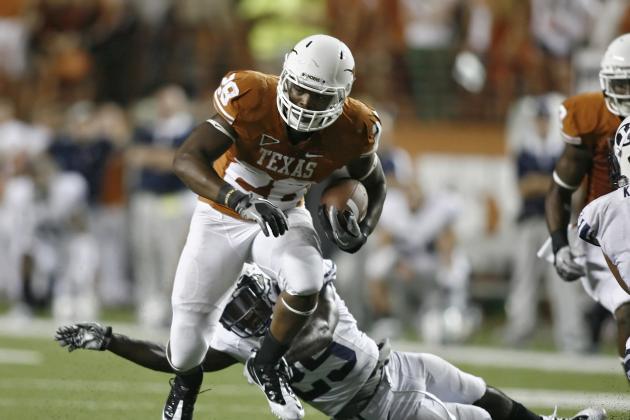 Erich Schlegel/Getty Images

With the passing game not expected to be awe-inspiring for the third year in a row, a heavy burden will be placed on the running backs. Last year's top-25 rushing attack and the addition of a high school national player of the year should have no problem shouldering the load.
Though they were depleted after losing senior Fozzy Whittaker to an ACL tear, last year's running back group was one of the team's bright spots behind freshmen Malcolm Brown and Joe Bergeron. At their best the two were almost unstoppable, combining for 255 yards and four TDs in last year's win against Kansas.
Though Bergeron and Brown enjoyed great freshman seasons for the Horns, they too were bit by the injury bug, and their absence caused the offense to lag greatly.
Insert, Johnathan Gray.
Gray comes to Texas with so many national accolades and records that he seems almost too good to be true. He led his high school to three straight state titles, was twice named Mr. Football USA and Gatorade National Player of the Year, set a national record with 205 career TDs and amassed over 10,000 yards in his high school career.
When it's all said and done, many expect Gray to join the Mt. Rushmore of former Texas running backs Earl Campbell, Ricky Williams and Cedric Benson.
Too lofty? Maybe. See for yourself (via YouTube).
And it doesn't stop there. Senior all-purpose player D.J. Monroe, who is probably the fastest guy on the team, will take snaps from the running back position as a change of pace.
And should one of the bigger names fall to injury, senior Jeremy Hills played out of his mind in the spring game and looks more than ready to prove his worth on the field.
The three-headed monster of Brown, Bergeron and Gray will garner most of the attention this season, but up and down, this is one of the most seriously talented groups in the country.
Combine this with the fact that Texas plays eight teams whose rush defenses ranked in the bottom 40 last year in yards per game, and this group will be must-see on TV all year.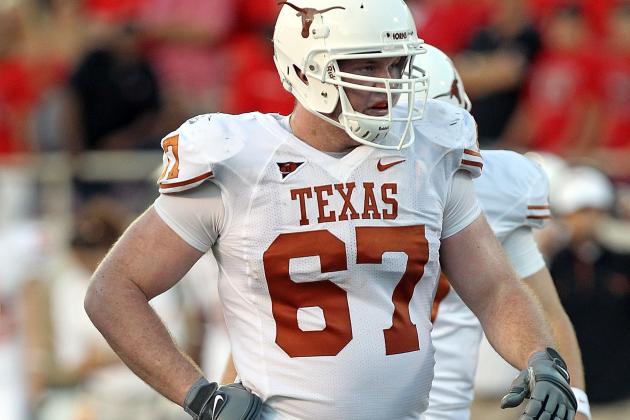 Ronald Martinez/Getty Images

With a quarterback that needs all the help he can get and an offense that is expected to lean heavily on the running game, the pressure is on this season for the offensive line. After another offseason with new coach Stacy Searels, they expect to be up to the task.
Last season, the Longhorn line struggled to impose its will on the better teams they faced, though still performing well enough for the team to have a top-25 rushing attack.
This season, on the strength of four returning starters and the further development with Searels, this group hopes to vault the rushing attack to top-10 ground.
Of the returning starters, the biggest (literally) is 6'6" junior guard Mason Walters, who received second team All-Big 12 honors last season.
Alongside the NFL prospect Walters, are returning center Dominic Espinosa and tackle Joe Cochran, who are both in their first full offseason with Searels—as Espinosa was injured last spring and Cochran was a true freshman. Guard Trey Hopkins, who moves from his tackle spot, rounds out the list of returnees along the line.
Filling the final starting spot along the line is massive JUCO transfer Donald Hawkins, who will likely protect David Ash's blindside from the left tackle position. The 6'5", 320 lb Hawkins was among this past year's most highly coveted junior college transfers and has been described as having NFL-type talent.
More so than anything, the Longhorns and coach Searels go from having zero depth along the line to being almost three deep, and there's competition with backup Sedrick Flowers fighting tooth-and-nail for a starting spot.
By adding necessary size and depth to this experienced line, the Longhorns have given their run-first offense the necessary foundation of big uglies it needs to succeed this season.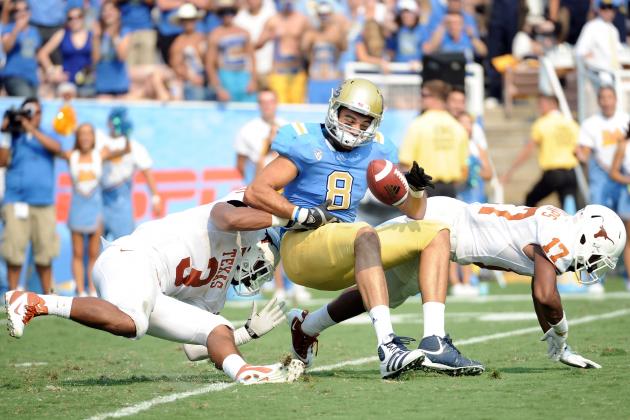 Harry How/Getty Images

Replacing stalwarts Keenan Robinson and Emmanuel Acho will be no easy task, but this linebacking corps is nothing to scoff at on this team.
At strongside linebacker, junior Jordan Hicks is the returning starter and is expected to have an All-Big 12-type year for Manny Diaz's defense.
However, do not fall asleep on big sophomore MLB Steve Edmond, who is surprisingly fast considering his 260 lb frame. According to the coaches, Edmond benefited greatly from spending last season behind Keenan Robinson and his teammates are impressed at his ability to run the defense from the middle linebacker spot.
Rounding out the group is junior Demarco Cobbs, who turned heads at the spring game with his speed and is expected to improve greatly as he accumulates experience at the position throughout the season.
As for the backups to these three, sophomores Kendall Thompson and Tevin Jackson are returning players likely to challenge for playing time, with Thompson possibly being able to start after backing up Acho last season.
Of the incoming freshmen, Dalton Santos will immediately play backup to Steve Edmond at middle linebacker and should see solid playing time this season.
The most interesting of the newcomers is Peter Jinkens, who is so athletic he played running back in high school and ran 40 times comparable to those of Johnathan Gray. He should find a spot on the field for special teams very quickly, and it will be interesting to see how Manny Diaz decides to use his freakish athleticism.
Considering that Diaz is rumored to have over 130 blitz packages in his arsenal and the completeness of this defense, these linebackers will really have an opportunity to shine this season despite their inexperience.