St. Louis Cardinals: 3 Heroes from Redbirds' Sweep of San Diego Padres
May 24, 2012

Dilip Vishwanat/Getty Images
The St. Louis Cardinals earned a much-needed sweep of the San Diego Padres this week after getting swept out of Los Angeles by the Dodgers this past weekend.
The team responded well to adversity, getting contributions from some struggling stars as well as from some lesser players. These players will need to stay hot to keep the Cardinals in first place in the NL Central, but the series against the Padres was a great start.
Let's take a look at three heroes from the Redbirds' sweep.
Adam Wainwright
It was really great to see Waino get back to his 2010 form against the Padres on Tuesday night. He struck out nine Padres in an impressive complete-game shutout, as the Cardinals won 4-0.
If he can build off of this start and keep pitching well, the Cardinals will have their ace back and will have an even stronger starting rotation.
We'll have to see if he can match this effort on Sunday, when he faces Roy Halladay and the Philadelphia Phillies.
Tyler Greene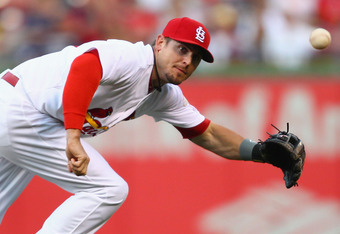 Dilip Vishwanat/Getty Images
As much as I don't want to write this, Tyler Greene actually had the biggest hit of this series.
His go-ahead home run on Monday after the Cardinals had blown a lead was a huge momentum shift that propelled this team to a sweep. If Greene hadn't hit that home run, the Cardinals probably would have lost that game and fallen into an even deeper spiral of losing.
Greene's home run elevated the team and put them in a place where they can now play with more confidence than they've been playing with lately.
Carlos Beltran
Beltran, the National League leader in home runs, had been struggling for much of the past week. That all changed on Wednesday night, when his two-run home run in the bottom of the fifth inning broke a 3-3 tie and proved to be the game-winning hit.
The Cardinals do very well when Beltran is hot, so it's important to get him back to hitting the way he was at the start of the year.
If he, along with David Freese, can stay hot, the Cardinals could put together a pretty solid end to the month of May.