Jerry Jones and His "Window of Opportunity" in Dallas
May 24, 2012

Tom Pennington/Getty Images
Dallas Cowboys owner Jerry Jones talked to NFL Network on Tuesday, May 14 at an owner's meeting in Atlanta about the window of opportunity that his team has to win a Super Bowl.
According to Jones, that window is coming to a close. Due to the aging of players at key positions, Jones believes that the franchise needs to strike soon in order to bring home another Lombardi Trophy.
At 69, Jones also mentioned that his time is running out and expressed how much he would like his Cowboys to deliver another world championship during his lifetime.
With five Super Bowl titles, the Cowboys trail only the Steelers, who have six, for all-time Super Bowl victories. However, the 'Boys haven't won the big one since 1995, when the Troy Aikman/Emmitt Smith/Michael Irvin dynasty was in full swing.
In the 16 seasons since that Super Bowl victory, Dallas has made the playoffs less than half of those seasons and compiled a 2-7 postseason record. In the past 15 years, the Cowboys have gone from "America's Team" to America's most disappointing team.
In 2006, quarterback Tony Romo became the full-time starter in Dallas. He's since put up Hall of Fame-caliber statistics and has been the first reliable quarterback the franchise has had to work with since Aikman's departure.
But despite looking like an All-Pro on paper, Romo simply has not gotten the job done in crunch time during his tenure in northeast Texas.
Whether it was the muffed hold that cost the Cowboys the game in the 2006 Wild Card Game versus the Seahawks, his game-clinching interception against the Giants in the 2007 Divisional Round or the 1-4 finish to last year's 8-8 season, the evidence to support Romo as a clutch quarterback does not seem to be mounting in his favor.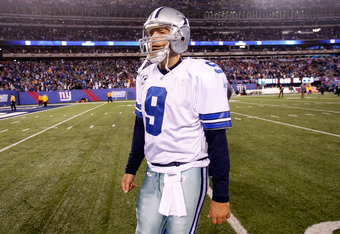 Rich Schultz/Getty Images
In his prime at age 32, Romo is one of the three pivotal players whom Jones pointed out in his interview on Tuesday. The others were tight end Jason Witten and outside linebacker DeMarcus Ware.
As of earlier this month, Witten is officially over the football hill at 30 years of age. In four seasons from 2007-2010, Witten hauled in 365 balls, an average of more than 91 per season.
In 2011, while still remaining Romo's primary target, Witten's catch total dropped to 79. Last year, Witten missed the Pro Bowl for the first time since his rookie season in 2003. 
There's no doubt that the All-Pro tight end is one of the league's finest when it comes to catching the football, but if the Romo-Witten connection drops off anymore, it could spell the beginning of the end for that offense in Big D.
Even though he's going to be 30 by the start of the season, DeMarcus Ware is still one of the league's best pass-rushers and has shown no signs of slowing down.
In 2011, Ware came a half a sack shy of his career-high with 19.5 and finished second in the league only to Minnesota's Jared Allen. Ware has been selected as a first-team All-Pro four out of the last five seasons. He's the type of player whom an offense needs to account for on every single play.
With that being said, the Cowboys defense, which struggled against the pass last season, would be taking a huge hit if a player like Ware is heading into his decline as Jones seems to be insinuating.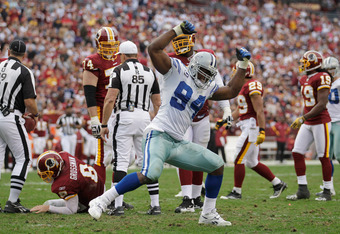 Rob Carr/Getty Images
Even as these three find themselves on the wrong side of 30 come Week 1 of the 2012 season, it seems as if Jones is underestimating his team's youth. Aside from the three already mentioned, defensive end Jay Ratliff is the only other starter over the age of 30.
With Miles Austin at 27, Felix Jones at 25, Dez Bryant at 23 and DeMarco Murray at 22, the Cowboys have plenty of young talent at the offensive skill positions. To support last year's ailing secondary, the Cowboys brought in 26-year-old cornerback Brandon Carr through free agency and 22-year-old cornerback Morris Claiborne sixth overall in the 2012 draft.
The Cowboys do not have to completely rely on their veteran talent for another Super Bowl. Dallas certainly has the young, fresh legs to develop a championship squad a few years down the road. The key to doing so will be winning under Romo, Witten and Ware now so they can keep that core of young talent together and build upon it.
Jones' "window of opportunity" may be a lot larger than he's letting on. Saying that the team needs to win soon is probably just reflective of his growing impatience with the team's failure, magnified by his own "window of opportunity" on this earth as the Cowboys' owner.