Indy 500 Starting Grid: Top Contenders Sure to Shine in Indianapolis
May 24, 2012

Andy Lyons/Getty Images
The Indy 500 lineup is set for Sunday's race, which features numerous hopeful winners but just a handful of serious contenders.
Ryan Briscoe sits on the pole after posting a four-lap average of 226.484 mph. Pole winners have had success since 2000, but Briscoe has not posted a top-10 finish at Indianapolis under Penske Racing.
One driver who will run near the top and have a serious chance to win is Helio Castroneves. The three-time winner of the Indy 500 will start sixth on Sunday. He is only one of nine drivers to win the event three times, and also has started on the pole four times for the Indy 500.
He loves the track at Indianapolis and knows how to be successful there.
Castroneves already has a win this season at the Honda Grand Prix of St. Petersburg as well as two other top-five finishes. The strong start to the season has him positioned second in the IndyCar Standings.
Marco Andretti is looking to have the same success Castroneves and his family members have had at this track. Andretti is still in search of his first Indy 500 win, but has run well in the past to come close to victory.
In his rookie season in 2006, Andretti finished second in the second closest finish in the race's history. Since then he's had two top-three finishes and a top-10 finish.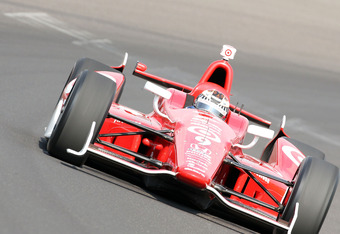 Andy Lyons/Getty Images
Andretti has struggled so far in 2012, but he will start fourth on Sunday. He has plenty of motivation to get that first win at Indianapolis.
In Scott Dixon's last five Indy 500 races, he's won once in 2008 and has finished in the top-five in every other year. He starts from the 15th spot, but has proven with his past success that he will be a contender on Sunday.
Dixon finished fifth last year at the Indy 500, but led all drivers with most laps led at 73. He is currently sixth in the points standings in 2012, thanks to runner-up finishes at St. Petersburg and Alabama.
Dixon will charge from the 15th spot at the start of the race, and will be contending for the Indy 500 win at the end.