Devils vs. Rangers: Why the New York Rangers Aren't Done Just Yet
May 24, 2012

Bruce Bennett/Getty Images
After falling behind 3-0 quickly to the New Jersey Devils in Game 5, the New York Rangers mounted a serious comeback to only fall short 5-3, relinquishing some momentum to New Jersey who will have a chance to move on to the Stanley Cup Final with a win Friday night in Game 6.
However, Wednesday night's game proves once again that nothing is over till the final buzzer—or until both teams form the handshake line to close out a series.
While not giving a 60-minute effort, New York played some of its best hockey Wednesday night, giving the team some confidence that the season isn't quite done.
Here are the reasons why.
Revitalized Lines
Brandon Dubinsky made his return from a foot injury in Game 5, and it seemed to give New York some jump. He slotted in alongside Ryan Callahan and Artem Anisimov to form an effective unit, including contributing the Rangers' second goal.
Brandon Prust returned from his one-game suspension and tallied his first goal of the playoffs. At the time, his goal was the first by a forward not named Chris Kreider—who moved up to play on the top line with Carl Hagelin and Brad Richards—and not to go into an empty net. 
Marian Gaborik, clearly still not himself as evidenced by missing a wide-open net early in the first period, was moved down to the third line with Ruslan Fedotenko and Derek Stepan. Despite the demotion and missing a golden chance to bury a goal, Gaborik played the rest of the game with some jump—including tying the game at three early in the third period—which could be a turning point for him in the playoffs.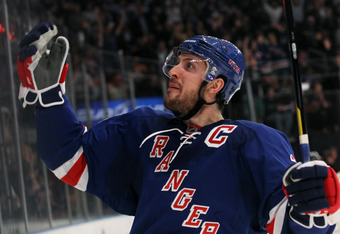 Bruce Bennett/Getty Images
Captain Callahan's Reinvigorated Game
One of best forwards Wednesday night, Ryan Callahan did exactly what you want your captain to do: lead by example on the ice. Right from his opening shift, you could sense Callahan wanted to make an impact, delivering two crushing hits to ignite the Garden faithful.
In 20:01 of ice time, Callahan delivered six hits, rang a shot off the post and scored a controversial goal off of his skate.
It was the type of effort absent most of the playoffs for Callahan (just his fifth goal in 19 postseason games), but one that was required to spark a comeback and will be needed in Game 6 if New York wants to move on to the Stanley Cup Final.
Can Ryan Callahan channel his inner Mark Messier?
Henrik Lundqvist
Game 5 was easily Hank's worst playoff outing this postseason. Three goals on the game's first five shots are Bryzgalov-esque. Henrik Lundqvist should never be compared to Ilya Bryzgalov. Still, he finished the game allowing four goals in 16 shots and has to be better.
Anyone who watches Henrik Lundqvist play knows he's one of the fiercest competitors and will bounce back.
Hank has the ability to dominate games—look back to Game 1 and Game 3 of this series—and will do everything in his power to will the Rangers to a victory Friday Night in Newark. He has yet to "steal" a postseason series in his career, but Henrik Lundqvist may just have to do that the rest of this series to get his team in the Stanley Cup Final.
Can he do it?