Chicago Cubs: How Long Should Epstein and Hoyer Have to Turn the Cubs Around?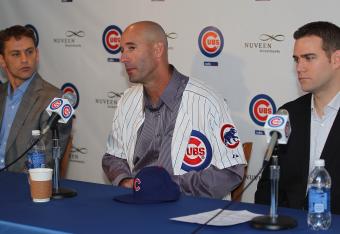 Jonathan Daniel/Getty Images
When Epstein was hired as president of baseball operations for the Cubs, he eloquently and adequately laid out his plan for the Chicago Cubs. He stated the process would encompass an entire organizational change. He emphasized a new way of thinking and playing a new brand of baseball.
A new GM, manager and a new way of building a team were to follow.
Out was the old way of relying on the long ball to score runs and win games. In was the new way of small ball—getting runners on base then utilizing speed and smart, aggressive baserunning with sound hitting as the primary method to accumulate runs.
Sabermetrics became more of a factor in baseball decisions. Player strikeout totals began to matter, as did OBP and slugging percentage.
No longer is it deemed acceptable to ignore the number of strikeouts a player amasses because he is a prodigious home run hitter.
Playing good defense became as important as disciplined hitting.
Epstein's plans also included rebuilding the farm system by stockpiling high-quality prospects, then using those players to beef up the major league roster via call-ups and trades.
There is now a new way of constructing the team.
Through a combination of cultivated talent from the minors along with bringing in players who play the style of baseball the organization wants to put on the field, the Epstein\Hoyer Cubs will not resemble the Cubs of the Hendry era.
Is it coaching? The players knowing their role with the club? Is the new style of Cubs baseball better suited for the team? Or is it a combination of these and\of other aspects I have not mentioned?
Whatever it may be, the organizational shift seems to have already produced dividends by taking pressure off of the players. They are able to play baseball without a cloud over their heads.
Maybe it is my optimism for the future, but this can already be seen, as the Cubs look to be more competitive than they were last year, and they're playing much better baseball.
The team knows that everything does not rest on this year's results and that they are playing and building for the future.
This has not been the case in the recent history of the Cubs. During the Hendry era, there was a climate of "win now, win now, win now," and the team, and us fans, suffered for it.
There needed to be an outlook of "win this year, next year and the year after," which is what the new management team is putting into place.
But Jim Hendry cannot be blamed for the failure to win a World Series. We fans were impatient, rightfully so, to win a World Series during the era of the old regime, and Hendry did all he could to deliver. Some of his moves were good, and some not so much.
Presiding over year numbers 94 to 103 without a World Series, compounded with an ever-growing restless fanbase, it could not have been easy to run the Cubs.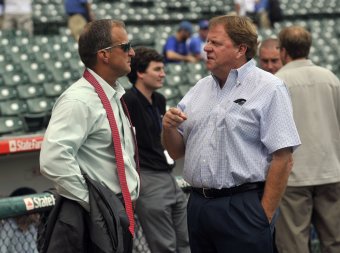 David Banks/Getty Images
As much pressure as the Cubs and Jim Hendry were under to win right now, it would have been irrational to have expected the majority of the roster moves made to have been beneficial in the long term. The club was focused on ending the curse every year instead of building the franchise so the curse would eventually fall.
But that's baseball. When making deals sometimes, you hit a walk-off in the ninth, and sometimes you strikeout. Unfortunately, the Hendry era was more accustomed to the latter than the former—the midseason 2003 deals notwithstanding.
When a team is pressured to make moves and rushes to do, there can be long-term ramifications for the organization if those moves do not work out.
We Cubs fans need to realize, if we haven't already, it will take time for the Cubs to become playoff contenders, but it is just a matter of time.
It would be absurd to believe the Cubs will be competing for a playoff spot this season or next, and possibly not in 2014 as well.
Although throughout Theo Epstein's time in Boston the Red Sox were ranked in the top five in team salary every season except for his first season as GM in 2003, I do not expect the Cubs to go after a big-time free agent this coming offseason or the offseason between the 2013 and 2014 seasons—although it would be nice to see Cole Hamels in Cubbie blue next year.
But that is OK. The Chicago Cubs are not rebuilding. The Cubs' organization is rebuilding.
Expecting a spending spree in the next two offseasons is not exercising sound judgment. The club will be built at its own pace. In building a team, speed equals mistakes, and slow and steady win the race.
Theo Epstein and Jed Hoyer deserve time and patience in their efforts to send the Cubs to the promised land.
If in order to be regularly competitive for a World Series—as the "Sawks" were during Epstein's time there—we fans have wait two, three or four years, then that's fine.
We've all waited this long, what's a few more years?
This article is
What is the duplicate article?
Why is this article offensive?
Where is this article plagiarized from?
Why is this article poorly edited?

Chicago Cubs: Like this team?