Coca-Cola 600 2012: Start Time, Lineup, TV Schedule and More
May 24, 2012

Chris Graythen/Getty Images
One of the most exciting events on the NASCAR calendar is here. The 600-mile trek at the Charlotte Motor Speedway, the longest race of the NASCAR season, will involve 400 laps, lots of lead changes and, quite possibly, a win for the driver who's been dominating at Charlotte this month.
The Coke 600 is a race that's been won by some of the biggest names in racing, including Dale Earnhardt, Jeff Gordon, Kasey Kahne and Kurt Busch. This year, Kevin Harvick will make a bid to win it for the second straight year, but Jimmie Johnson—who has six wins at Charlotte Motor Speedway, including three in this race—will be looking to spoil his chances after winning the All-Star festivities last week. 

Where: Charlotte Motor Speedway, Charlotte, N.C.
When: Sunday, May 27, 5:30 p.m. ET
Watch: FOX
Live Stream: TrackPass 
Listen: Motor Racing Network 
Starting Order: Qualifying will begin on Thursday, May 24 at 7:10 p.m. ET. on SPEED

Full TV Schedule 
Coca-Cola 600 Practice, May 24, 3:30 p.m. ET, SPEED
Coca-Cola 600 Qualifying, May 24, 7 p.m. ET, SPEED
Coca-Cola 600 Practice, May 26, 10 a.m. ET, SPEED
Coca-Cola 600 Final Practice, May 26, 1 p.m. ET, SPEED
Coca-Cola 600, May 27, 5:30 p.m., Fox

Drivers to Watch 
Jimmie Johnson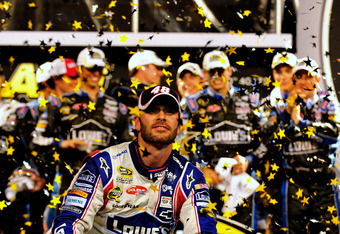 Jamey Price/Getty Images
Johnson is hot right now. He won on May 12 at Darlington, and he won the all-star event at Charlotte Motor Speedway on May 19. That means that if he can win this epic 600-mile race at the same track one week later, he'll become the first driver to win both Sprint Cup events at Charlotte in May twice during his career. He won both the all-star event and the Coke 600 in 2003.
Though his luck at Charlotte hasn't been quite as good of late—he hasn't been able to finish his last two races there—the kind of momentum he has right now will be tough for the other drivers to overcome.

Kevin Harvick
Last year's winner is currently eighth place in the Sprint Cup standings. Last year's event was the only time he's won at Charlotte Motor Speedway, but he's finished in the top five twice and in the top 10 six times, so another win at the track isn't out of the question for him.
He did, however, encounter quite a bit of luck when he won the Coke 600 in 2011. If Dale Earnhardt Jr. hadn't run out of gas on the final lap, Harvick probably would've come in second. Does that kind of fortune come around two years in a row? Unlikely.

Matt Kenseth
Kenseth currently sits in second place in the Sprint Cup standings and doesn't have a bad track record at Charlotte, where he's won twice, finished in the top five seven times and finished in the top 10 13 times. Of all the Roush Fenway drivers, he might be the best bet to snag a victory.

Prediction: Jimmie Johnson Wins
He has to return to glory at Charlotte Motor Speedway eventually, and given his current momentum, there's no time like the present.