Arsenal Transfers: Why Robin Van Persie Must Sign or Be Sold by July 15
May 24, 2012

Bryn Lennon/Getty Images
'Tis the season to be silly!
With the proper football having ground to a quite thrilling halt, it's time for the players to head to the beach—or to Poland and the Ukraine—and the rest of us to commence our biannual indulgence in largely baseless speculation.
For us Arsenal fans, there is always plenty to ponder during the summer transfer window.
Which of our best players are we about to be forced into selling? How much of the "dead wood" can we get rid of at a price approaching respectability? Which superstar are we "on the verge of signing" for two months, only to be pipped at the post by someone else with a fatter cheque book? And of course, which hitherto unheard of wunderkind will Arsene Wenger sign straight off the sandy shores of Eritrea or Djibouti?
With the Gunners having ended last season in a highly respectable—considering our start— third place, there are many—myself included—who believe that the club are not far from being in a position to win something next year. And no, I don't mean the Carling Cup.
We've shown last season that we can mix it with the best in England and Europe. It's the weaker teams against whom we were wasteful. Had we won our games against Blackburn, Swansea, Bolton, Wigan, QPR, Wolves and Norwich—all teams that finished in the bottom half of the table—we would have ended on 88 points, one behind the Manchester teams. Incredible.
With our transfer activity having commenced with the wonderfully early capture of Lukas Podolski from FC Koln in Germany, Arsene Wenger's next big task is to secure the future of captain and talisman Robin Van Persie. The Dutchman has had an incredible season. 36 goals and 9 assists in 44 starts is fantastic by any standards. Except Messi and Ronaldo, of course.
Van Persie, who scooped up all the individual awards in England, has one year remaining on his Arsenal deal. If he dos not extend his contract, Arsenal risk losing him for nothing next summer, an unacceptable outcome for a club that rightly treats every pound like gold dust.
There is, as can be expected, a long line of apparent suitors ready to snare our captain away—Juventus, Manchester City, Barcelona and Real Madrid have all been mentioned—and the club finds itself in a similar situation as it did last year with the acrimonious transfer of Samir Nasri to City.
Rumours suggest that Van Persie and his agent met Arsene Wenger and CEO Ivan Gazidis to discuss his future, but not much progress was made. It appears as if the player is playing the waiting game, and wants the club to show its desire for silverware next season by making a few more marquee signings.
Which is all well and good from his point of view.
But a load of rubbish as far as I'm concerned. And here's why.
The Club is Bigger Than Any Player
Yes, that is right, however good his season may have been. And yes, Van Persie's was spectacular. But by stalling over the signing of his contract, the following message is being sent out to every Arsenal player.
The captain does not believe that this team can win things. The captain feels some of you are not good enough. If some big signings are not made, the captain will dessert the ship and move to a team he considers better.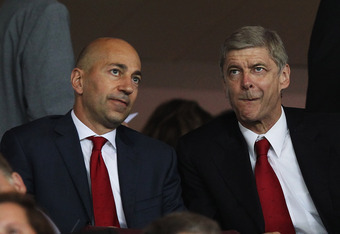 Clive Rose/Getty Images
By holding the club to ransom, Van Persie is sending out the same message that Patrick Vieira, Thierry Henry and Cesc Fabregas did. You guys aren't good enough to win anything. I'm probably gonna be off. Good luck. And surprise, surprise, we haven't won anything since Vieira left.
The Captain Should Lead the Way
What's happening today is Van Persie telling Arsenal to make the first move, and then he may follow. In my opinion, it should be the other way around. As the club's leader and longest serving player, he should be the one saying, "I'm signing on, now let's use my commitment to bring in another two top class players."
And I'm not asking him to make some massive sacrifice. He's going to be on nothing less than £130 thousand a week. He's playing for one of the top clubs in Europe. He's playing in the Premier League and the Champions League.
The club took a massive leap of faith by signing him when Van Persie was an unknown. The club persisted with him AND paid his wages through months of injury and inconsistency. He was made the main man when Adebayor left, and it is this focal role that has brought him the goals and the glory.
So, in my book, it's time for the captain to put his hand up, commit to the cause and do his bit to attract the kind of players he yearns to play alongside.
Success is not Guaranteed Anywhere
Of all the big name players who left Arsenal against the manager's wishes, the one who was expected to have the most instant success was Cesc Fabregas at Barcelona. And we know how his season turned out. Samir Nasri, too, was one minute away from being the recipient of a large dose of egg on his face.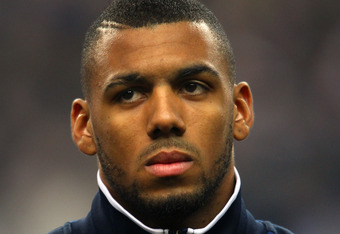 Alex Livesey/Getty Images
Wherever Robin Van Persie may go, there is no surety of winning trophies. There are at least two or three top teams in every major league in Europe. He'd be much better off nailing his flag to the Gunners' mast.
So What Should Arsenal Do?
The way I see it, it's a story of two options and a date.
Option A: Van Persie signs. Option B: Van Persie is sold. Deadline: July 15.
There is a theoretical Option C: Van Persie runs down his contract by staying for one more year. Not likely to happen at Arsenal. He would fetch at least £35 million if sold this summer—Arsenal can buy two top quality players aged around 25 for that much. Arsenal will not turn down that kind of money for one more season. Rightly so.
Further, Van Persie will be 29 this summer. He has a maximum of three years left at the top of his game. And it is unlikely that he will be available for every match, as he was this season. The injury bug will bite.
The deadline is most crucial. Last season, we know what happened with the Fabregas and Nasri sagas. Both dragged well into August. Wenger signed some replacements in a deadline day shopping frenzy. and by the time those players had settled in, it was October and Arsenal were 17th in the table. Season over.
This season, there is the added distraction of the European Championships and the Olympics. The squad will not all return for preseason together. Some players will be fatigued and/or injured. And then the team is off to Africa and Asia to raise some moolah.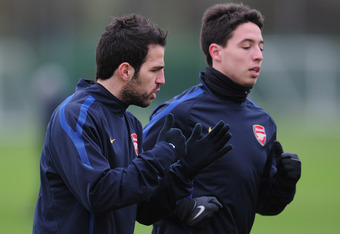 Shaun Botterill/Getty Images
Therefore the major transfer business must be done by the middle of July. The squad must know where it stands with respect to those coming in and leaving. And who their leader is. Come season kick-off, the only introductory handshakes should be with our opponents. And Clive Allen, of course.
Sign up, Robin. And sharpish. This is your club.
We want you to be the one doing the lifting when, and not if, the trophies come calling.
Follow me on Twitter @ratanpostwalla