WWE: John Cena's 10 Best Promos of All Time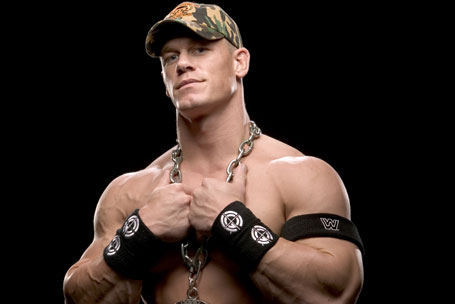 Source: http://www.johncena4u.com/john-cena-pictures/john-cena-sexy/
John Cena is the guy that everyone loves to hate.
This is not because he is portrayed as a bad guy or a bully—in fact he is portrayed as the perfect guy who can do no wrong. The reason why the fans love to hate him is simply because they hate him.
It is his squeaky clean "Mr. Perfect" character that annoys the older fans and leaves the children loving him. Despite Cena having a mixed reaction every time he enters the ring, he still has his moments when he cuts amazing promos and gets the whole crowd behind him.
I am not saying he cuts an amazing promo every week, but it does happen now and again.
Oh, you don't believe me? To prove Cena is not a complete fruity pebble, here are his 10 best promos.
Begin Slideshow

»
Back when Cena debuted, he was portrayed as a ruthless wrestler. He was determined and eager to make a name for himself within the company. He stood up to the wrestlers who doubted him and made sure he proved them wrong.
With "People Power" supporter and Raw/Smackdown GM John Laurinaitis in the middle of the ring, boring and annoying the audience, Cena came out to save the fans and shut down Mr. Laurinaitis.
When Laurinaitis tried to interrupt Cena's run down on him, Cena decided to mock him by clarifying he was a loser.
Cena was backstage being interviewed when Randy Orton interrupted to have a little talk with him.
Orton tried to convince Cena to side with him in the fatal four-way match later that night, but instead of agreeing to join forces with Orton, Cena takes the chance to mock him.
Mr. Kennedy was in the middle of talking when Cena came out and interrupted him to welcome him to Raw.
Cena took it upon himself to introduce himself to the new guy, but could not remember his name.
Nexus took the WWE by storm in June 2010 and Cena was hardly a fan of the group.
After the team's loss at the SummerSlam pay-per-view, Cena decided to come out and put Nexus in their place.
They say music is a way of expressing your feelings and frustrations at the world, so what better way to tell someone you hate them than through song?
This was exactly what happened on Raw when Cena and Rock had a singing contest against one another.
The kind and generous Cena decided to take it upon himself to make sure that JBL's limo passed the department of motor vehicles of Louisiana laws and regulations.
Cena's friends Cryme Tyme also decided to help Cena make sure that JBL's limo passed the regulations.
After hearing Rock's words from the previous Raw, Cena decided to respond with some words of his own.
In retro Cena style, the "Doctor of Thuganomics" made a welcome return and didn't shy away from his thoughts or feelings on The Rock.
Back in 2003, Cena and Big Show decided to have a battle rap on Smackdown to see who was a better rapper.
It is safe to say that Cena put Big Show in his place and won the rap battle.
Kurt Angle was in the middle of a promo when the "Doctor of Thuganomics"—the young, cocky John Cena—came out and decided to share a few words of his own which led to a rap battle between the two.
Angle may not have majored in thuganomics, but he did major in huganomics.