Are Alex Rodriguez, Mark Teixeira and the New York Yankees Done Already?
May 24, 2012

Al Bello/Getty Images
Here's how tough it is in New York. On May 22, the city saw their beloved Yankees tied for the AL East cellar with the hated Boston Red Sox. If the Yankees had lost Wednesday, it would have marked the latest in the season the Yankees had sole possession of last place since June 6, 2008, the only season they missed the playoffs since 1994. 
If you say you knew the AL East standings would look like this on May 24 you'd be lying. Or looking at them while hanging from the ceiling. No one could have predicted that the Baltimore Orioles would be leading the division followed by Tampa Bay, Toronto, New York and Boston. Granted, the Red Sox are playing .500 ball, but they're still in last.
The Orioles, Rays and Blue Jays have all done a good job of building their minor league systems, and the Rays have certainly had great success at the major league level lately. But no one seriously thought they could compete with the big spenders in New York and Boston. Let's be fair, it is just May 24.
So does that mean it's too early to panic? Yes.
But is it too early to be concerned? No.
What are the areas of concern? Some hitters who are being heavily counted on are clearly struggling. Despite two home runs last night, Alex Rodriguez is hitting .281 with seven home runs and 18 RBI.
Raul Ibanez has decent power numbers with nine home runs and 27 RBI but is only hitting .263.
Mark Teixeira has been suffering from bronchitis all year and is batting a dismal .226 with five home runs and 21 RBI.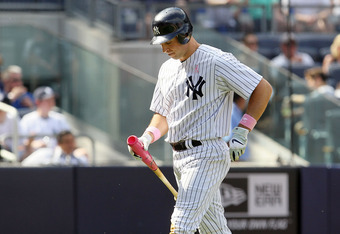 Jim McIsaac/Getty Images
Catcher Russell Martin is batting .173 with four home runs and 10 RBI.
It's impossible to talk about the Yankees production without talking about the cost of that production, or lack thereof. Everyone knows that the Yankees spend more than any other team.  Are the Yankees getting a good return on investment? Hardly.
Rodriguez's numbers come with a $30 million price tag.
For this season. Just this one. 2012. Okay, you get the point.
Teixeira is being paid $23.125 million this year while Martin earns $7.5 million. Ibanez's deal is at $1.1 million.
Are the hitters solely responsible for the Yankees woes? Of course not. While C.C. Sabathia has been having a pretty good year at 5-2 with a 3.78 ERA, the rest of the rotation has come up short.
Hiroki Kuroda is 3-6 with a 4.56 ERA, Phil Hughes is 4-5 with a 4.94 ERA and Ivan Nova is 4-2 with a 5.69 ERA.
Is Andy Pettitte going to be the savior? I don't know about savior, but he should be able to help.
While the bullpen has done a decent job, not having Mariano Rivera walk in from the pen to "Enter Sandman" is painful.
Will 2012 see the Yankees do the unthinkable and miss the playoffs? I wouldn't bet too many shekels on that.
While Rodriguez won't hit .320 with 40 home runs and 125 RBI anymore, he won't be the real problem. The Yankees should be more concerned about Teixeira. Is his illness still holding him back? I don't know the medical attention he's received, but I would imagine it's been extensive, but maybe he needs to be shut down for a while.
The reality is that Teixeira has been declining and certainly isn't worth his salary anymore. At some point, that becomes a problem. Robinson Cano needs to be paid soon with his contract expiring in two years.
Yes, I do think the Yankees will make the playoffs, but they are nowhere near the team that the Texas Rangers are, so there will be offseason work to do.
Follow on Twitter@sprtsramblngman