Big Ten Football: Ranking the Top 5 Coaches in the Conference
May 24, 2012

Kevork Djansezian/Getty Images
We are hours away from the start of the Memorial Day weekend, so it is the perfect time to circulate the second annual ranking of the top five Big Ten head coaches.
Last year's rankings were influenced by the Memorial Day holiday resignation of Ohio State head football coach Jim Tressel and the selection of Iowa's Kirk Ferentz as the No. 1 head coach in the Big Ten based on record and reputation. 
Now before loyal Michigan, Nebraska and Ohio State fans get huffy, there is a qualification to be on this list.  The head coach must have at least 24 games (three seasons) of Big Ten experience. (Please keep in mind that John L. Smith and Rich Rodriguez were given at least three years to prove they could not win enough conference games  to save their jobs).
Here are this year's rankings:
1. Bret Bielema, Wisconsin - 60-19 as Badgers coach, 33-15 Big Ten overall, 11-3 in 2011.
Bielema led the Badgers to the first ever Leaders Division title last year and then beat Michigan State, 42-39, in the title game to become the 2011 Big Ten champion.
Bielema has continued a proud Wisconsin football tradition started by his predecessor Barry Alvarez and turned the Badgers into a perennial contender for division and conference titles. In his six seasons as Wisconsin's head coach, he has only finished below .500 in the Big Ten once, and that was in 2008 when they finished 3-5 in the conference.
2. Mark Dantonio, Michigan State - 44-22 as Spartans coach, 27-13 Big Ten overall, 11-3 in 2011.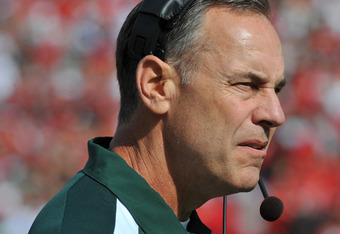 Al Messerschmidt/Getty Images
Dantonio and the Spartans won the first ever Legends Division title in 2011 and shared the Big Ten title with Ohio State and Wisconsin in 2010. 
He did his best coaching job last year when you consider the Spartans entered the 2011 season with some question marks on defense.   The question marks turned into exclamation points as Michigan State's talented group of underclassmen made the Spartans' defense one of the best in the nation.
Dantonio and Michigan State are enjoying a four-game winning streak over Michigan and he's 3-3 against Bielema and 2-3 against No. 3 coach Kirk Ferentz. 
3. Kirk Ferentz, Iowa - 96-66 as Hawkeyes coach, 57-47 Big Ten overall, 7-6 in 2010.
Ferentz, with 14 years at Iowa, becomes the senior statesman among Big Ten head coaches after the dismissal of Penn State head football coach Joe Paterno.
Last year he was rated ahead of Bielema and Dantonio, but the Hawkeyes finished behind Michigan State, Michigan and Nebraska in the Legends Division in 2011.  Iowa has an 8-8 record in conference games over the last two years.
Ferentz is 2-3 against Bielema and 3-2 against Dantonio, and faces the possibility of another 4th place finish in the Legends Division.
4. Pat Fitzgerald, Northwestern - 40-36 as Wildcats head coach, 21-27 Big Ten overall, 6-7 in 2011.
Fitzgerald has built a reputation for pulling off upset wins in the Big Ten.  In 2011 he and the Wildcats beat No. 9 Nebraska, 28-25, in Lincoln, Nebraska.  Northwestern beat No. 13 Iowa, 21-17, in 2010. 
Though his defenses typically let him down, the Wildcats offense is frequently inventive and dangerous.  This year they will feature Kain Colter, who played quarterback, running back and wide receiver for Northwestern in 2011.
5. Danny Hope, Purdue - 16-21 as Boilermakers coach, 10-14 Big Ten overall, 7-6 in  2011. 
Hope enters the 2012 season with his best team offensively and defensively.  Last year Purdue managed to upset then No. 21 Illinois, 21-14, and beat Ohio State, 26-23, in an overtime game in Columbus.
Postscript
It is interesting to note that only these five men have served three or more years as Big Ten head coaches.  Three universities (Illinois, Ohio State and Penn State) have selected new head coaches to lead their football teams into the 2012 season.  Three teams (Indiana, Michigan and Minnesota) are led by second-year head coaches.  And Nebraska will be participating in their second Big Ten season.
Feel free to comment on this article or email me at deni-martin@att.net