Denver Nuggets: 5 Important Offseason Moves for Kroenke and Ujiri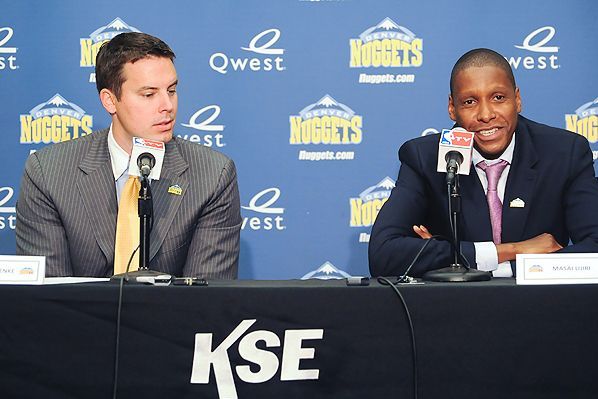 Kroenke and Ujiri have some big decisions to make this offseason
Another year, another early exit for the Denver Nuggets from the playoffs. However, despite finishing with a similar result in the majority of the seasons over the last decade, there are considerable bright spots for the Nuggets moving forward.
The last two seasons have been marred by inconsistency and drama that have put the new-look Nuggets behind the eight ball in terms of consistency, unity and fluidity.
In 2010-11 there was Melo-drama that started at the beginning of the season as the former Nuggets star raked management and his teammates through the coals on his way to forcing a trade with the only team he would allow, the New York Knicks.
In this case, the team of Ujiri and Kroenke reacted masterfully, patiently waiting for the Knicks to cave to their high demands to obtain the pieces they wanted in return. Landing a package of Gallinari, Chandler, Mozgov, Felton, Brewer and Koufas, plus three picks was genius, as each of these players has either been a significant contributor for the Nuggets over the past two seasons or has been flipped for one.
Since that time, due to the lockout, the current roster of the Nuggets has had little time to work together, leading to inconsistencies. But some of the pieces are in place for a legitimate roster to take the court next season.
However, these five offseason considerations are vital towards building for the future.
Begin Slideshow

»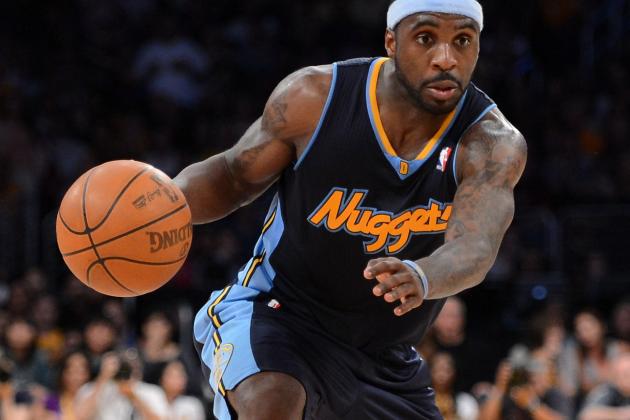 Harry How/Getty Images
Lawson is the biggest piece towards the Nuggets future
Lawson has blossomed before our very eyes, first as a backup to Chauncey Billups and then as his successful replacement. His playoff performance, besides the miserable first game, was for the most part fabulous, as he average 19 points and 6 assists per game, pushing the Lakers to seven games.
Lawson's contract expires after next season, and the Nuggets front office is well aware of this fact, which is why the Nuggets point guard is in line for a much deserved extension. As Lawson goes, so go the Nuggets, and it appears that a warm union for many years is understood.
These things can get botched however. Before the beginning of next year the Nuggets need to extend Lawson. The new NBA features do-it-all point guards, and they can't let this one slide away. Being the closest thing to a bona fide star on the roster, Denver should be able to lock him up at the going rate.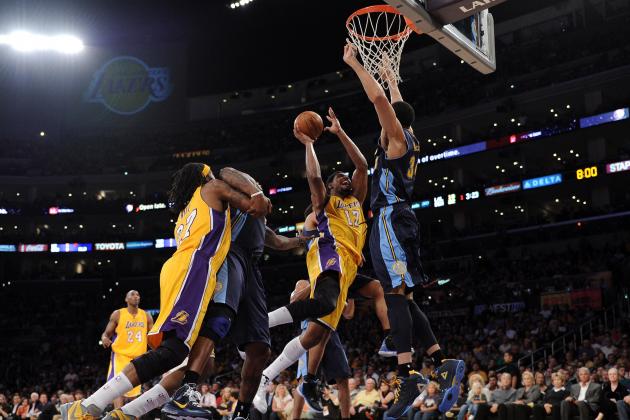 Harry How/Getty Images
JaVale's length and presence make the Nugs a better team
On March 15, 2012, Ujiri and Kroenke showed fans they could learn from and correct their mistakes. Many people had questions regarding the signing of Nene to a long-term deal, but the Nuggets did it anyways.
What did they get? A frustrating season marred by minor injuries and inconsistencies. The only thing Nene has been consistent with lately has been his softness. The big fella did not bring enough presence to the Nuggets frontcourt, so the front office masterfully dumped him on some desperate East Coast team (the Washington Wizards) and landed a huge piece for the future—the 7'0", 250 pound JaVale McGee.
Sure, McGee does dumb things from time to time (free-throw line dunking in the game), but those days appear to be behind him. McGee had the unfortunate experience of playing in a bad locker room with a coach that had no control. Since McGee stepped into Denver he has been a model citizen.
Plus, McGee brings something the Nuggets desperately need from the center position, length. McGee can block and change shots with his height and his massive wingspan. He is also one of the best big men in the game at running the floor, which fits directly into the Nuggets scheme. McGee will get better all around and develop into a quality (maybe star) center in the NBA. They just need to sign him and reap the benefits.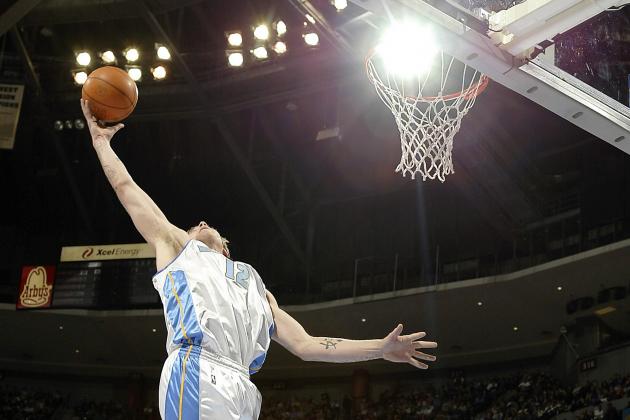 Brian Bahr/Getty Images
Birdman's days are numbered
If the Nuggets commit the money to JaVale McGee, than they have a very crowded frontcourt heading into the season. With a budding star in Kenneth Faried locking down the power forward position and McGee taking the spot in the middle, the Nuggets need to decide who stays and who goes.
In this case, Timofey Mozgov holds the most value. Mozgov is young (25) and huge (7'1", 250), but I think management, like most of us fans, got tired of watching him just stand around without much contribution this past season. McGee would have started towards the end of the season if Karl didn't enforce his newcomer "hazing" policy. Mozgov has some potential and the team needs to maximize that in a trade for a different piece.
To all you wacky Chris Anderson fans out there, I think his time is getting near. After signing a baffling five-year, $26 million contract in 2009, the "Birdman" is on his last flight, and it looks like he's missing a wing. Birdman after not playing at all in the playoffs this year and then catching some weird internet crimes against children media (he hasn't been arrested), the Nuggets could cut their ties. However, using the amnesty clause for a one-year deal may be foolish, so either they hold onto him and free up that space for next year, or they flip him for another piece as part of cap-saving deal for another team. Either way, Anderson is nearing his end.
Kostas Koufas looks like a suitable backup, which is nice because he was just a throw-in on the Carmelo Anthony trade. Also, Al Harrington played fantastic and admirably throughout the season as one of Denver's most consistent players. Harrington is invaluable in the locker room and on the court with his versatility. Now they just need to get another player like him.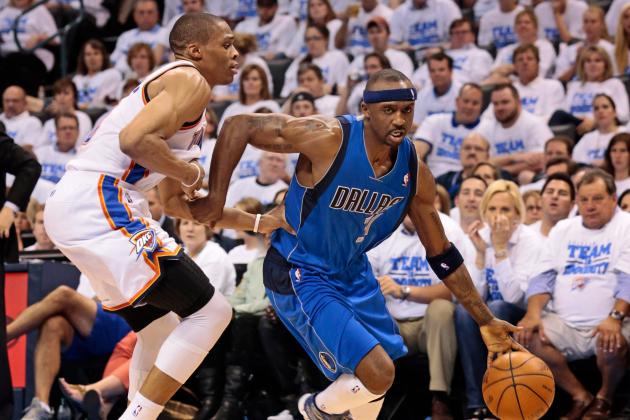 Brett Deering/Getty Images
Terry could be a nice compliment as a veteran 6th man
Aaron Afflalo is the bona fide starter as the 2-guard. He is also the most clutch player on the Nuggets right now. The Nuggets need to improve in this area. How many games this year did Denver lose because they didn't know who would take the last shot?
With the current free agent list out, there are a few players that can add a solid resume from a veteran playoff contender. Jason Terry could fill a desperate sixth man scoring role, while adding in the fact that he is a clutch shooter and a champion. He can help the rookie players and become a solid contributor to a team that will only get better.
Adding that element to an already dangerous team will make them competitors. Other options in case Mr. Terry gets away would be Ray Allen (although he'd probably be more expensive) or Jamal Crawford (who can be a bit of a cancer). Terry is the ideal candidate.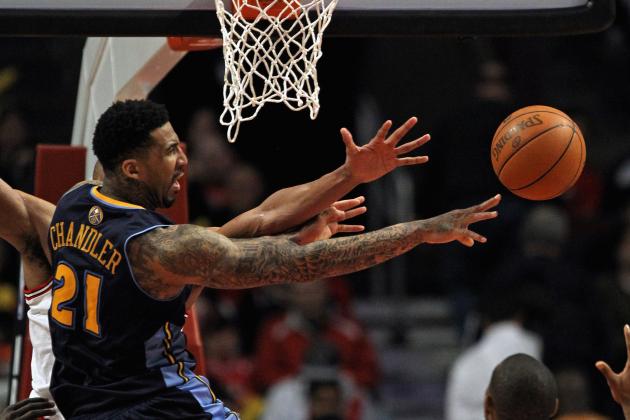 Jonathan Daniel/Getty Images
Chandler is a big question mark this offseason
Wilson Chandler was an enigma this year for the Nuggets. First, he went to China to play when the end of the lockout looked grim (understandably). Then, coming back, he drug out signing with the Nuggets, mostly due to their protective rights over him. Finally, on March 18, Denver signed him to a five-year, $37 million contract. After this he played a total of eight games.
There is no question that Chandler has talent on both ends of the court and possesses some of the qualities of a superior defender. However, his value will never be higher than now. Teams looking for a long shooter on the wing may give up a bit too much (draft pick) to Denver for the young Chandler. If Denver keeps him, will he be happy coming off the bench?
Right now there is another clog at the wing position, especially if the Nuggets sign another scorer. With Gallo the clear favorite at the 3 and Corey Brewer contributing admirably on the defensive end, Chandler's role is in question. There is no doubt that the deal for Chandler would have to be sweet for them to pull the trigger, but if something big comes along, the Nuggets do have this piece.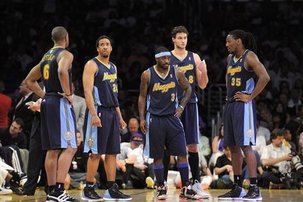 A full off season will only benefit this young core
In an age where players run the league, the Nuggets, as a mid-market team, are always having to come up with innovative ways to improve the team. The job that Ujiri and Kroenke have done thus far has been amazing. They have the possibility to put out a team next year that can run with any in the league if they just follow their model.
They will again have a mid-20s draft pick to tinker with, as well as two second-round picks. They still have their amnesty clause to protect them against a bad contract. If they keep this core together, they will finally see a complete season (barring injury) with a starting five of Gallo, Lawson, Afflalo, Faried and McGee.
These guys have not had enough time together to build a solid rapport. Due to the Melo-drama and the lockout, the four main players on the team have barely played a full NBA season together and have almost zero prep time to speak of.
The oldest one of this adolescent group is Afflalo at a mere 26. Let this core grow together and find great role players to function around them (Harrington, Terry, Miller and Chandler off the bench). If they can build on their progress, this team can contend with the big boys of the NBA.