MLB Prospects: Dylan Bundy, Wil Myers, Trevor Bauer and Other MLB Promotions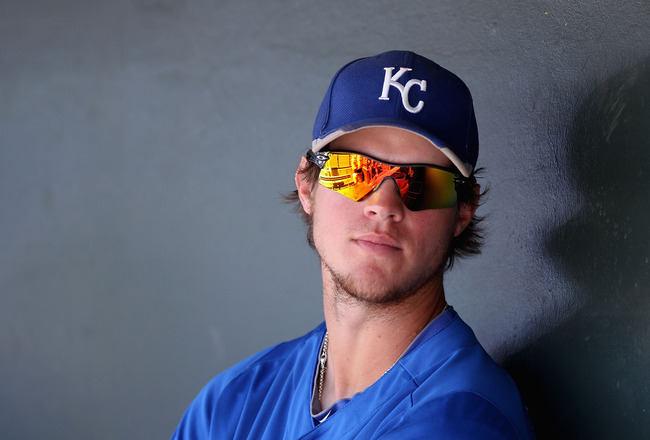 Christian Petersen/Getty Images
With Bryce Harper, Mike Trout and Will Middlebrooks now fixtures in their team's everyday lineup, there has been speculation about which top-ranked prospect will receive the next big-league call-up. Since so many of the game's best prospects reside in either Single- or Double-A, I decided to take a look at promotions within the Minor Leagues to highlight must-know players on the rise.
While some of these promotions are simply intended to challenge the player's abilities, others suggest that we could see them in the Show before the end of the 2012 season.
Baltimore Orioles: Dylan Bundy, RHP (Promoted from Low-A to High-A)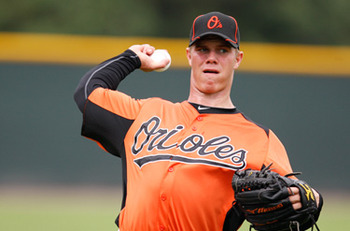 Courtesy of MiLB.com
2012 Stats: 30 IP, 5 H, 0.00 ERA, 0/93 FIP, 0.53 BAA, 40 K/2 BB (8 GS)
The biggest story in the Minor Leagues this year has been Prospect Pipeline's No. 5 prospect, Dylan Bundy. The right-hander has been unhittable in nearly every appearance. He's overpowering opposing hitters using mainly his fastball, which has sat 94-98 mph and reportedly topped out at 99 mph.
His curveball has also been exceptional, though he has rarely had the need to throw it. He will have the opportunity to do so at High-A, to where he was promoted on Wednesday afternoon.
Atlanta Braves: Evan Gattis, C (High-A to Double-A)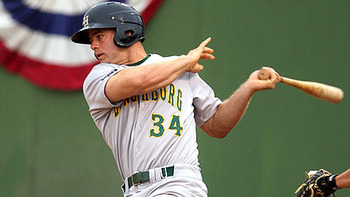 Courtesy of MiLB.com
2012 Stats: .336/.417/.714, 26 XBH, 43 RBI, 20 K/16 BB (37 G)
Although it's taken him several extra years to get where he is today, Gattis has clearly been making up for lost time. After a breakout season in 2011 as a 24-year-old, he has been one of the more productive hitters in the minors. He's a pure hitter who drives every pitch all over the field, but still knows how to coax a walk. He posted outrageous numbers to open the season at High-A (.385/.468/.821, 16 XBH), and earned a quick promotion to Double-A where he's posted a .928 OPS through 16 games.
The Braves will continue to push him along provided that he's successful. He's a really impressive hitter with loads of power, and is raking his way into the Braves' big picture.
San Diego Padres: Jedd Gyorko, 2B (Double-A to Triple-A)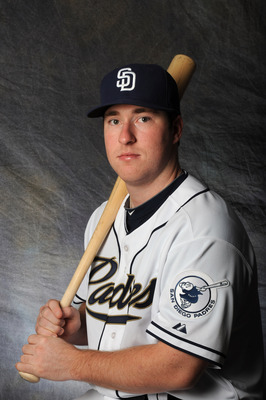 Rich Pilling/Getty Images
2012 Stats: .271/.356/.471, 15 XBH, 23 RBI, 30 K/19 BB (40 G)
Gyorko has always been able to hit. His plate discipline, however, has remained suspect. Beginning the season at Double-A and playing a new position (second base), he was only batting .262 before the promotion, but his 27 K/17 BB resulted in a .356 on-base percentage.
Since his promotion to Triple-A Tuscon, Gyorko has thrived, batting .320/.356/.680 with five extra-base hits in his first six games. The middle infield situation in San Diego is pretty bleak, so it's conceivable that he'll reach the Show at some point this season.
Kansas City Royals: Wil Myers, OF (Double-A to Triple-A)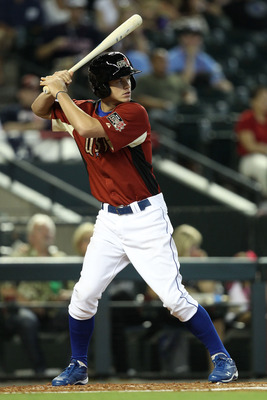 Christian Petersen/Getty Images
2012 Stats: .351/.426/.727, 28 XBH (14 HR), 4 SB, 45 K/20 BB (41 G)
After hitting .343/.414/.731 with 13 bombs at Double-A Northwest Arkansas to open the season, Myers was promoted to Triple-A Omaha last week along with right-hander Jake Odorizzi.
And he's off to a hot start at the higher level, batting .400/.500/.700 through his first six games. I expected Myers to reach Triple-A at some point this season, but definitely not this soon. And if the Royals were willing to promote him this soon, there's reason to believe he could hit his way to the majors before the end of the 2012 season. I'm still not sure why Myers received a start at third base last week, but it can't be that bad.
Oakland Athletics: A.J. Griffin, RHP (Double-A to Triple-A)
Courtesy of athleticsfarm.com
2012 Stats: 3-2, 54.1 IP, 3.48 ERA, .226 BAA, 54 K/10 BB (9 GS)
One of the top pitchers at Double-A prior to his promotion, the 6'5" right-hander posted a 2.49 ERA with 44 strikeouts and seven walks over 43.1 IP. His first two starts at Triple-A Sacramento have not gone as smoothly, though, as he's allowed nine runs over his first 11 innings—he allowed 12 in his seven Double-A starts.
Griffin will continue to be pushed up the ladder this season, provided that he doesn't continue to struggle, and should make his major league debut later this season.
Boston Red Sox: Matt Barnes, RHP (Low-A to High-A)
Courtesy of MiLB.com
2012 Stats: 4-0, 44.2 IP, 0.60 ERA, 2.10 GB/FB, 67 K/6 BB (8 GS)
If it weren't for Dylan Bundy, Barnes would be considered the most impressive pitcher in the minor leagues so far this season. Over his first five starts spanning 26.2 innings at Low-A, the 6'4" right-hander posted a 0.34 ERA with 42 strikeouts and only four walks.
And since his promotion to High-A, Barnes has somehow been even better, registering a 1.00 ERA with 25 strikeouts and two walks over 18 innings (three starts). Considering his experience at the University of Connecticut, Barnes should see a midseason promotion to Double-A, and perhaps a September call-up if there's a need. Otherwise, I feel confident in saying he'll be part of the team's 2013 starting rotation.
Seattle Mariners: Steven Proscia, 3B (High-A to Double-A)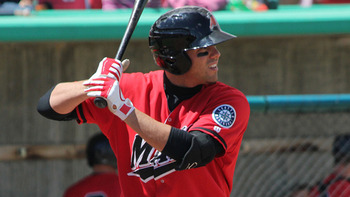 Courtesy of MiLB.com
2012 Stats: .325/.360/.552, 19 XBH, 31 K/10 BB (42 G)
Drafted in seventh round out of Virginia in 2011, Proscia has already received a promotion to Double-A in his first full professional season. The 6'2" third baseman opened the season at High-A by batting .347/.382/.545 with 14 extra-base hits over 31 games.
Although it's a small sample, he's shown a propensity to strike out in 81 professional games. At the same time, Proscia is a college player who consistently barrels up the baseball, so it makes sense to push his bat. Too bad there's a log jam ahead of him at third base.
Kansas City Royals: Jake Odorizzi, RHP (Double-A to Triple-A)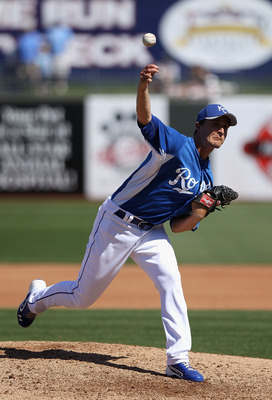 Christian Petersen/Getty Images
2012 Stats: 5-2, 50.2 IP, 3.20 ERA, .220 BAA, 58 K/11 BB (8 GS)
After finding his groove at Double-A, Odorizzi and Myers were both promoted to Triple-A Omaha. Prior to the promotion, the right-hander registered a 2.20 FIP and 11.13 K/9 over 38 innings.
After a rash of injuries to the Royals' starters, either Odorizzi or now-teammate Mike Montgomery might be the next to get the call.
Arizona Diamondbacks: Trevor Bauer, RHP (Double-A to Triple-A)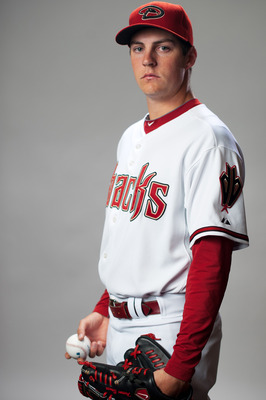 Rob Tringali/Getty Images
2012 Stats: 8-1, 61.1 IP, 1.61 ERA, .178 BAA, 76 K/32 BB (10 GS)
After he was cut from spring training to refine his fastball command in the minors, Bauer posted eye-popping numbers at Double-A: 7-1, 48.1 IP, 1.68 ERA, 60 K/26 BB in eight starts.
In his first start at Triple-A Reno on May 18, the right-hander allowed one run on four hits and a walk over eight innings, while fanning 11 batters. Bauer made his second start on Wednesday, and allowed one earned run on one hit over five innings. He struck out five but also issues five walks.
His command is far from flawless, but he's a smart enough pitcher to make adjustments on the fly at Triple-A and in the major leagues. His pure stuff appears big league ready.
Keep Reading