Arizona Diamondbacks Fans Missing 2011 Squad Should Look at L.A. Dodgers
May 24, 2012
Christian Petersen/Getty Images
It's official: The upstart 2011 Diamondbacks squad has been replaced by another surprise NL West team.
For D-Backs enthusiasts looking to explain Arizona's slide in the opening months of this 2011 season, the answer is closer and more obvious than you might think—for the past three days, the answer has been lurking in the visitors' dugout and clubhouse at Chase Field.
The 2012 Los Angeles Dodgers are everything the 2011 D-Backs were—and most importantly, everything the 2012 Diamondbacks are not. A simple three game series in May demonstrated that.
Rookies, Prospects and Back-Ups Galore: The Dodgers handily defeated Arizona on Monday, though not all of the Blue Crew's contributions came from its most commonly known names.
Yes, Andre Ethier and James Loney both homered, but the Dodgers also experienced timely hitting from its lesser-knowns—every starter save for rookie Scott Van Slyke had at least one base hit, including a huge RBI triple from shortstop Justin Sellers and a booming four-bagger off the bat of backup catcher Matt Treanor.
On Tuesday, the Dodgers beat the D-Backs thanks to key doubles from Jerry Sands and Ivan De Jesus, leading to key runs from former Double-A standout Elian Herrera and famous Junior Tony Gwynn.
Diamondbacks fans remember the romanticism of rookie sensation Paul Goldschmidt and the surprising late-game heroics from veteran journeyman Ryan Roberts in the wake of injuries to key parts. Remember "Grand Slam Goldschmidt" and Willie Bloomquist on the disabled list?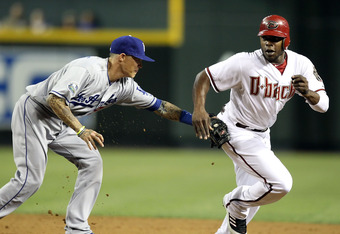 Christian Petersen/Getty Images
With Matt Kemp, Juan Uribe and Mark Ellis disabled for Los Angeles, youngsters Herrera, De Jesus, Sellers and Van Slyke have joined forces with veterans like Bobby Abreu to fill the void.
Baseball analysts sure can be fickle, though only as fickle as professional baseball teams allow them to be. When it comes to the 2011 D-Backs, that amounts to a fairly fickly position.
Starting Pitching: With a 2011 Cy Young Award under his belt, it's not as if Clayton Kershaw was any bit of inconsistent during 2011—but boy is the 2011 Cy Young Award race's fourth-place finisher Ian Kennedy anything but consistent in 2012. He holds a 4.47 ERA and 3.84 FIP, yet has surrendered 14 walks to 45 strikeouts in 56.1 innings, a K/9 ratio of 7.19 and K/BB ratio of just 3.21.
In 2011, Kennedy's K/9 ratio and his K/BB ratio were much higher (8.03 and 3.60 respectively). His 2011 ERA of 2.88 and FIP of 3.22 clearly trump his 2012 numbers—and this is just the D-Backs' No. 1 starter.
In Game 1 of the Dodgers series, rookie Patrick Corbin pitched just 5.1 innings and allowed two earned runs, pushing his seasonal ERA to 5.27, just in time for the organization to ship the little lefty back to Triple-A Reno. Meanwhile, Dodgers starter Chris Capuano once again pleasantly surprised LA by tossing six solid innings of one-run ball.
Bullpen Not Completing Non-Quality Starts: Perhaps the problem stems from the bullpen. With a quality start defined as a six-inning outing in which a starter allows no more than three earned runs, problems arise when D-Backs pitchers don't quite make it to the end of the sixth inning, by virtue of the bullpen being unable to support the added workload.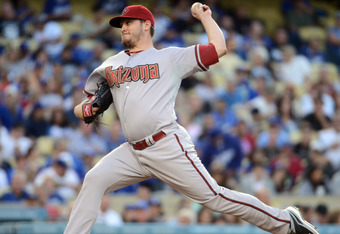 Harry How/Getty Images
In Game 1 of the Dodgers series, Craig Breslow picked up where Corbin left off, surrendering one earned run via Ethier's seventh-inning homer. Nary an inning later, Livermore native Bryan Shaw gave up three, including a two-run bomb to Loney.
If that was all, such relief-work might have been tolerable, but there was more. In Game 2, after a tremendous six-inning outing by starter Trevor Cahill, relievers Brad Ziegler and Breslow combined in surrendering five runs, the last scoring on reliever No. 3 Bryan Shaw's watch, who was unable to keep his inherited runners from coming around to score before the Dodgers had taken the lead and Shaw had earned the blown save.
After a Lyle Overbay home run in the eighth inning gave the D-Backs a one-run lead heading into the ninth, closer J.J. Putz was unable to seal the deal, surrendering both the tying and go-ahead runs to Los Angeles for his third blown save and third loss of the season.
Resilient, Potent Offense: Speaking of Game 2, the Diamondbacks took a five-run advantage into the seventh inning before the Los Angeles youth movement stormed back to erase their deficit.
Holding a runs scored-to-runs allowed differential of 44, the Dodgers' expected win-loss record is 27-17, yet the team is 30-14. Somehow, the boys in blue keep winning games, just like the Diamondbacks somehow kept winning games in 2011, when their win-loss expectancy was 88-74—six games back of Arizona's actual finish of 94-68.
The Arizona spark has shifted this season to Chavez Ravine, that is, until L.A. falls into the pitfall of complacency.   
A Closer You Can Count On: Speaking of Putz, the D-Backs' closer placed third in the National League last season with 45 saves, a career high. In 2012, that clearly is not the case.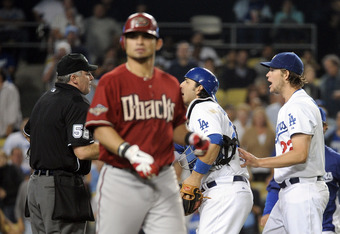 Harry How/Getty Images
The Dodgers' Javy Guerra began 2012 by leading the NL with five saves early on in April. Eventually, Guerra went cold and started blowing saves. Yet, unlike Kirk Gibson's approach with Putz, Dodgers skipper Don Mattingly took a proactive approach and replaced Guerra with Kenley Jansen, who earned his sixth save of the season on Tuesday.
Jansen is six-for-eight in saves this year, but more importantly, holds three wins to zero losses—he has never lost a game he has not saved, whereas Putz has lost thrice.
Could there be a better contrast than that? 
As for Wednesday's blowout victory in the series finale, every first-place team is entitled to a bad day, especially when it involves a No. 5 pitcher (Ted Lilly), two sidelined All-Stars (Kemp, DL; and Ethier, Day Off), a Gold Glover who didn't make an appearance until it was too late (Loney, entered only after the carnage was obvious) and a reluctance to tax the bullpen in a game that Mattingly clearly conceded to Gibson's team.
After all, the Diamondbacks lost to San Francisco by the grand sum of 8-1 on Aug. 3, 2011, a seven-run difference that matches the Dodgers' loss to Arizona Wednesday of 11-4.
With the blowout win, Diamondbacks starter Joe Saunders improved to 3-3 with a 3.79 ERA, though his most impressive statistic Wednesday involved strikeouts—he racked up seven fans in just 6.1 innings of work.
Yet those four runs surrendered to what might amount to a Triple-A lineup of a team effectively made his performance ineligible for quality start status, adding yet another non-quality start to the D-Backs starters' tally.
Yes, if you are looking for the 2011 Arizona Diamondbacks, look no further than to the 2012 Los Angeles Dodgers.