New York Yankees: Brett Gardner Has Yet Another Setback, Is It Time to Worry?
May 24, 2012

Mike Stobe/Getty Images
The New York Yankees could use Brett Gardner back in the Bronx as soon as possible.
The Yanks were hoping to have Gardner back a couple of weeks ago, but he experienced a setback and was unable to return. He will still fly to Tampa Thursday, but they were hit with some more bad news about his situation.
According to Erik Boland of Newsday, Gardner has run in to more problems in his recovery process:
Girardi said Gardner still felt some stiffness in elbow. Will fly to Tampa as scheduled. Plan for him to try and hit off tee on Monday
— Erik Boland (@eboland11) May 24, 2012
The Yankees can only manage so long without Gardner in their lineup, and hopefully he will not have to face any more setbacks. Gardner will not be able to hit off a tee until Monday, meaning he is looking at a bit more time away from the Bronx.
Gardner was hitting .321 with a .424 on-base percentage through nine games at the beginning of the season before he injured his elbow making a play in left field.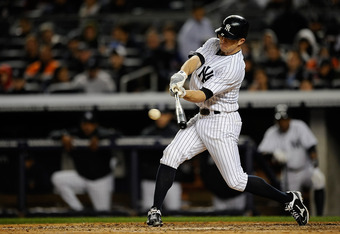 Patrick McDermott/Getty Images
With two setbacks in two weeks, should the Yankees begin to worry about Gardner? 
Is there a need to look into other options in the outfield?
It appears that the Yankees remain optimistic about Gardner and his recovery, but who is to say that he will not have a third or fourth setback?
Perhaps the Yankees might want to begin to target a few outfielders should Gardner experiences any more stiffness and pain over the weekend.
There seems to be very little progress in Gardner's rehabilitation, and that should scare the Yanks a bit as the season continues.