St. Louis Rams: Thursday's Rams News and Notes at Noon
May 24, 2012

Jay Drowns/Getty Images
Welcome to Thursday's addition of "News and Notes at Noon." I'll be filling in for Shane Gray today as I update Rams Nation on latest headlines and stories. 
Is Sam Bradford's Lingering Ankle Injury a Major Concern? 
Mike Sando of ESPN.com reported that Rams quarterback Sam Bradford is still experiencing some lingering issues from an ankle injury he obtained against Green Bay during Week 6 of last season. 
Here's an excerpt from Sando's article: 
"It's getting there," Bradford told reporters Wednesday. "It seems to feel better every week. Less soreness, more things I can do, so I think it's definitely on track." 
A bit of soreness in the ankle wouldn't normally cause concern, but the injury was obtained seven months ago, so it's slightly troubling that the former No. 1 overall pick has not fully recovered. 
The Rams need Bradford to completely rebound from his sophomore slump if they're hoping for a comeback year following a disastrous 2011 season. A nagging injury could prevent that. 
But with the season opener over three months away, there's still plenty of time to heal.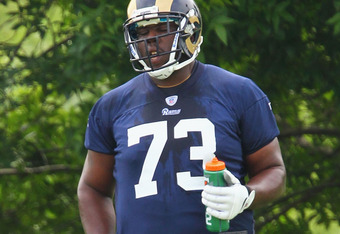 Dilip Vishwanat/Getty Images
Left Guard Position Will Be Filled Internally 
Four of the five starting offensive line positions are locked down, but the spot at left guard is still up for grabs. 
Although if you were expecting the team to explore free agency or work out a trade in an attempt to fill the spot, then you may be surprised to know that the Rams are confident that a current player will step up to claim the job.  
According to an update from CBS Sports, coach Jeff Fisher was asked whether or not the starting guard is currently on the roster. He replied, "Yeah, he's here. We've got a lot of options and we'll continue to rotate guys in there, but he's here. And he'll play well for us."
Some of the options include Rob Turner, who has previous experience in Brian Schottenheimer's offense from their time together with the New York Jets, as well as Rokevious Watkins, who was the team's fifth-round draft pick last April. 
However, veteran Quinn Ojinnaka and second-year player Bryan Mattison have been receiving the most reps at practice. 
A Confident Jeff Fisher is Rapidly Covering Ground With the New Playbooks
After the entire St. Louis offense struggled last season, there was speculation that the shortened offseason (thanks to the lockout) and Josh McDaniels' complex offense deserved a portion of the blame.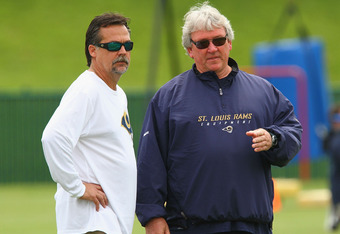 Dilip Vishwanat/Getty Images
If you're concerned over the offense learning its third new system in as many years, there's no need to worry. At least that's what Jeff Fisher would have you believe. 
According to an article from Turf Show Times, Jeff Fisher claims that 70 percent of the offensive and defensive playbooks have been installed, despite the fact that veterans reported to practice just over a week ago. He told reporters:
We'd like to have everything in by the time we leave, but from the standpoint offense and defense, we've probably got 70 percent on both sides.

We got a lot done, a lot of different situations and scenarios, end of the game scenarios. Backed up, we wanted to make sure that sometimes it gets loud. You need to be able to communicate and execute in the huddle, so we had a fairly good rookie class voice-wise. I could have got some more out of them, but we got a lot done the last two days. Things have gone well.
Rams Rookies Missing Out on Valuable Reps
The Rams drafted wide receivers Brian Quick (second round) and Chris Givens (fourth round) last April, and both are expected to make contributions to the offense this season. 
But rather than running routes and developing chemistry with the quarterback, the young receivers are posing for cameras and mingling with fans at the NFLPA Rookie Premiere event in Southern California. 
The event is mandatory and there's no way around it. According to Jim Thomas' Twitter page, both players will miss Friday's practice after already missing time this week.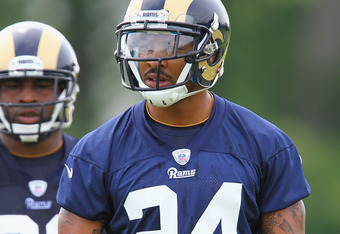 Dilip Vishwanat/Getty Images
And to make matters worse, second-round pick Isaiah Pead's college (Cincinnati) uses the quarter system rather than semesters, which means the school year lasts longer than normal. 
The rookie running back is not allowed to report for practice until his school year is complete (because we wouldn't want his pesky NFL hobby to interfere with his career in economics).
Pead is not expected back until June 7th, according to STLtoday.com. 
With three important rookies missing vital practice time, hopefully there are plans to get them all up to speed as soon as possible.