Detroit Tigers: 5 Players Who Need to Go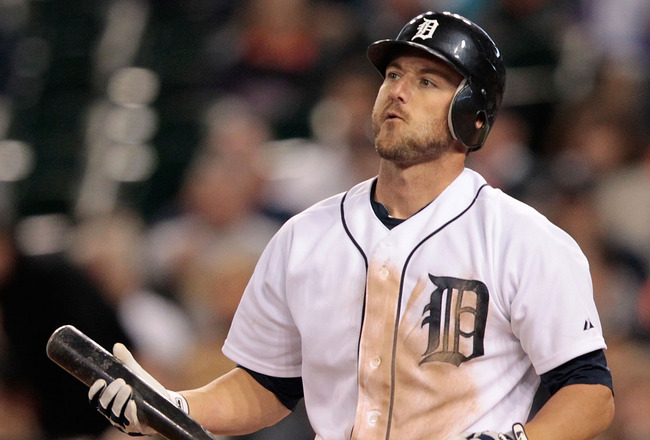 Leon Halip/Getty Images
The Detroit Tigers came into the 2012 season with expectations of winning the World Series. Currently, they sit at 20-23, which is good enough for third place in the Central Division. If the Tigers are serious about contending for the World Series, they need to make some roster moves as soon as possible.
Don Kelly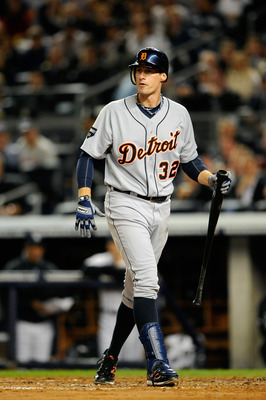 Patrick McDermott/Getty Images
Jim Leyland may be the only manager in the game who would consider Don Kelly a catalyst. With Austin Jackson hurt, Kelly has been his replacement, sporting a .172 batting average.
Not exactly the most ideal table-setter.
The guy is so desperate for playing time he literally played every position at least once during last season. And yes, that does include pitcher.
Perhaps Kelly should take up pitching full-time. At least he won't have to bat.
Delmon Young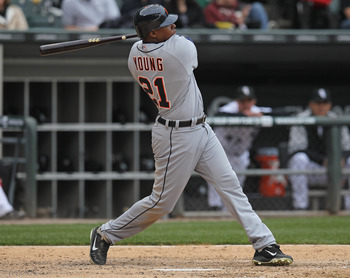 Jonathan Daniel/Getty Images
If Young were to leave, it would most likely be when Victor Martinez returns from the DL.
Young is on the last year of his contract and currently batting .248.
It became evident very early this season that Young would be a liability in left field. Young has been moved recently to DH, despite his request to remain in the outfield. Ever since Jim Leyland moved him to DH, his average has slightly improved.
But once V-Mart comes back, he will play DH everyday, and the Tigers would essentially have no use for Young.
Ryan Raburn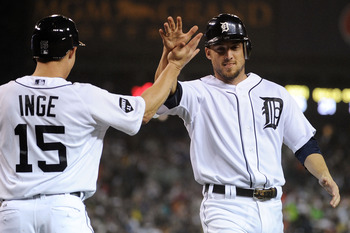 Harry How/Getty Images
As of May 23rd, Raburn checks in with a .144 batting average.
He plays almost everyday.
Did I mention it's May 23rd?
Raburn has been known to have hot streaks during the second half of the season. The thing is, though, the Tigers can't wait that long.
Raburn was a big question mark coming into this season. But after having an impressive performance during spring training, people started to feel a little better about Raburn.
Everyone knows he's a liability on defense no matter what position he plays.
But when he's batting .144 on top of that, we can consider him a super liability.
He got his shot to prove himself, and he blew it. So now it's time for him to go.
Daniel Schlereth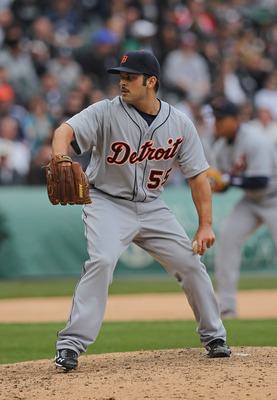 Jonathan Daniel/Getty Images
One word: awful.
In his six games this season, Schlereth has posted a 10.29, along with a WHIP of 2.71.
Emphasis on awful.
The guy had more walks than strikeouts in those six games.
He's now with the AAA Mudhens and currently on the DL because he never told anyone he had some pain in his shoulder. He chose to play on it and now has shoulder tendinitis.
If he is called back up to the Tigers this year, I would be very shocked.
Luke Putkonen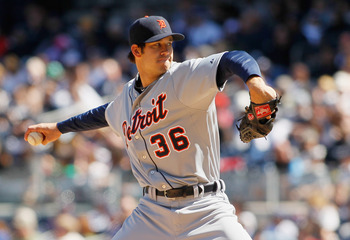 Mike Stobe/Getty Images
Putkonen's rookie season has been far from impressive.
Right now, he is 0-2 with a 10.50 ERA.
Along with a struggling bullpen, the Tigers also have a struggling offense.
When their offense has been struggling like it has been they can't be putting in pitchers like Putkonen when the game is close.
It's obvious that Putkonen isn't ready for the majors, despite being a third-round pick for the Tigers in 2007.
Consider him a draft bust.
Keep Reading

Detroit Tigers: Like this team?