Udonis Haslem and Dexter Pittman: How Suspensions Will Impact Heat in Game 6
May 24, 2012

Ronald Martinez/Getty Images
After two flagrant fouls that appeared to be both intentional and retaliatory in nature, the NBA suspended the Miami Heat's Udonis Haslem and Dexter Pittman in a stiff punishment that could significantly impact Game 6 against the Indiana Pacers (via ESPN's Brian Windhorst):
Haslem was suspended by NBA executive vice president Stu Jackson for Thursday's Game 6 and Pittman was suspended for three games. Pacers forward Tyler Hansbrough, who also committed a flagrant foul on Heat star Dwyane Wade, had his foul upgraded to a flagrant foul 2 from a flagrant 1, but he avoided suspension.
While Pittman's more extensive suspension won't worry too many Heat fans, Haslem's is another story.
Though he'll only miss one game, it's a game that singularly determines whether the series will come down to a winner-take-all Game 7. It also happens to be in Indiana.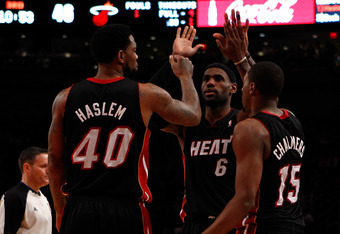 Jeff Zelevansky/Getty Images
Pittman hasn't played more than seven minutes for the duration of the postseason, but Haslem has been a prominent piece of the Heat's short-handed interior rotation—especially over the last two games against the Pacers.
Though the 31-year-old power forward hasn't been exceptionally productive throughout the playoffs, he tallied a combined 24 points and 10 rebounds in Games 5 and 6.
With Chris Bosh sidelined by an abdominal strain for at least the remainder of this series, Haslem has become a vital contributor.
His emergence over the course of the last two contests coincides with Miami returning to dominance in a quintessentially up-and-down series.
More importantly, Haslem is the kind of guy who does all the little things championship rosters need someone to do. He's a tough defender and a reliable source of hustle. It goes without saying he'll be dearly missed against a Pacers' front line featuring the likes of Roy Hibbert and David West.
Still, it isn't exactly time to panic.
Indiana's Danny Granger is considered day-to-day after rolling his ankle in the first half of Game 5, and it's hard to imagine he'll be at full capacity even if he returns for Game 6.
Moreover, Erik Spoelstra's club is unquestionably on a roll. Sure, the Pacers will come out with renewed urgency—especially with team president Larry Bird describing his team's recent performance as "soft."
But every indication as of late is that the Heat are finding a stride that should withstand even Indiana's best effort.
Don't expect another lopsided blowout in Game 6, but if the Heat wind up losing, it will have a lot more to do with the Pacers overachieving than the loss of Haslem and Pittman.