Houston Astrodome Saved: Why a $270 Million Project Is a Waste of Time and Money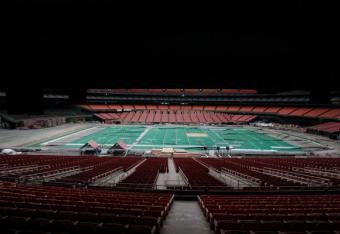 In recent weeks, stories of the now vacant Houston Astrodome have been surfacing during the lighter side of the news. Recently, news crews had a chance to tour the vacant mecca of the old days of Houston sports, and to say the least, it had seen better days.
Trash was everywhere, mold was on the walls and it looked as if nobody had stepped foot inside for years. Video was taken by a slew of local reporters. (There's a link below to a video shot by Jordan Godwin of the Galveston County Daily News.)
That was nearly two months ago.
But if you flash forward to today, consultants from a Dallas-based company have recommended a $270 million renovation for the facility. According to the Associated Press, CSL president Bill Rhoda said renovating the facility into a multipurpose facility could attract much bigger events, like Super Bowls, the Final Four and other major non-sporting events and expos.
The self-proclaimed "Eighth Wonder of the World," which hasn't held an event since a rodeo back in 2008, hasn't turned a profit since the Astros and Oilers were playing there. So why waste the time and money?
Sure, the old stadium has the nostalgia for Houston fans of the 70s, 80s and 90s, but those days are over. Trying to recreate that is impossible, especially since both the Texans and Astros play in state-of-the-art-facilities, and now, even the Houston Cougars have their own home field.
Gone are the days of seeing big events like 1968's college basketball game of the century between Houston and UCLA, and gone are the days of having either the Astros or Oilers filling the stadium to capacity.
So that brings up the question, who will play here?
It makes absolutely no sense to keep this relic of a building standing. The city and county are not spending the money to maintain it, and there will be no major sporting teams to occupy the massive 50,000-plus seating capacity.
There are also a number of issues when it comes to demolishing it.
Many are concerned it may cause damage to the newer facilities like Reliant Stadium if it's destroyed. Also there are many questions of its historic value, as it was the first of its kind as far as domes go.
Other questions about the Astrodome and the $270 million plan center on how much will be paid by private investors, and also, how much will get handed down to the common taxpayer.
Houston has seen its property values go down just like most other major cities since 2008, and the city has an unemployment rate of just under 7 percent. Does it make sense to add any more of a burden to the common working man?
As Cubs announcer Bob Brenly said in tonight's game at Minute Maid Park:
"A couple thousand pounds of dynamite and some grass seed and you have a nice park for the kids."
I would have to agree.
But what do you think? Should they renovate the Eighth Wonder of the World? Or should it be destroyed like other domes built shortly after it was?
This article is
What is the duplicate article?
Why is this article offensive?
Where is this article plagiarized from?
Why is this article poorly edited?