Euro 2012: Can Laurent Blanc Get Yoann Gourcuff Back to His Best for France?
May 28, 2012

The Yoann Gourcuff who came onto the Canal+ Sunday night forum in the latter stages of the 2010-11 season looked like a man broken. Whether it was the weight of expectation finally come crashing down upon him, or simply a failure to integrate himself at his new surroundings was a matter of conjecture.
What was evident was that the then-24-year-old had lost his joy for the game.
Gourcuff's €22 million transfer from Bordeaux to Olympique Lyonnais the previous August—then a French record—had resulted in a beady-eyed scrutiny upon the playmaker. That's common practice for any player who commands an exorbitant fee—fans want to see if it's merited—but from the offing, it never appeared that Gourcuff settled at Lyon.
How could he, after all? He was just coming off two seasons with Bordeaux where he'd enjoyed an almost unrealistically brilliant run of form.
He'd joined Les Girondins on a season-long loan in '08-09, making the move permanent ahead of the '09-10 campaign after the club's management ponied up the €15 million needed to pry him away from AC Milan.
As Milan vice-president Adriano Galliani had pointed out, it was with Bordeaux that Gourcuff had vaulted from the purgatory of "talented youngster" to fully-fledged French star. He was thriving with the national team—he was a level above many others at club level.
Gourcuff was voted the French Player of the Year for the 2008-09 season at just 22 years of age.
His scintillating play at the attacking midfield position had helped lead Bordeaux to an unprecedented double in 2009, during which he had produced bits of absolute technical wizardry that hearkened to mind a young Zinedine Zidane. His 12 goals and seven assists were superb production for a technician.
The player who began his career at Rennes had found a second home in the south of France.
Gourcuff developed a very close relationship with Laurent Blanc, then the manager of Bordeaux. It made sense—Blanc had offered Gourcuff a lifeline from Milan, where the midfielder was mired in a situation where first-team opportunities were coming few and far between. Under Blanc's tutelage, Gourcuff had become great.
It spoke to the closeness of the relationship that when Blanc was formally announced as the next France coach following the disastrous 2010 World Cup, Gourcuff was visibly distraught. L'Equipe, France's leading sports newspaper, revealed in its print edition that Gourcuff had cried during the press conference where Blanc had announced he would be leaving Bordeaux following the 2009-10 season.
Many attribute that seminal moment for creating a schism of sorts in Gourcuff. He was cut adrift, and he has never been the same player since.
To be fair, Gourcuff hadn't been right since the start of 2010, but then, that was when the Blanc rumors began gathering in force.
Bordeaux were sitting in first place in Ligue 1 at the winter break that season (France, along with several other countries, enjoy a three-week respite from play at that time). The team was looking for all the world like they would repeat as champions, continuing the trend of Olympique Lyonnais, the team they'd wrested the title from in '08-09 after Lyon had won the previous seven editions.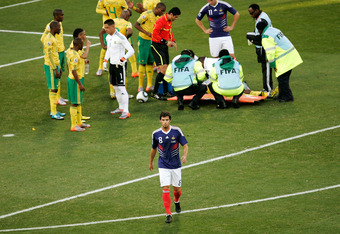 Dominic Barnardt/Getty Images
When the dust had settled on the final day of the 2009-10 season, however, Les Girondins were sitting in sixth place, and had missed out on European football for the next term. A dip in performance on a par with their talismanic midfielder.
The ball was only beginning to unravel for Gourcuff. He was selected for the 23-man France squad that went to South Africa, but rumors began gathering that several key players were trying to freeze him out.
His stardom and quiet personality, often construed as egotistical and elitist to some and simply off-putting (as is apt to be the case with those who keep to themselves) to others, had rubbed the likes of Franck Ribery, Patrice Evra and Thierry Henry the wrong way.
L'Equipe reported (they once more referred to the matter in their May 15, 2012 print edition) that those three referred to Gourcuff condescendingly as "La Nouvelle Star," (The New Star) and would tap Gourcuff on the head as he passed them on his way to his seat on the France bus during the World Cup.
One day, Gourcuff stood up to the bullying and, as Telefoot put it (see previous link), things got quite edgy.
But Lyon was supposed to be a new start. It wasn't as if Gourcuff wouldn't play for Blanc again—there was every reason to think he'd continue to earn caps at the national level.
Despite his indifferent form with Lyon in the 2010-11 season, Blanc continued to call up his former player. Gourcuff was preferred to Samir Nasri in the France midfield during a round of October 2010 European qualifiers, and even grabbed a goal in a 2-0 victory over Luxembourg. He would end up with three goals and one assist in five European qualifying matches.
But injuries and his indifferent showings began to take their toll. By the time the 2010-11 season was reaching its denouement, Gourcuff looked a shell of his former brilliant self, further cracked from the end of the '09-10 campaign.
Invited onto that popular Canal+ "Football Club," Gourcuff appeared bereft of any ability to take joy from playing
"To do things like 'that goal' against PSG, that comes from an assuredness with the ball, a confidence," he said to the Canal+ panel. "Today, as opposed to then, I've lost a lot of the spontaneity in my play. I'm not as confident or comfortable trying a move like that anymore. I take less responsibility on the pitch."
Asked how he might recreate that feeling on the pitch, Gourcuff responded, "I don't know...try to rediscover the joy of being out on the field, as well as in my play."
Blanc must have been watching, because when the manager picked Gourcuff in his preliminary 26-man roster for the European Championships (he will whittle the list down to 23 on Monday or Tuesday), he responded to critics of the selection as follows, in an interview picked up by the print version of L'Equipe's May 15 edition.
"What does Yoann need? Selected or not selected, he has to reconstruct himself, to play and to take pleasure from playing once more, because that notion of pleasure is very important to him."
Speaking to L'Equipe on May 9 about the prospect of picking Gourcuff for the Euros, Blanc had said: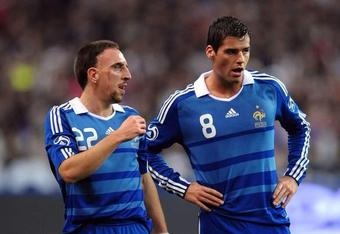 "Speaking frankly, calling [Gourcuff] up at this time would be illogical, given how little he's played." (Gourcuff made just 13 league appearances for Lyon in an injury-ravaged 2011-12.) "But if someone had, during his lengthy absence, taken the keys to his position for France, no one would be asking these questions."
"Today, Yoann isn't ready physically, but when you reflect long and hard, no door should be shut concerning his potential inclusion in the French squad."
Gourcuff's last appearance of the Ligue 1 season came on May 13, when he was sent off in a victory over Ajaccio. Asked about that offense, Blanc advised taking the "outburst" with a grain of salt.
Gourcuff was tired physically in the Ajaccio match, Blanc reasoned, and attributed the dust-up—which had occurred after Gourcuff had been cynically held back by Corsican defender Jean-Baptiste Pierazzi after the midfielder had tried to launch upon a counterattack to a combination of the player's lack of match fitness and disappontment with the season as a whole.
That didn't mean Blanc was ready to excuse him responsibility, however. Speaking to L'Equipe in that same interview, the manager said Gourcuff "should be better than that."
While his temperament has already been discussed at length, it is Gourcuff's lack of fitness that presents the more immediate problem. Then there's the problem with his integration with the players in the French camp.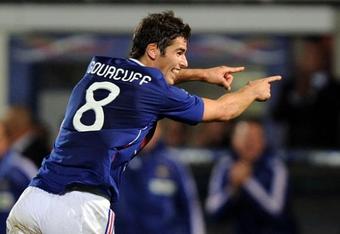 But fitness first.
L'Equipe ran the math of Gourcuff's last seven matches of the season he disputed with Lyon after returning from a troublesome muscle injury on April 18.
Five of those matches he started, and he averaged 56 minutes of playing time in them, chipping in one goal and one assist. He boasted an 80 percent pass-completion rate in six of those seven matches.
It is that completion rate that likely caught Blanc's eye, and speaks most convincingly to why he would take Gourcuff to next month's championships. (The final 23-man roster will be announced May 29.)
The former Bordeaux talisman is blessed with an exquisite technical ability, and there are no doubts about his ability to turn an encounter on its head.
While he can drift in and out of games, he needs to get touches on the ball and bring others into play, one reason why he is so adept as a central midfielder when he has license to roam—he is always a threat, able to change from benign to dangerous.
I was at the Stade de France on Nov. 18, 2009 when France were embroiled in that infamous World Cup playoff return leg with Ireland.
Gourcuff was far from his best during the course of that match—but then, there were few French players who could look back proudly on their performances over both legs—all of a sudden, the old Yoann surfaced with a vengeance.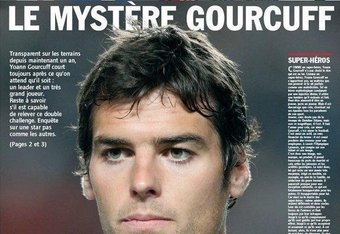 Collecting a pass to the left of the midfield circle in the dying embers of the second half, Gourcuff looked up and picked out right-back Bacary Sagna, who had marauded forward into an advanced position abutting the right sideline.
Sagna was some 40 yards away, but Gourcuff picked him out with a sublime, inch-perfect searching pass that allowed Sagna to control it easily with his chest and continue on in attack.
He can lose himself when he gets away from playing like that—it's when Gourcuff falls in love with trying to take on defenders through dribbling (he's not quick enough to get away with mazy individual runs), or gets caught up taking too many touches on the ball that his play suffers the most.
When he plays simple one, two-touch football few can rival his impact upon a game. It's positively breath-taking at times.
I also attended one of Gourcuff's final matches for Bordeaux—an April encounter against Paris Saint-Germain at the Parc des Princes. This was the stage in the 2010 spring when Gourcuff's form was beginning its inexorable slide into foundering.
But watching him warm up with teammate Jaroslav Plasil was nothing short of sensational. Gourcuff spent at least a half hour playing quick, one-touch football with the Czech midfielder, showing an astounding variety of technical gests: volleys, juggling, simple passes—all were on display. It was mesmerizing.
Former Bordeaux manager Elie Baup, while never having coached Gourcuff, has followed his career and offered this appraisal of the midfielder's situation to L'Equipe's May 15 print edition.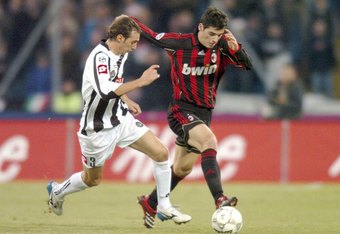 New Press/Getty Images
"There aren't many players within the French team at present who are capable of playing in the pocket behind a forward," Baup said. "Gourcuff can."
It is true that Gourcuff played that attacking midfield role to near-perfection in that glorious '08-09 season with Bordeaux as well as in his initial displays with France.
But he is equally adept at playing in a more deeper-lying central role, something his father Christan, manager of FC Lorient, evoked at the end of 2009 when he said that his son's future was at that position, a la Andrea Pirlo.
Gourcuff could certainly learn from Pirlo, who has enjoyed a fantastic career befuddling opposing defenses and mesmerizing crowds with his technical mastery. Even at 33, he shows no signs of slowing down—something his debut season with Juventus shows.
For now, Gourcuff must continue to sweat his potential inclusion in the French squad for the Euros.
Opinion is divided in regards to Gourcuff's participation, and will not have tipped in his favor following a disappointing display against Iceland on Sunday. Gourcuff was included in the starting XI in the match at Valenciennes' Stade du Heinaut, and while he showed glimpses of his prowess (including a couple superb crosses from the right flank), they were too infrequent.
He was booed rather harshly off the pitch when Franck Ribery replaced him in the 75th minute, but he did not make an insurmountable case for his inclusion.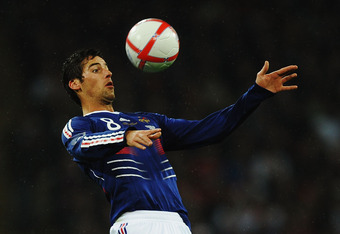 Laurence Griffiths/Getty Images
The fact remains that Gourcuff requires games above all else at this point—his lack of match fitness and sharpness were glaring at times. Will Blanc allow him to play himself back into shape?
Considering that France scored the two goals that led them to a 3-2 victory after Gourcuff left the field, things don't look too promising in that regard.
Potential-wise, there's no question that the Lyon playmaker is a sure-fire international player. But he simply doesn't look ready to rediscover his former self in the dwindling time frame before France's opening group stage match against England on June 11.
Despite a hugely impressive 19-match winning streak that extends back to October 2010, France have not won a single match in a major tournament since Zinedine Zidane retired following the 2006 World Cup.
After reaching the final in Germany, Les Bleus have been bounced from the group stages at Euro 2008 and World Cup South Africa, picking up just one point from each competition.
Would Blanc be showing too much favoritism if he were to bring his former top player along to Poland and Ukraine, when he might not be up to the competition? A positive showing will be paramount, and Blanc will need a side chock-full of players ready to contribute now.
Gourcuff will certainly be fresh, but when that freshness comes as a result of not playing, it not only worries; it rankles—those French players who were hoping for a call-up, and who had participated in a full season's worth of football, will not be looking too fondly upon Gourcuff's case.
Claudio Villa/Getty Images
In the end, only Blanc can make his decision. It is no secret that Gourcuff was at his best while playing for him at Bordeaux, and has enjoyed some of his finer displays of late when he is with the national team.
You might go so far as to call it the "Blanc" factor. As he so aptly put it, and Gourcuff verified last year, the midfielder is at his best when he is able to enjoy his football. He achieves that level of serenity when he is comfortable in his surroundings. And he is comfortable when he is playing for Blanc.
Ergo, Gourcuff might just be a wild card worth playing this summer as Les Bleus search for their own salvation. They'll have a player intent on reclaiming his former sterling form, who might just play himself back into shape.
It could just be a scenario written in the stars, because heaven knows Gourcuff could use a little divine intervention right now.