Euro 2012 Players to Watch: Wayne Rooney of England 
May 23, 2012

Michael Regan/Getty Images
As one of England's only true world-class players, a lot of pressure rests on Wayne Rooney's shoulders. The nation's fate in major tournaments in recent years has usually correlated closely with the fortunes and misadventures of the Manchester United forward.
So, it is quite a blow for England that they will be without Rooney's services for their first two group games at Euro 2012. Here's a look at what England will be missing for those matches and what they will gain upon his return.
IN NUMBERS
Rooney did not exactly set the scoring charts alight during qualifying. He was one of four England players—along with Ashley Young, Jermain Defoe and Darren Bent—to score three goals as England topped their group without losing.
Rooney has not scored for England at Wembley since before the 2010 World Cup. He scored one goal in Switzerland and the other two were via a brace in Bulgaria.
Such scoring form is in stark contrast to his performances for United this season. He scored a career-high 27 Premier League goals last term, plus another seven in cup competitions.
Rooney's four league assists is some way off from his best return—the 11 he registered in 2010/11—but this season was still his most productive in front of goal.
Surprisingly, considering his suspension at the Euros is the result of a petulant and unprovoked kick out at Montenegro's Miodrag Dzudovic, the notoriously fiery Rooney was only booked once in the Premier League this season, and that came in United's penultimate game of the campaign against Swansea.
Overall, Rooney has scored 28 goals in 73 senior international appearances, putting him seventh in the nation's all-time scoring charts.
He made a huge impact at Euro 2004 at the age of just 18, scoring four goals as England reached the quarterfinals. However, against Portugal he was taken off with an injury, and England subsequently lost on penalties.
Two years later, he again exited a last-eight clash against the Portuguese early, only this time it was via a red card.
Rooney did not score in the World Cup in 2006, nor in South Africa four years later. As England did not qualify for Euro 2008, those four goals scored in Portugal are still his only strikes at the finals of major tournaments.
WHAT TO EXPECT
While Rooney may have had his best season ever—on paper, at least—it ended without any silverware to add to his collection as United were pipped to the Premier League title by local rivals Manchester City.
There were to be no major personal awards either, as Arsenal's Robin van Persie dominated the big prizes.
Rooney is often left in something of a quandary in an England shirt. As arguably both his country's best striker and most creative player, he is regularly asked to fill several different roles from game to game, depending on the personnel around him.
While he has rarely shown his best form in the international arena, Rooney has still been reasonably effective. In addition to his three goals in qualifying, there were also three assists, though they did all come in a 4-0 humbling of Bulgaria at Wembley in 2010.
Rooney was one of England's most insipid performers at the 2010 World Cup, a strong category to compete in, but he has never looked as bad since then for the national team.
It will be fascinating to see how England will cope without him against France and Sweden in their first two group matches. Even if they perform to a high level in his absence, it is inconceivable that he will not be restored to the starting lineup for the final group match against co-hosts Ukraine.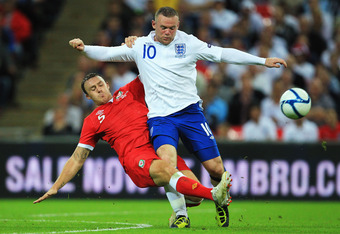 David Cannon/Getty Images
WHAT THEY SAY ABOUT HIM
With a five-week gap between the end of the Premier League season and the Ukraine game, Rooney would lack match fitness if he did not feature at all in either of England's warm-up games against Norway and Belgium.
However, ESPN reported England boss Roy Hodgson as saying he will try and rest Rooney in order for him to recover from an injury he has been carrying, whether the player likes it or not. He said: 
"Wayne has been playing with a minor injury for the last three or four games which needed a couple of weeks to clear up. He won't be involved in the Norway game and I don't know whether I will select him for Belgium at this stage.
"I offered him a couple more days' rest but he was adamant he wanted to be part of it when we meet up for the Belgium game. 
"The fitness side doesn't bother me. If he needs a bit of topping up we will do that. But his enthusiasm for the task was fantastic."
France striker Karim Benzema, who threatens to be the architect of England's downfall in their opening game, has rather politely claimed that England will be able to do fine without their star man.
As reported by Sky Sports, he said:
"It's true that England will play without Rooney. But it's a great team which is used to playing in those big tournaments.
"They have the players to replace him so we need to be at our best for the first game (and) try to feel good, something we have been doing for the past year and a half.