WWE: Does the Company Need More or Less Championships?
May 24, 2012

Gallo Images/Getty Images
To increase the value and prestige of its championships, WWE needs to eliminate some of its title belts.
There are options for getting wrestlers over, ones that don't clutter the way that too many champions can.  
Of the six championships WWE currently recognizes, the United States title is the most likely to be abandoned.  Recently, it has been grossly underused and under defended. 
Ideally, this belt serves as a stepping stone, a prize for the mid-card talent to battle for.
Instead, these wrestlers are too often left off the air, defeating the championship's purpose.   
It's not that WWE doesn't have the time to have every champion defend at every pay-per-view—it's that they are often bumped off the program because the title doesn't mean all that much anymore.
As fun as reviving the Hardcore Championship or officially recognizing the Internet Championship seems, WWE needs to go the other direction.
Too big of a percentage of the roster wearing gold saps the championships' power as a motivator and moment maker.   
There must still be a way to have anyone not going after the major titles to still be involved, for them to have a goal to fight to achieve. 
The following are alternatives to title belts that are equally capable of creating drama. 
Tournaments
King of the Ring's downfall was that it forced the winner to alter their gimmick too much.
The winners wore a ridiculous crown and cape for the next year.  Booker T went so far as to put on a fake accent. 
The tournament itself was fantastic entertainment. 
Reviving the King of the Ring pay-per-view minus the goofy costume would be a yearly boost to rising stars.
Steve Austin is the best example of the power of winning that tournament has for one's career.  It catapulted him into stardom. 
Alternatively, WWE could decide to go with a different tournament altogether.
Events like the Champion's Carnival  and Super J Cup have produced superb shows and helped launched the careers of young wrestlers. 
Win-Loss Record
Utilizing a win-loss record would create a multitude of opportunities for wrestlers.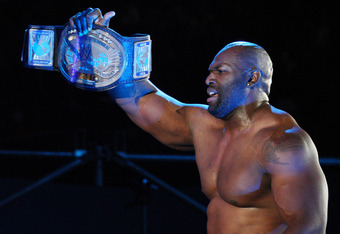 Gallo Images/Getty Images
Angles and feuds would all but write themselves. 
If WWE wanted to push Cody Rhodes and had other folks in mind for runs at the WWE and World Heavyweight Championships, perhaps he could instead end up as the wins leader for the year.
Once the data is compiled and released, records and streaks would easily make for added excitement. 
Wrestlers reaching career milestones like 100 wins would improve the product as well. 
Despite the fact that WWE is pre-determined, the Undertaker's undefeated streak at WrestleMania adds an element of intrigue to the matches.
Continuing the streak has elevated the Undertaker's status without him wearing a championship title through much of it.   
The same could be done for multiple wrestlers. 
Creative Storylines
Wrestler X is angry with Wrestler Y because they prevented them from winning the title is the easiest feud-fueler imaginable.
It takes real vision to create a story that transcends championships.
When CM Punk went on his famous tirade in the Summer of 2011, it wasn't his championship aspirations that pulled people in. 
Fans were seeing something different, something daring and took notice.
To give wrestlers like Wade Barrett and Dolph Ziggler a way to snag our attention, a IC or US title reign won't do the trick. 
WWE is going to have to come up with some new material.
The Nexus invasion and Kane's mental dissection of John Cena didn't need championships to entertain.  Getting rid of some of WWE's championship surplus forces the company to tell more stories like those.