New York Jets: Why Rex Ryan's Defense Is Not a 3-4
May 24, 2012

Rich Schultz/Getty Images
As most knowledgeable football fans know, NFL defenses are split into either of the following two categories: "3-4" and "4-3." While this is a convenient way to generalize defenses and make it more digestible for more casual fans, calling a defense either a "3-4" or a "4-3" can be very misleading. 
As NFL defenses try to adapt to the growing passing trends, teams are utilizing their base personnel less and less. 
Thanks to great stats provided by Pro Football Focus, teams, both 3-4 and 4-3, spend just 45 percent of their snaps in their base defense. The Jets spend just 37 percent of their time in their base set. 
So, what kind of defenses did the Jets run outside of their prototypical 3-4?
The next-highest percentage of snaps is the 3-3-5 defense, which features three linebackers, three defensive linemen and five defensive backs. In other words, you are replacing a front-seven player (either a linebacker or a defensive lineman) with a defensive back. 
The kind of formation is ideal for third downs, but the Jets used this look on earlier downs as well. The Jets line in 2011 featured three quality run-stuffing defensive linemen in Sione Pouha, Mike DeVito and Muhammad Wilkerson. With David Harris roaming the middle of the defense, the Jets could get away with having fewer player in run support and bring in more players to blitz or play coverage. 
Throw in the fact that the Jets have a unique defensive weapon in Darrelle Revis, and the Jets were able to get very creative with this scheme. 
This also explains why Bart Scott was so upset with his role on the team last year. In this set, there is only one inside linebacker. Since Harris is the superior player, especially in coverage, he took virtually all of the snaps out of this set. 
However, the most interesting statistic from the table provided by PFF is how much more the Jets used the 1-3-7 formation. While the rest of the league used this formation just 1 percent of the time, the Jets use this alignment on a staggering 16 percent of their snaps.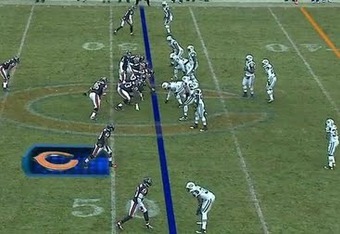 With only one defensive lineman and seven defensive backs, this is obviously a very exotic alignment that is almost exclusively used on obvious passing situations. 
In this set, it is common for the blitzing linebackers and defensive backs to "roam" before the snap, creating confusion. The Jets also like to put their potential blitzers all in a row across the line of scrimmage, making it impossible for an offense to know which side the overload blitz is coming from. 
Therefore, it is apparent that even though they are categorized as a 3-4 defense, the Jets are actually a "multiple" defense that uses just about every alignment known.