Big Ten Football: Breaking Down Phil Steele's Preseason All-B1G Team
May 23, 2012

Justin K. Aller/Getty Images
Phil Steele released his four-deep All-Big Ten team today, which is an utter delight for all Big Ten fans and yet another reminder that yes, the 2012 college football season is coming. The full list is here, and it'll be in Steele's preview magazines as well. 
Steele is, as most college football fans know, essentially the most unimpeachable authority on the national college football scene, and many of his most aberrant prognostications end up being more accurate than the conventional preseason wisdom. The man is an institution.
And yet, the man gets things wrong just like everybody else, and here are some issues I had to take.
Nathan Scheelhaase at 4th team QB; James Vandenberg and Danny O'Brien not listed
Nathan Scheelhaase is probably going to start. Probably. He had a hard enough time holding onto that spot at the end of last season, though, and Riley O'Toole will be pushing for playing time in the Tim Beckman regime this fall.
Vandenberg, meanwhile, topped 3,000 yards passing last season and threw for 25 touchdowns and only six picks. He leads the Big Ten's returning quarterbacks in passing yardage and is second to only Denard Robinson in returning quarterback efficiency. Danny O'Brien, meanwhile, was the ACC Freshman of the Year in 2010 before getting Edsalled last season. He's much more likely than Nathan Scheelhaase to be in the top four of the best quarterbacks in the Big Ten.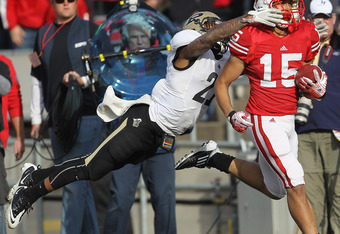 Jonathan Daniel/Getty Images
Micah Hyde over Ricardo Allen, first team cornerback
Micah Hyde is a perfectly serviceable cornerback and his return abilities are among the most dangerous in the conference, but at no point has he looked like the type of player who can shut a receiver down nearly as well as Rico Allen. Allen's sophomore season wasn't as scintillating as his 2010 debut year, but he's still an elite cornerback and easily the top on my list of cornerbacks in the Big Ten.
DeAnthony Arnett not listed
The Big Ten is remarkably shallow at wideout this season (and looking at the top quarterbacks, nobody's getting done any favors either), so when Tennessee's DeAnthony Arnett and USC's Kyle Prater were both set to transfer in and maybe even play right away, it was an infusion of excitement and talent at a position where the Big Ten desperately needed it.
Now, Prater's eligibility hasn't been determined, but Arnett got the green light weeks ago, and at minimum he's a third-team pick in a class of receivers this week. He's not listed at all, though, and while one might just say "well, Steele just didn't want to speculate," we'll just remind folks that he put former Buckeye Duron Carter at third team in the SEC before Carter even got on the Alabama roster.
Also, let's just give Steele the benefit of the doubt and say the Arnett decision came in too late. Then why hold the Big Ten list until now? This is the Internet, where edits don't exactly take months. If Steele's magazine is outdated, then it's outdated. That happens. There's no reason for something to be posted on the Internet if it's already been rendered obsolete, though.
Anyway, the rest of the list is either fine or the stuff of quibbles so minor they're not worth mentioning. Phil Steele is great. But he's not perfect, and that's okay.