SEC Baseball Tournament 2012: Teams Who Will Give LSU a Run for Its Money
May 23, 2012
Ronald Martinez/Getty Images
Coming off a dominating 42-14 regular season record (19-11 SEC), the LSU Tigers baseball team nabbed the number-one seed in this week's SEC conference tournament.
With SEC Player of the Year Raph Rhymes and likely top draft pick hurler Kevin Gausman in starring roles, the Tigers looked poised to clean up on the SEC in short order.
That was until Wednesday, when the upstart seventh-seed Mississippi State Bulldogs (35-21, 16-14 SEC)—using a Johnny Allstaff approach—knocked off the Tigers 3-2 in Game #6 of the tournament.
So with the top seed reduced to playing for its tournament life the rest of the way, let's have a look at which teams may be able to knock off the LSU Tigers.
With a conference that was won by a team only eight games above .500 in inter-conference play, it would seem that there's a good number of teams that can be counted on to pounce at this chance.
It would be silly to ignore the Bulldogs as a possible contender, considering they've twice toppled higher-seeded foes in the tournament already, and boast a front-line starter in Chris Stratton (2.16 ERA, 115:19 K/BB rate in 95.2 IP), who shut down a very potent LSU offense on Wednesday.
If Mississippi State is going to have a prayer of lasting in the tournament, it'll have to lean heavily on Stratton and his rotation mates to compensate for a weak offense (.253/.362/.339 this season). The beauty of tournament time is that anything can happen—as seen with this group—but the offense will likely have to perk up for the Bulldogs to survive another possible run-in with the Tigers on Saturday.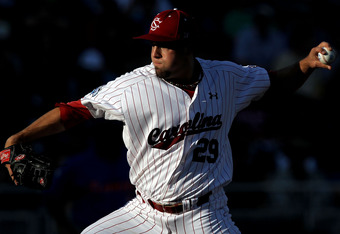 Ronald Martinez/Getty Images
The second-seeded South Carolina Gamecocks (39-15, 18-11 SEC) also have a terrific chance at bringing home the SEC Crown. They feature a rotation fronted by Michael Roth (2.66 ERA, 70:31 K/BB rate in 94.2 IP) and an offense paced by infielder Christian Walker (.335/.462/.559). The offense features a patient, relatively powerful approach (.272/.360/.403 overall), while the pitching staff was very stingy on the free pass (3.0 BB/9) and very good overall (3.16 ERA).
The Kentucky Wildcats (42-15, 18-12 SEC) must be considered a threat to advance deep into the tournament by virtue of drawing the overachieving Bulldogs.
In other words, it'll be a proverbial "cats-and-dogs" battle pitting the Bulldogs against the offensive juggernaut from Lexington.
The 'Cats offense combined to hit .297/.385/.444 and was fronted by Austin Cousino, Luke Maile, and Cameron Flynn, each of whom had nine or more home runs this season.
Kentucky's pitching staff wasn't comprised of slouches either, as it held opponents to a 3.55 ERA—compared to an opponent's mark of 5.97—in the club's 42 wins. The Wildcats basically cleaned up in out-of-conference games this season, going 24-3 in non-SEC play (the same record as LSU), as well.
The Florida Gators (41-16, 18-12 SEC) are the final team we'll examine as we look to Sunday's championship game.
The Gators are led by catcher Mike Zunino (.322/.384/.654), a likely top-five selection in the upcoming MLB draft and last season's SEC Player of the Year. Zunino and teammate Preston Tucker combined for 29 of the Gator's SEC-leading 66 home runs.
These Gators can pitch a little bit too, combining for a 2.87 ERA (second in the conference to Mississippi State) and 441 strikeouts. Florida gets the winner of Vanderbilt and South Carolina on Thursday.
As one can see, based on records and statistics, this is a conference that basically beat up on each other all season long.
The conference tournament will be no exception.