2012 MLB Draft: Grading the Philadelphia Phillies' Last 25 First-Round Picks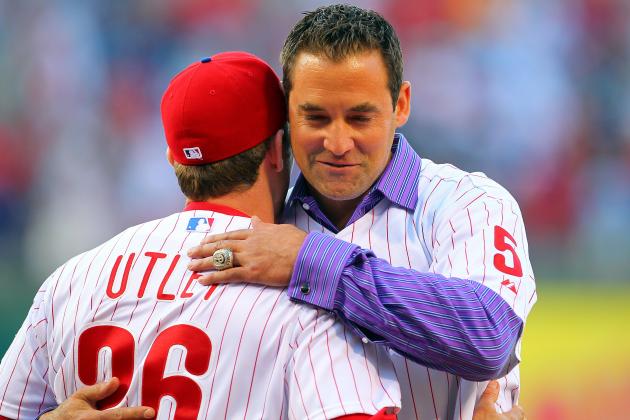 Rich Schultz/Getty Images

The MLB draft has come a long way in recent years.
During its first year in 1965, the amateur draft was a crapshoot, and in a lot of ways, it still is. But that hasn't stopped every front office around the game from trying to turn it into a science—a methodology that helps them choose the best player available.
It's a lot of work. From scouting young players in high school or college across the country, to doing homework on every player available, to attempting to figure out how each of a club's potential draft picks would fit into the budget and finally selecting a guy on draft day.
It can make a team's collective and proverbial head spin.
As far as the Philadelphia Phillies are concerned, the amateur draft has been both a blessing and a curse. It has rewarded them with some of the greatest players in franchise history and some of the biggest draft busts of all time.
So with another draft right around the corner in 2012, it's time to look back on the last 25 drafts in Phillies history in an attempt to find out what went right, and what went horribly wrong.
Begin Slideshow

»
For the sake of fairness, the draft picks listed past this slide were all chosen in the first round of the MLB draft. Since supplemental draft picks are a part of the first round, I've decided to list and grade them here without a full explanation.
- Larry Greene Jr.: TBD
- Zach Collier: F
- Travis d'Arnaud: B
- Adrian Cardenas: C
- Eric Valent: F
- Dave Coggin: D
Photo via Joe Wombough/PhoulBallz.com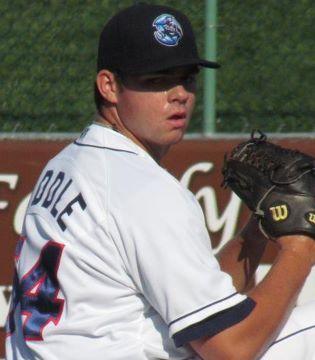 Grade: B
It may be a little too soon to tell, but it sure looks like the Phillies made a nice pick when they took local high school product Jesse Biddle in the first round back in 2010.
Biddle is a left-handed starter with a power repertoire and the ability to strike guys out. His biggest downfall has always been command, but that has improved in recent weeks with High-A Clearwater.
He's still quite a few years away from the MLB, but Biddle has all the makings of a top prospect. He's currently second in the Phillies' system behind Trevor May.
Photo via Jay Floyd/PhoulBallz.com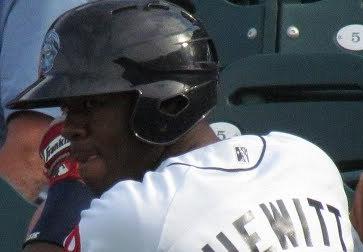 Grade: D
It may be too soon to say for sure, but it sure looks as though Anthony Hewitt is going to be a major bust.
The Phillies drafted him in 2008 and he's done absolutely nothing since. He played two straight seasons in Lakewood before the Phillies finally moved him to High-A Clearwater at age 23, and with an OPS of .646, it sure doesn't look like he's any closer to the MLB.
The only thing keeping me from giving Hewitt an "F" is the fact that he has the potential to be a good player, but time is ticking.
Photo via Jay Floyd/Phoulballz.com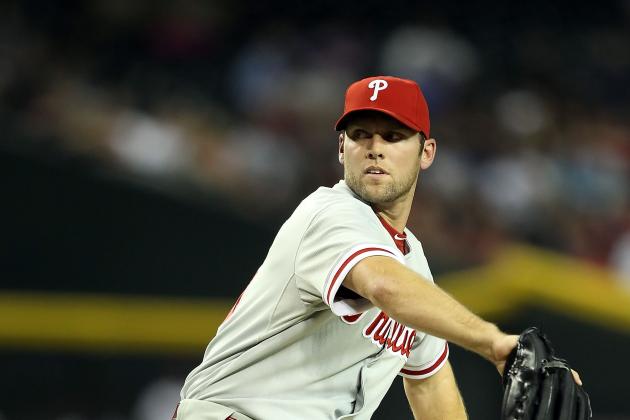 Christian Petersen/Getty Images

Grade: D
If nothing else, Joe Savery is an interesting story.
The Phillies turned him into a full-time pitcher after drafting him and injuries slowed Savery down mightily. His arm looked taxed at times and he couldn't make it late into ball games.
Knowing that he was a good hitter in college, the Phillies gave him a shot to recreate himself at the plate, and while he was tearing the cover off the ball for a while, that didn't last long.
Finally, they made a last-resort move to put him in the bullpen as a situational lefty, and while that's not something you want out of a first-round pick, it is better than nothing.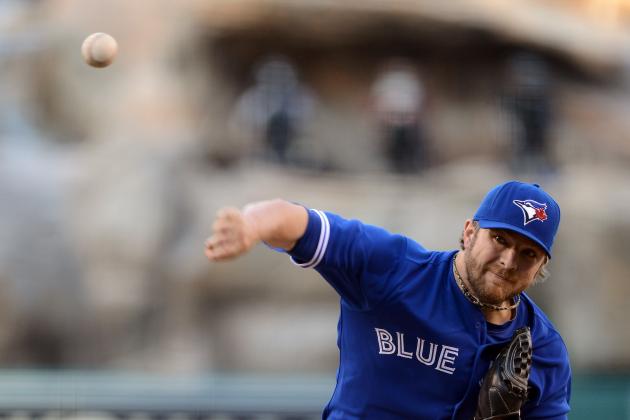 Harry How/Getty Images

Grade: B
Kyle Drabek is a very difficult player to put a grade on.
Looking at him as a prospect, the Phillies made a great choice. They developed his repertoire nicely in the minor leagues and it wasn't long before the right-handed starter was the organization's top prospects.
Then the Roy Halladay trade happened.
Drabek became the centerpiece of the deal that sent "Doc" to Philly and he became property of the Toronto Blue Jays.
He was in the MLB with his new club in 2010, but the top prospect has yet to show up. Drabek has struggled with his control at the MLB level and has yet to live up to his hype, but there is still time.
All of the tools are there.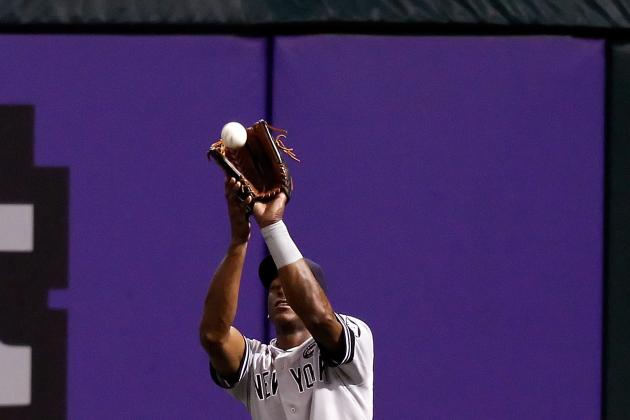 J. Meric/Getty Images

Grade: F

Scouts raved about Greg Golson when the Phillies drafted him. He had speed to burn and was a plus defender in the outfield. His approach at the plate was always questionable, but a lot of people thought that he'd make enough contact to be productive.

Without the power, he was a legitimate "four-tool" prospect, and that's not a bad thing, especially after considering that he did show some power in his minor-league career.
Golson just became one of those guys that never pans out.
The Phillies sent him to the Texas Rangers for John Mayberry Jr. and I'm sure they're happy with that decision.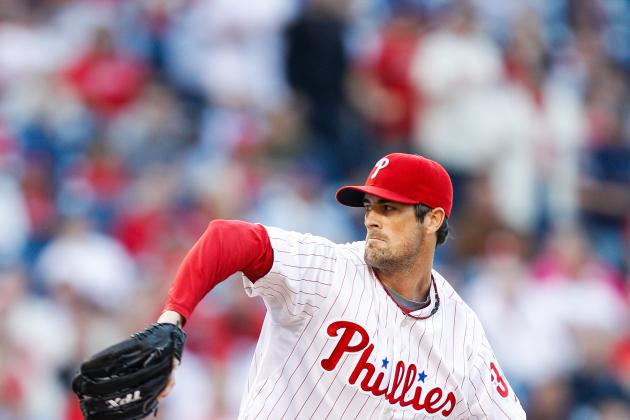 Brian Garfinkel/Getty Images

Grade: A
Cole Hamels is pretty much everything you're hoping for when you draft a starting pitcher.
He moved through the Phillies' farm system quickly and by 2006, had made his major-league debut. In 2007, he cut his teeth as an MLB starter. He tasted adversity with the rest of the Phillies when they were dispatched by the Colorado Rockies.
In 2008, he was the World Series MVP. He helped bring the Phillies their second championship.
Moving forward, Hamels has developed into one of the best pitchers in the game and will command a ridiculous contract this winter, but he's earned every penny of it.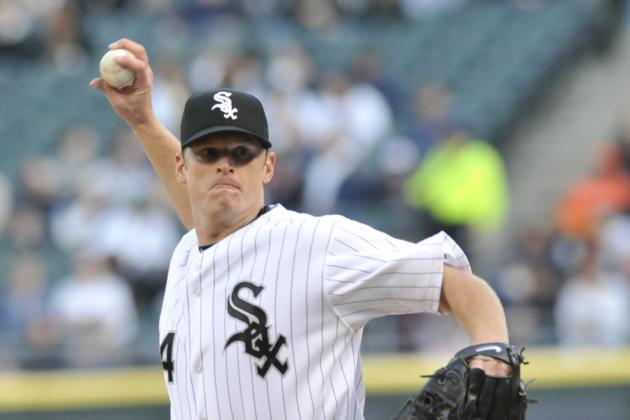 David Banks/Getty Images

Grade: B
Gavin Floyd may not have worked out for the Phillies, but it still wasn't a bad pick.
In fact, a lot of people blame the Phillies for Floyd's failure in Philly. Drafted in 2001 out of high school, the Phillies were extremely aggressive with Floyd's progression in the minors, and by 2004, he was making his MLB debut at the age of 21.
He wasn't ready. It was obvious.
Yet the Phillies stuck with him and he was shelled over parts of the next two seasons. They finally gave up on him and dealt him to the Chicago White Sox in the infamous Freddy Garcia deal, where he would develop into a solid starter.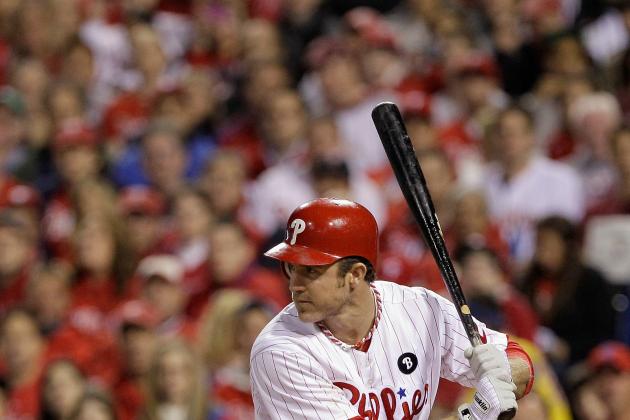 Rob Carr/Getty Images

Grade: A
I think it goes without saying that Chase Utley was a pretty solid pick for the Phillies, as he would develop into one of the greatest second basemen of all time—and that statement is true even with his future in jeopardy.
Utley gave the Phillies one of the most dynamic players ever. During his prime, he was elite on both sides of the ball. As he developed, Utley would give the Phillies a silent leader in the clubhouse—a man whose opinion is respected and who leads by example.
Not a bad pick at all.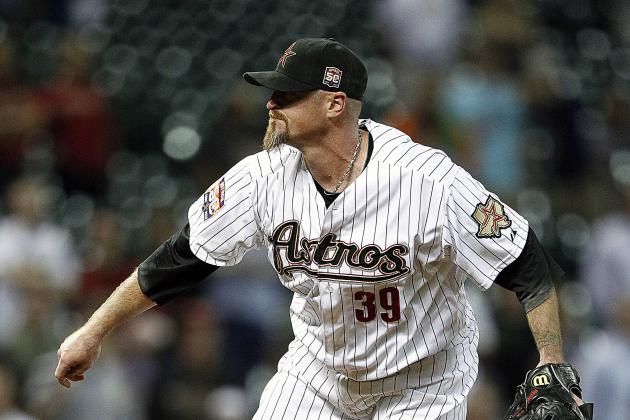 Bob Levey/Getty Images

Grade: B
Brett Myers was a solid pick for the Phillies, as he would develop into a versatile pitcher that helped them through several stretches.
In the starting rotation, he developed a reputation as a workhorse that could keep his team in the game. When the Phillies asked him to move to the bullpen, he did, although somewhat reluctantly, proving that he could succeed in that role as well.
He helped the Phillies through some rough times early in his career and took them to a World Series ring at their best. You can't ask for much more.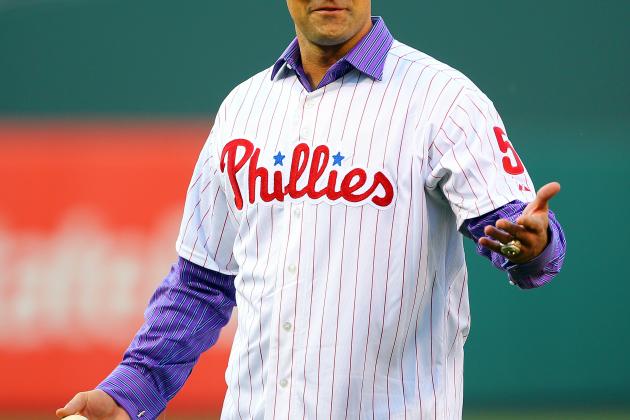 Rich Schultz/Getty Images

Grade: B
The Phillies drafted Pat Burrell with the hope that he'd be the next great superstar for the franchise, and those were unrealistic expectations from the get-go.
With that being said, however, Burrell did turn in a pretty impressive career. The slugger climbed his way up the Phillies' all-time leader boards in several power areas, including home runs.
His tenure culminated with the biggest hit of his Phillies' career: a double against the Tampa Bay Rays in the World Series that would prove to be the winning run in Game 5.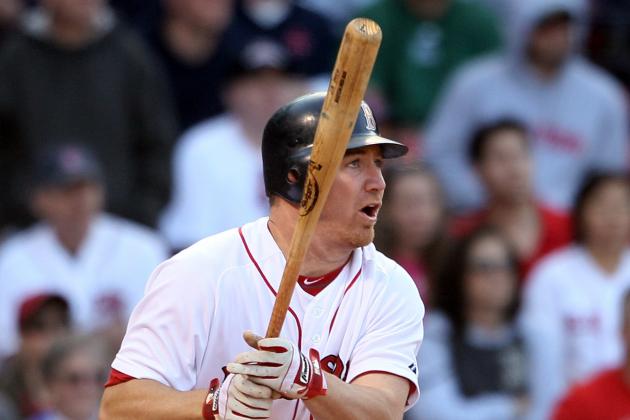 Elsa/Getty Images

Grade: F
The 1997 draft had plenty of talent in it, and with the second overall pick, the Phillies were set to score a top prospect. Even through that plethora of talent, however, one man stood above the rest: J.D. Drew.
The problem was simple: He was represented by super agent Scott Boras, who made it clear that his client wanted a huge signing bonus of $10 million, a number that a lot of people thought was put out there to keep the Phillies away.
But they wanted Drew, so they drafted him.
The resulting contract negotiations were ugly, and everyone knows the story. Neither the Phillies nor Boras could come to an agreement and Drew would play a year of independent ball before re-entering the draft a year later.
At the end of the day, you can't hold the second overall pick and not end up with a player, especially when guys like Lance Berkman, Jayson Werth, Troy Glaus, Vernon Wells, Michael Cuddyer and Jon Garland are all available.
Jim McIsaac/Getty Images

Grade: F
A year prior to selecting J.D. Drew, the Phillies had another catastrophic failure when they selected right-handed pitcher Adam Eaton out of high school.
Many people assumed that he'd never pitch for the Phillies after they dealt him to the San Diego Padres as part of a deal that brought Andy Ashby to town, and in the following years, continued on a sub-par career.
That wasn't the case either.
The Phillies made Eaton a ridiculous three-year contract offer in free agency and it wasn't long before he was on Phillies fans' most wanted list.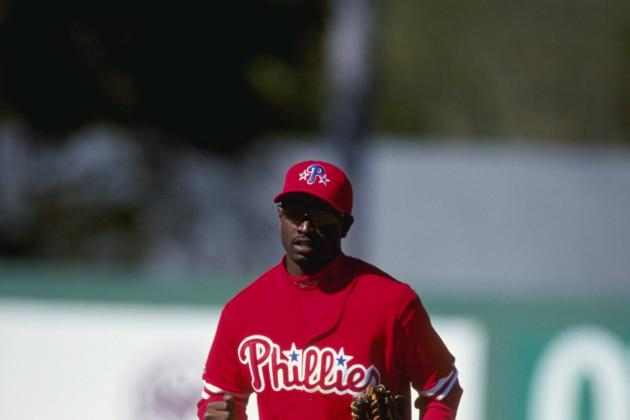 Harry How/Getty Images

Grade: F
You're going to see a pattern start to form here. You can only miss out on so many early to mid-round draft picks before your organization starts to suffer, and before the Phillies missed on picks like Adam Eaton and J.D. Drew, they'd select Reggie Taylor.
Taylor was a talented outfielder that wasn't a terrible pick at the time, blessed with a lot of great baseball tools. He was just never able to put it together. Outside of 548 MLB plate appearances, Taylor would bounce around in the minor leagues for parts of 14 seasons.
Three picks later, the Toronto Blue Jays would select Roy Halladay.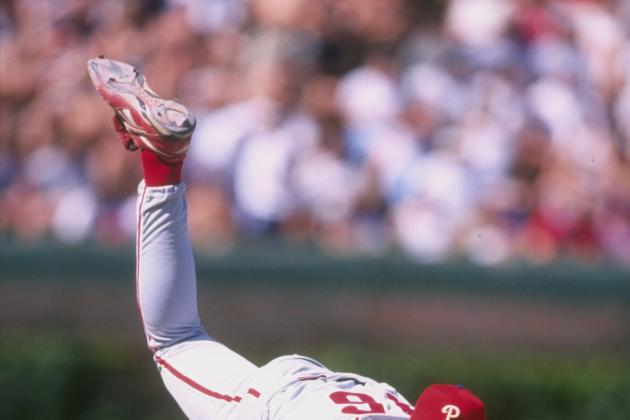 David Seelig/Getty Images

Grade: F
Carlton Loewer was another huge bust for the Phillies.
Given the state of the front office at the time, the chances of the Phillies drafting a legitimate superstar were somewhere between slim and none, but there is no excuse for failing to draft players that can't help the MLB product at all.
Loewer was a promising right-handed starter that the Phillies drafted out of Mississippi State University, and some believed that his college experience would put him on the fast track to the MLB.
Loewer made his MLB debut in 1998, and needless to say, it wasn't a very good year. He followed that up with another below-average year in 1999, and thus, the Phillies felt the need to trade him.
They sent him to the San Diego Padres as the other player in that deal for Andy Ashby.
In case you're keeping score, that's two failed first-round picks—Loewer and Adam Eaton—for Ashby. Not good.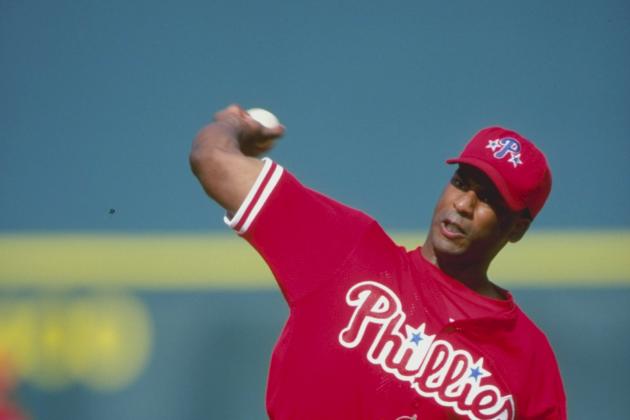 Vincent Laforet/Getty Images

Grade: F
The Seattle Mariners had the first pick of the 1993 draft and it was an easy one: Alex Rodriguez.
After him, there was talent in this draft, but you were really going to have to do your homework to find it. The Phillies didn't do their homework and wound up with Wayne Gomes for their fourth overall selection.
If you're going to draft a relief pitcher that high, he had better have the stuff to become the greatest closer of all time, and Gomes never did. The Phillies tinkered with him as a starting pitcher in the minors, but the role never suited him.
At the MLB level, he threw a lot of innings, but they weren't necessarily quality innings.
Again, you need to get more out of the fourth overall pick in any draft, especially with players like Trot Nixon, Billy Wagner, Derrek Lee, Chris Carpenter, Jason Varitek and Torii Hunter still on the board.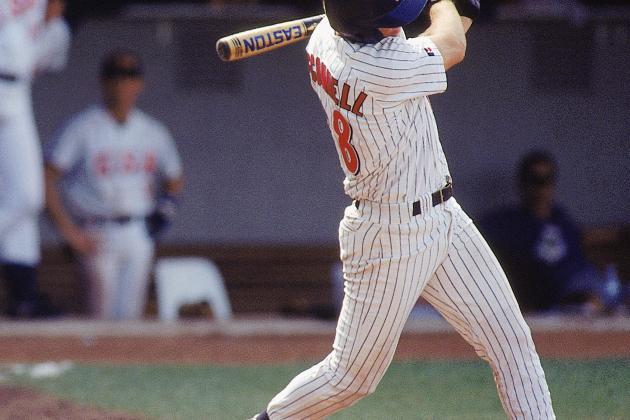 Bob Martin/Getty Images

Grade: F
The bottom line is simple: You can't pick in the first half of the draft and not wind up with, at the very least, an average MLB regular. That rang true in 1992, when the Phillies held the 13th overall selection.
With that pick, they chose Chad McConnell out of Creighton University, and at the time, it wasn't a bad pick.
McConnell had a boatload of talent and had just represented the United States in the Olympics. He was a "toolsy" outfielder that had a real shot to play in the MLB.
Though his numbers were average in the minors, he never made the jump past Double-A Reading, and in 1996, he retired from baseball.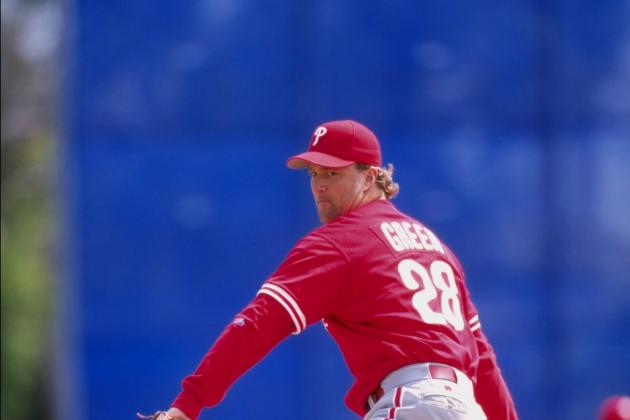 Tom Hauck/Getty Images

Grade: F
Tyler Green was a solid prospect. He was a 6'5" right-handed pitcher with the talent to become a solid MLB starter. He pitched extremely well in his first few seasons of professional baseball, leading Baseball America to name him as one of their top prospects in each season from 1992-94.
It was all downhill from there.
Green made his MLB debut during a brief (and unimpressive) stint in 1993. He spent the following year in the minors. Green returned to the MLB in 1995 for a much longer stint, but one that was equally unimpressive.
After missing the entire 1996 season with an injury, Green pitched two more years with the Phillies and didn't post an ERA better than 4.93. Following the 1998 season, he would never see the MLB again.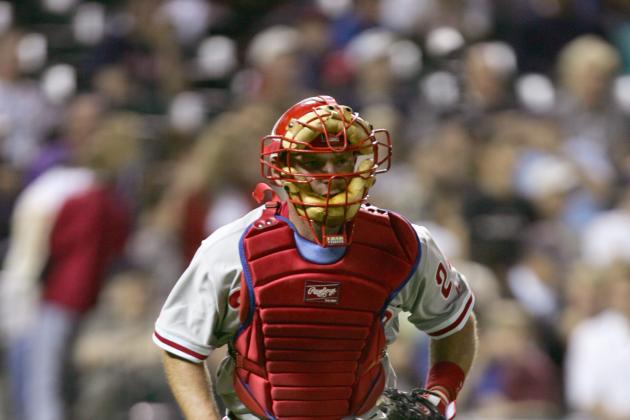 Doug Pensinger/Getty Images

Grade: B
Mike Lieberthal never saw the postseason with the Phillies, but if anyone deserved to, it was their longtime catcher.
Lieberthal was drafted in 1990 and served as the Phillies' catcher for 13 seasons, making his MLB debut in 1994.
He was a good offensive catcher and solid behind the plate, helping himself to two All-Star appearances and a Gold Glove.
"Lieby" was a fan favorite, blasting 31 home runs in 1999 and 150 for his career.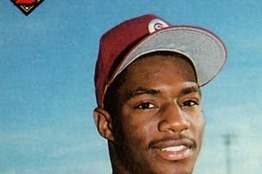 http://cdn.bleacherreport.net/images_root/slides/photos/001/889/398/Jackson_display_image.jpg?1328624256
Grade: F
Jeff Jackson: quite possibly the biggest bust in the history of the Phillies' draft history.
Jackson was a talented outfielder coming out of Simeon High School in Chicago, Illinois, when the the Phillies made him the fourth overall selection in 1989.
He had the tools to succeed. Though he didn't have much power to speak of, Jackson had all of the tools to be a great MLB player.
Then professional baseball happened.
Jackson struggled with the Phillies' rookie affiliate at age 17 and every level thereafter, despite making it all the way to Double-A Reading.
The Phillies parted ways with Jackson prior to the 1996 season, and the outfielder would never reach the MLB.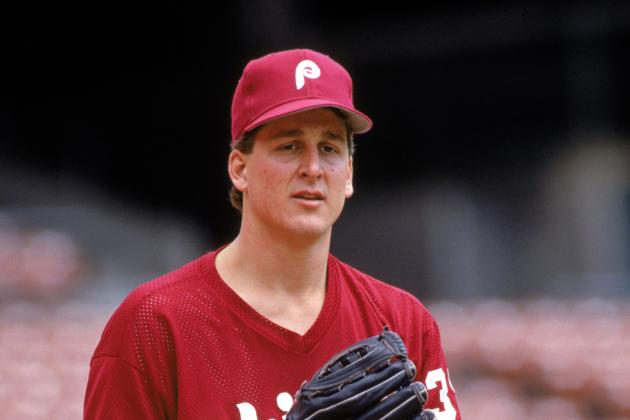 Otto Greule Jr/Getty Images

Grade: F+
Pat Combs was a failure, but he was a failure with a 10-win season, so I gave him the completely imaginary, not-so-honorary grade of "F+."
Now, on to important things.
Combs was drafted out of Baylor University in 1988. He was a tall left-hander that had some upside. In his first year of professional baseball the following season, he was sensational. It appeared as though he was ready for the MLB, and the Phillies promoted him at the end of the season, where he would go 4-0 with an ERA of 2.09 in six starts.
Things were looking good. Like so many other Phillies prospects, however, his 1989 season was just a sense of false hope.
Combs started the following year in the Phillies' rotation, and though he would win 10 games, his ERA was 4.07.
He'd pitch parts of the next two seasons with the Phillies before his career was relegated to the minor leagues.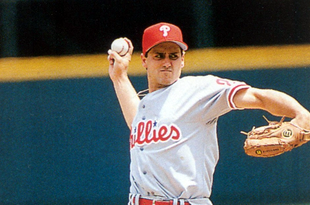 http://cdn.bleacherreport.net/images_root/slides/photos/002/110/193/Brink_display_image.png?1333908941
Grade: F
With the seventh overall pick of the 1986 draft, the Phillies select... Yet another bust.
This time around, the Phillies would select Brad Brink, a right-handed high school pitcher with some upside. He joined the Phillies' minor-league system that same year and was immediately mediocre.
In spite of that, the Phillies were in desperate need of talent at the MLB level and Brink got the call in 1992, where he started seven games and posted an ERA of 4.14.
The next season, he appeared in just two games.
The year after that, he was a member of the San Francisco Giants after the Phillies had placed him on waivers. He'd make four appearances out west before never being heard from at the MLB level again.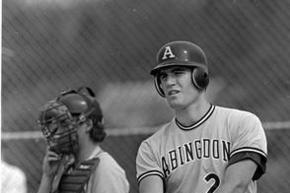 http://cdn.bleacherreport.net/images_root/slides/photos/002/108/852/McCall_display_image.jpg?1333844550
Grade: F
A lot of people believed the Phillies made a solid pick when they selected high school catcher Trey McCall with the 16th overall pick in 1985.
Though there were questions about whether or not he'd be able to stick behind the plate, the tremendous upside that he had offensively made that a moot point.
But to make a moot point a moot point, McCall never found his swing in professional baseball. He joined the Phillies' system after being drafted and went right to work, but never had a good season.
By 1989, he was out of baseball altogether.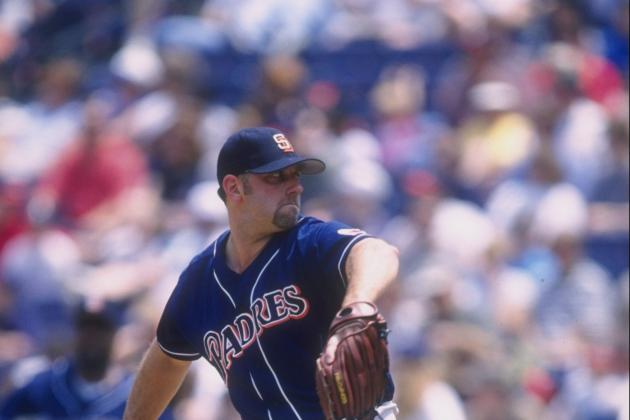 Andy Lyons/Getty Images

Grade: D
Pete Smith gets a "D" grade for his career longevity.
He was a right-handed pitcher drafted by the Phillies in 1984, but he'd never suit up for the club. He was traded to the Atlanta Braves the following year as part of the deal that brought Steve Bedrosian and Milt Thompson to Philly.
Smith took the ball when it was handed to him for the Braves and that's probably the best you can say about his tenure, outside of the 1992 season, where he made 11 starts, posting a record of 7-0 with a 2.05 ERA.
He would bounce around to a couple of different clubs following his stint with the Braves, but never had much success anywhere.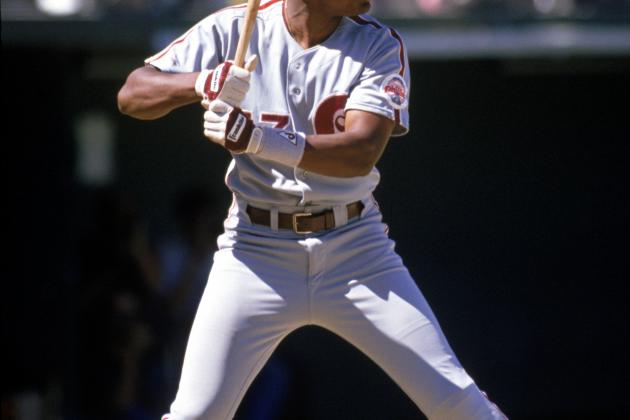 Stephen Dunn/Getty Images

Grade: D
In 1982, the Phillies found themselves picking later in the draft than they would in the future, as owners of the 22nd overall pick. With that pick, the team selected a first baseman out of high school by the name of Ricky Jordan.
He'd have an average minor-league career before making his MLB debut in 1988. Over parts of the next seven seasons, Jordan would serve as the club's part-time first baseman and pinch-hitter.
There's some value in that role, but not something you dream up about your first-round picks.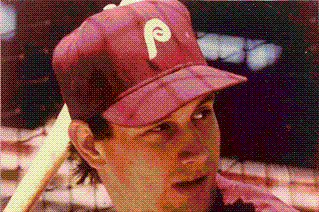 http://www.halloffamememorabilia.com/images/products/p-288170-john-russell-autographed-hand-signed-8x10-photo-phillies-mla-3811.gif
Grade: F
If this slideshow has revealed anything, it is that, once upon a time, the Phillies were very good at drafting talented players in the first round and finding ways to keep them from becoming good MLB players.
Take, for example, John Russell, a college catcher selected with the 13th overall pick in 1982.
In 1984 and 1985, he had two of the best minor-league seasons you'll see on this list, posting OPSs of .918 and 1.134, respectively.
He saw the MLB in each of those seasons before earning his way on to the roster, where he served as a bench player for parts of five seasons with the Phillies, before his contract was purchase by the Atlanta Braves.
No matter the team, Russell struggled at the MLB level, and he became the first of a long line of busts over the next 25 years.