Sources Believe Roy Oswalt Will Play for Texas Rangers, Ron Washington Weighs in
May 23, 2012

Christian Petersen/Getty Images
Roy Oswalt continues to dominate the headlines despite not throwing a pitch this season. The summer nears closer and teams are beginning to figure out if they are contenders or not. 
The team that seems the likeliest to sign Oswalt is one that is already one of the best in baseball.
According to ESPN's Buster Olney, it appears that the Teas Rangers are the front-runners in the Oswalt sweepstakes for various reasons, 
 

Full expectation among some rival execs is that Roy Oswalt will land with Texas, because of connection with Maddux, Ryan, proximity to Miss.

— Buster Olney (@Buster_ESPN) May 23, 2012

 
These factors combined with the Rangers fear that Neftali Feliz might be out until the All-Star break makes the Rangers the team that others will have to contend with.
It appears that Oswalt would be a perfect fit for Texas and Texas would be ideal for Oswalt. 
Rangers manager Ron Washington was asked on ESPN Dallas 103.3 FM if he wanted Oswalt to join the team considering the injury to Feliz and assuming the scouting reports were good on Oswalt.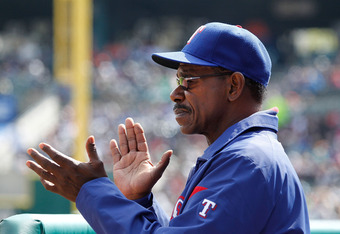 Gregory Shamus/Getty Images
He responded by telling the station, 
If you put it like that, I would say yes, but I think (general manager) Jon Daniels and them will decide. Oswalt has to want to come to Texas and we have to get him ready. The guy is a quality pitcher. But I'm more than certain there are other teams trying to do the same things. When you put it the way you put it and I had to give you a yes or no, I'd say yes.
Washington, who never is at a loss for words, gave an honest answer and it will be interesting to see if the Rangers' upper management feel the same way. 
Oswalt has made his feelings known about playing for Texas because of the closeness to his home but there simply was never a need for him until now. 
The Feliz injury has opened the door for Oswalt and it is in the hands of the general manager at this point.