Manny Pacquiao vs. Timothy Bradley: Keys to Domination for Both Fighters
June 6, 2012

Stephen Dunn/Getty Images
When Manny Pacquiao and Timothy Bradley enter the ring, there is no telling what will come after that bell rings.
Both fighters come in with incredible accolades to their names, and while Pac Man is clearly the bigger name on the card, it would be foolish to completely eliminate Bradley from the discussion.
The American WBO Light Welterweight title holder has yet to lose a fight in his career, and he will be looking to make sure he keeps things going in that direction on the biggest stage of his career thus far.
There is just no denying that Pacquiao has manage to succeed during his career, and there is no doubt in anyone's mind that he is the clear-cut favorite heading into this title bout.
But anything can happen.
Here is what it will take for each man to potentially come out on top.
Keys to a Manny Pacquiao Win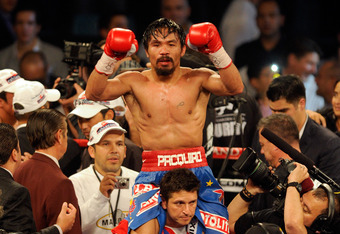 Ethan Miller/Getty Images
The most important thing for Pacquiao to do here is control the fight. 
Pac Man has been going the distance in his last five fights, winning three of the five by unanimous decision. The other two were a TKO and majority decision.
It will be important for him to control the pace, especially with Bradley being five years younger with a lot less mileage on his career.
Pacquiao's last fight was against Juan Manuel Marquez, whom he defeated 115-113 in a majority decision. Many believe that fight swung the wrong way, so Pac Man must fight with a chip on his shoulder to prove to the world that his last win wasn't a fluke.
Keys to a Timothy Bradley Win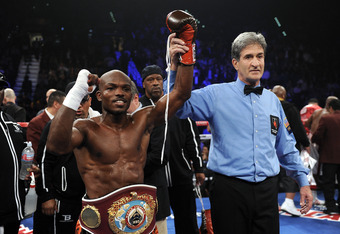 Harry How/Getty Images
Bradley shares a similar position with Pac Man—he must go the distance.
It is hard to imagine Bradley knocking Pacquiao out, despite coming off a TKO win in his last fight against Joel Casamayor.
Pacquiao hasn't been knocked out since 1999, and honestly, many likely don't see another coming anytime soon.
Bradley needs to take a similar approach to what Marquez did in his last fight—take Pacquiao to 12.
If he can manage to keep the fight going, the Light Welterweight star may have a shot at making a name for himself on the Welterweight stage.
The key here is patience and only taking smart shots. One wrong move could have Bradley quickly on the ground by a Pacquiao shot.