Arizona Cardinals: How Can Ken Whisenhunt Address the Running Back Situation?
May 23, 2012

Christian Petersen/Getty Images
Some level of uncertainty arose recently surrounding the health of Arizona Cardinals running back Chris "Beanie" Wells. Before this became clear, it was thought that Wells was on track to be ready for the regular season and carry the load for the Cardinals.
Now the Cardinals' situation has delved into an abyss of ambiguity.
It's unclear whether Wells will actually be ready for the start of the season, and it is even less clear how close to 100 percent he will be. Wells had his best year last year, but at times he played through knee issues that ultimately led to him missing games and needing offseason surgery.
That surgery was originally thought to be less significant than it was revealed to be this week. With Wells not a certainty for the start of this season, the Cardinals now have two backs carrying question marks over their health entering this year.
Ryan Williams was drafted in the second round out of Virgina Tech last year. Williams was supposed to share the starting role with Wells to take the pressure off of Kevin Kolb in his first year as the starter. Unfortunately, the youngster tore his patella tendon in the preseason and missed the whole of his rookie campaign.
Williams isn't even expected to be ready to go at the beginning of this season, while it would be asking a lot of him to carry the load at the relatively tender age of 23.
Past Williams and Wells on the depth chart, there isn't really anyone capable of stepping into the starting role. As such, general manager Rod Graves may be tempted to venture outside the organization to reinforce the depth chart with talent.
Here are a few options.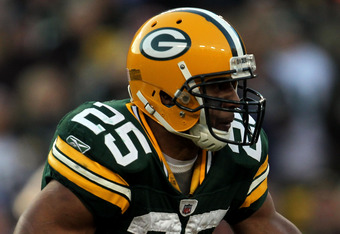 Jonathan Daniel/Getty Images
Sign Free Agent Ryan Grant
It may surprise you that Ryan Grant is only 29 years of age. He did tear a ligament in his ankle during the 2010 season, limiting him to only eight attempts on the year. However, prior to that, Grant had proven himself to be a more than capable bell cow for the Green Bay Packers in the backfield.
Last year he started 14 games and carried the ball 134 times for the Packers. He may have lost a step returning from his injury, but he still averaged 4.2 yards per carry and showed a willingness to run hard. Extra time removed from the injury can only help him in his recovery, while Grant doesn't actually have that much wear and tear on his body—he only has 924 career carries.
Positives

Grant provides a veteran presence and a proven ability to carry the load. He is not as old as general perception would lead you to believe. Even so, other veteran backs such as Willis McGahee, Carnell Williams and Ricky Williams have had success in new settings later in their careers.
Negatives

Grant is a limited receiver and may have benefited last year from playing in the best passing offense in the league. Coming into a situation where he would be more of a focus for the opposing defense could expose his flaws.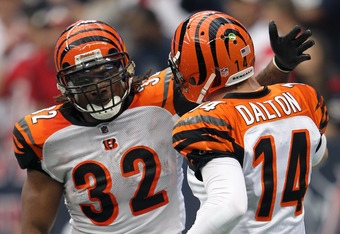 Jamie Squire/Getty Images
Sign Free Agent Cedric Benson

Benson may be one of the most limited football players in the whole NFL. He is not the greatest runner with the ball, he cannot block at all and he doesn't provide any real receiving threat. What Benson can do, however, is sustain hits and repeatedly carry the football.
Because of his low center of gravity and bulk, Benson wears down defenses with his hard running. He doesn't average big plays, but he will make defenders hesitant to tackle him and soften up the front seven somewhat.
Positives
Benson hasn't really had an engine the past two seasons, but he still put up over 1,000 yards in each season. He has totaled nearly 900 carries over the past three seasons without wearing down significantly. For a pickup this late in the offseason, there is a lot of certainty in Benson.
Negatives

While there is a lot of certainty and consistency, there is also a limitation that comes with Benson's style of play. He has never been a dynamic player. He is one dimensional and will at best be a Band-Aid to carry the team through this season.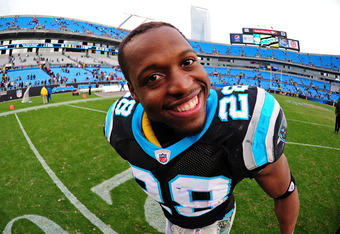 Scott Cunningham/Getty Images
Trade for Jonathan Stewart
The Carolina Panthers suddenly have four running backs on the roster worthy of carrying their offense. DeAngelo Williams, Mike Tolbert, Jonathan Stewart and, yes, Cam Newton. Stewart is the odd man out because he only has one year left on his contract while Tolbert and Williams both have huge deals and Newton is the quarterback. 
After trading Mike Goodson, it appears that Stewart is set to stay with the Panthers. But, he could be pried from their clutches with a good offer.
Positives

Despite already having played four seasons in the NFL, Stewart is only 25 years of age. He is incredibly talented and versatile. Adding him to the roster would instantly make him the best player in the backfield. Stewart has proven himself in the past, will be effective immediately and offers the potential to be a long-term figure in the offense.
Negatives
Because he is so talented, the Panthers would likely want a decent return despite the fact that he is a running back and only has one year left on his deal. Stewart hasn't proven that he can be an every-down back in the NFL, and he doesn't appear to be built to sustain hits. He has already suffered some knocks throughout his career. Stewart is certainly a risk, but also he also the potential for a big reward.
Tweeting @Cianaf