Kobe Bryant Disses the Detroit Pistons After Playoff Loss
Photo via inquisitr.com

On Monday, Kobe Bryant and the Los Angeles Lakers were ousted from the NBA playoffs convincingly by the Oklahoma City Thunder, 106-90.
For Bryant, who might be the most competitive player in the NBA, any loss is difficult to swallow. But playoff losses are a particularly jagged pill to get down—especially for a player who is trying to win his sixth title and is running out of time to do so.
If he accomplishes that feat, it will be with a new cast around him. The loss to the Thunder will probably lead to sweeping personnel changes next season. There are already trade rumors swirling around about Pau Gasol and Andrew Bynum.
With that said, one might understand if the Black Mamba was spitting venom after such a tough loss, but throwing an innocent team like the Detroit Pistons under the bus was unnecessary.
Talk about kicking someone when they're down. The Pistons are in the midst of rebuilding their proud franchise after two dismal seasons.
Here is Bryant's quote, courtesy of the Huffington Post:
I'm not fading into the shadows if that's what you're asking. I'm not going anywhere. We're not going anywhere. It's not like one of those things where the Bulls beat the Pistons and the Pistons disappear forever. I'm not going for that sh**.
I wonder if he kicked his dog when he got home that night too. That act would have been equally as mean-spirited and just as nonsensical.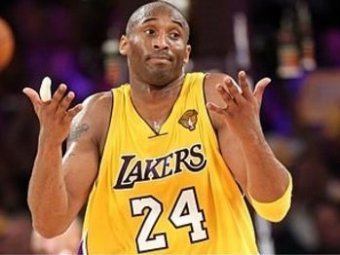 Bryant of all people should know that the Pistons definitely did not fade into obscurity after Michael Jordan's Bulls defeated them. They defeated his Lakers, who were heavily favored, in the 2004 NBA Finals.
Bryant should brush up on his NBA history before he spouts off about it. The Pistons are actually one of the more relevant teams of the past 25 years. Only the Lakers, Bulls and San Antonio Spurs have won more championships during that time frame.
Perhaps Kobe is still bitter about the Pistons beating him in 2004. Maybe he blames them for breaking up the Shaq/Kobe Lakers dynasty. Maybe getting beat down by the lowly Pistons 88-85 back in March was still fresh on his mind.
Whatever the reason, one thing is clear: His disrespect towards Detroit was not only unnecessary, it was inaccurate.
Bryant is one of the best players in the league. He's well-respected for his talent and winning attitude, but he's not known for his strong people skills. Tactfulness is one talent that was not bestowed upon him.
He's offended many teammates and opponents over the years, so this isn't a big surprise. I wouldn't be shocked to hear a Piston or two respond to his comments, though. I also wouldn't be surprised if the Pistons file this incident away and use it as motivation the next time they meet Bryant on the court.
This article is
What is the duplicate article?
Why is this article offensive?
Where is this article plagiarized from?
Why is this article poorly edited?

Detroit Pistons: Like this team?