New York Yankees: Why It's Too Early to Panic in the Bronx
May 23, 2012
Ronald Martinez/Getty Images
The New York Yankees are 22-21. They're in fourth place in the American League East, 5.5 games behind Baltimore for the division lead. They've lost seven of their last 10 games, including a sweep in a two-game set in Toronto and the dropping of two out of three to the Cincinnati Reds at home in the Bronx.
This has prompted many Yankee fans to urge Brian Cashman to push the panic button and begin making trades, send Alex Rodriguez and Mark Teixeira to the minors (which he can't actually do) and perhaps even fire manager Joe Girardi.
These kinds of demands are premature and should stop now.
Yankee fans making these kinds of statements have short memories. Does anyone remember last year's team that started the season 23-20? They won 97 games and ran away with the division in September.
Or how about the 2009 Yankees? The team that went 103-59 and won the World Series? They started the season 17-17 and were 25-18 through 43 games—that's just three games better than the current squad is.
I'm not saying the team doesn't have flaws. Alex Rodriguez has hit the same number of home runs (five) as Derek Jeter has (no offense to the Captain). Mark Teixeira has a .281 OBP. Russell Martin is hitting .179. Ivan Nova has been atrocious, and the team has already lost its two best relievers (Mariano Rivera and David Robertson) to injuries.
But it's hard to imagine all of these problems will continue for the rest of the year.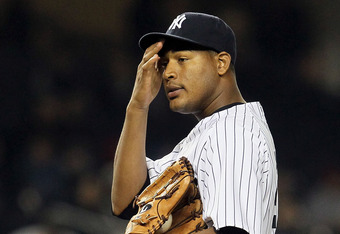 Jim McIsaac/Getty Images
While A-Rod's home runs are down, he also has a .369 on-base percentage and is on pace for 20 home runs. This is not what he is used to, but it is also not going to kill the team.
Mark Teixeira has been brutal, but he has started slowly every year for most of his career. I'll admit that this start has been worse than usual, but I'm not ready to give up on him as an All-Star.
Russell Martin's average is horrific, but he's still getting on base; he's drawn as many walks as hits (19), so his on-base percentage is .331. That's still below-average, but he's not hurting the team as much as his batting average would suggest.
Ivan Nova's BABIP (Batting Average on Balls in Play) is .393 this year, compared to .283 last year. That means that a greater percentage of balls hit against him are resulting in hits, which is in large part random and not his fault. His xFIP (a statistic that projects ERA independent of a team's defense and other factors a pitcher cannot control) is 3.47. Nova's numbers should improve.
The loss of Mariano Rivera for the season is demoralizing and certainly hurts the team, but it doesn't have as much of an impact as losing a starting pitcher like CC Sabathia would. The Yankees probably lost 50 innings from Mo for the rest of the season, which is not that much in the grand scheme of the season (there are 1458 innings in 162 games of nine innings).
David Robertson will return in the next couple of weeks, and there's no reason to not expect him to perform well.
The Yankees are almost exactly a quarter of the way through the 2012 season. If they were in the NFL, they would be 2-2 right now. In that context, all of these demands for change seem like overreactions.
So let's stop with the hysterics. The season is still young and the Bombers will get better.
Instead of calling for Brian Cashman and Joe Girardi's heads, watch the Rangers-Devils series.