The Best and Worst Dressed Golfers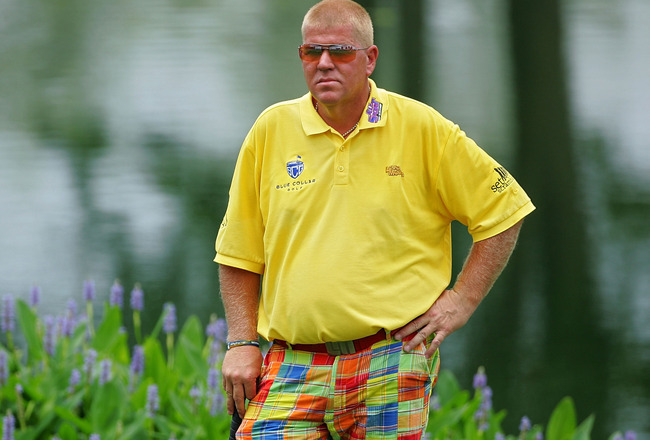 Michael Cohen/Getty Images
Golf is one of the few professional sports that doesn't require uniforms. Which means players are able to dress themselves and express their own personal style on the course—all to varying degrees of success.
Some golfers handle the fashion freedom with more dignity and professionalism than others. Golfers are stereotyped as bad dressers, but if you actually watch golf, you probably know that these days most golfers look fine. Some even look pretty stylish.
And of course, there are some others that look like clowns on loan from the circus. These are the guys that have given everyone else on the PGA Tour a bad name when it comes to fashion. But for every John Daly, there's a Tiger Woods to counterbalance him.
Let's take a look at the 15 best and 15 worst dressed golfers.
[Best] 15. Phil Mickelson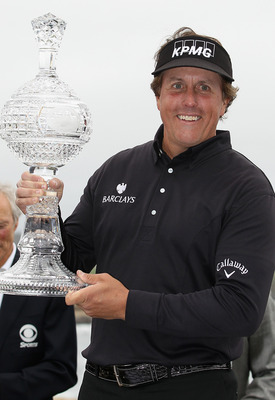 Ezra Shaw/Getty Images
Phil Mickelson's style has evolved over the years and has often fluctuated with his waistline. Today Mickelson is looking as svelte as he has in years and he has been dressing like a man who knows he looks good! He tends to stick with solid colors, mostly black, which you can rarely go wrong with.
[Best] 14. Ryo Ishikawa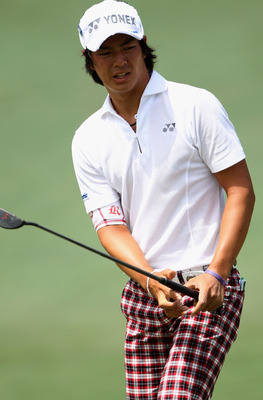 Jamie Squire/Getty Images
Japanese golfer Ryo Ishikawa is just as likely to end up on a best dressed list as he is on a worst dressed list. Ishikawa definitely has a distinctive style that makes him stand out on the green. He's best known for loud plaids and prints, paired with a solid and capped with a hat or visor.
[Best] 13. Greg Norman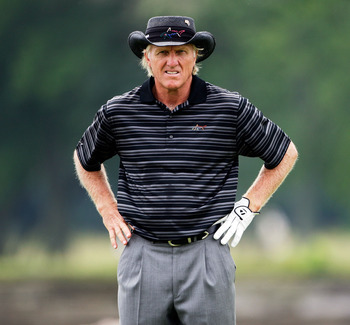 Jamie Squire/Getty Images
Greg Norman has been one of the best dressed golfers on the PGA tour for decades. Norman is an old classic, and so his wardrobe—he even has his own clothing line. He's best known for solids, polos and is almost always rocking his signature straw hat.
[Best] 12. Zack Johnson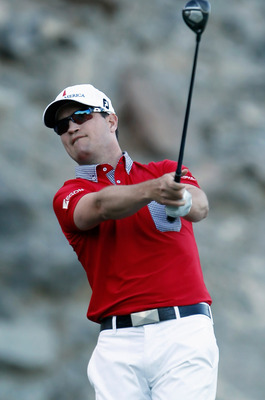 Jeff Gross/Getty Images
Zack Johnson has so much fun with his style that it makes you wonder if he was drawn to golf just so he'd have the opportunity to wear bright orange or blinding plaid prints every day of the week. Johnson definitely has fun with his wardrobe, but usually without going overboard.
[Best] 11. Fred Couples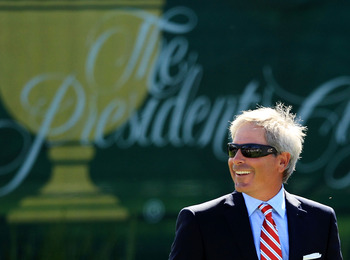 David Cannon/Getty Images
Fred Couples has been playing professional golf for over 30 years; long enough to fine a style that works for him. Couples keeps it simple—no socks, no gloves, no spikes—just casual khakis paired with a polo or sweater. He's able to pull of casual and comfortable without looking slovenly.
[Best] 10. Hunter Mahan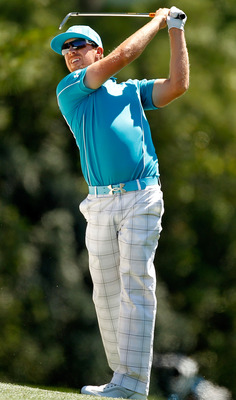 Streeter Lecka/Getty Images
Hunter Mahan is brought to you by Under Armour, which is not always the most fashionable sportswear, but he makes it work. Mahan usually sticks to solids or stripes, which have much larger margins of error than loud plaids and prints. Although, he might not do it all on his own, Mahan is married to former Dallas Cowboys Cheerleader Kandi Harris.
[Best] 9. Gary Player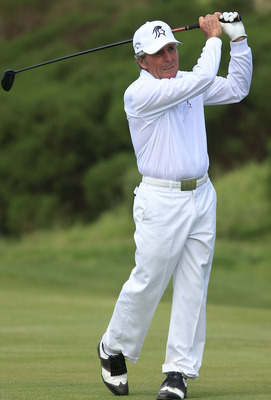 Phil Inglis/Getty Images
At 76-years-old, Gary Player is still one of the sharpest dressed men on any course. Player's signature color has always been black, making him the Johnny Cash of the PGA. But he's also known to switch it up on occasion, usually opting for head-to-toe white instead.
[Best] 8. Graeme McDowell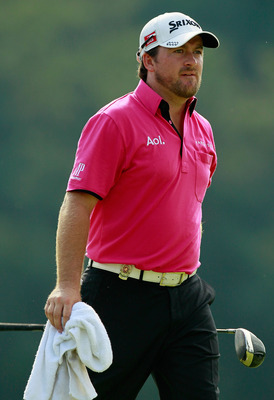 Kevin C. Cox/Getty Images
Graeme McDowell is known to have a style of his own and he isn't one of the most fashionable men on the PGA Tour by accident. McDowell's clothes come from Louis Copeland, one of Dublin's top tailors and he's always sure to match his shoes and his belt.
[Best] 7. Davis Love III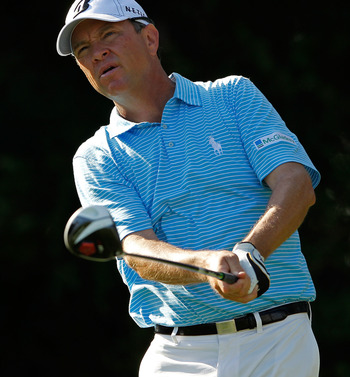 Mike Ehrmann/Getty Images
Davis Love III is one of the most predictably dressed players on the PGA Tour, which is definitely not a bad thing in his case. Love's uniform almost always consists of solid pants, a striped polo and a ball cap—always dressed in Ralph Lauren.
[Best] 6. Rory McIlroy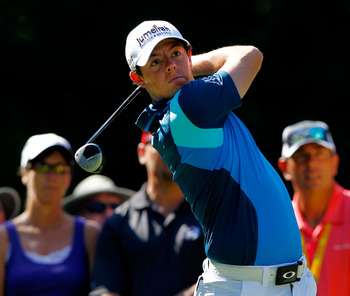 Mike Ehrmann/Getty Images
Rory McIlroy is one of the biggest up and coming talents in golf and has been sliding into the world No. 1 ranking on the regular. McIlroy knows how to dress the part and rarely embarrasses himself (fashion wise) on the course. He tends to stick with solids and stripes and often opts for a pastel color palate.
[Best] 5. Dustin Johnson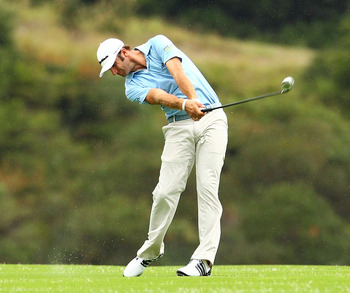 Mark Nolan/Getty Images
Dustin Johnson's style is far more consistent than his performance. Johnson has a limited color range to his wardrobe, consisting of: shades of blue, black, white and khaki. He doesn't ever get picked out as the worst dressed, which makes him one of the best dressed in my book.
[Best] 4. Camilo Villegas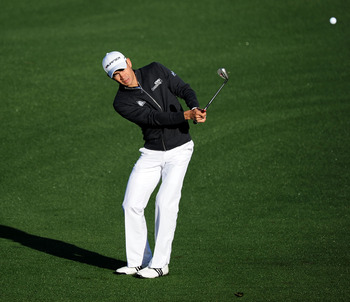 Harry How/Getty Images
Columbian golfer Camilo Villegas is a female favorite on the PGA Tour. Villegas' bold sense of style always attracts attention and his model good looks don't hurt either. He wears apparel from J. Lindeberg, a Swedish designer who designs a special collection just for him.
[Best] 3. Tiger Woods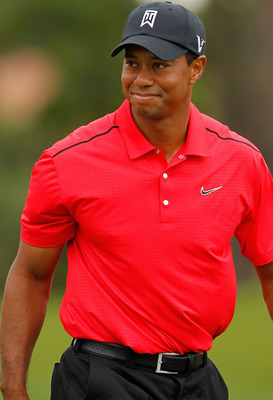 Mike Ehrmann/Getty Images
Tiger Woods doesn't take many fashion risks on the course. Woods has been one of the most consistently best golfers on the PGA Tour for over a decade. His Nike ensembles are always solid on the bottom, paired with solids or stripes on top. Woods is most likely to be seen in red and black.
[Best] 2. Adam Scott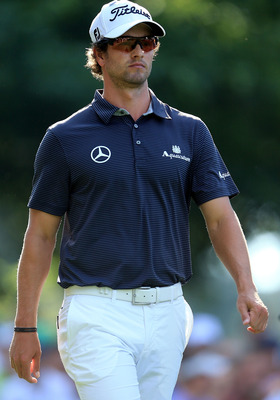 David Cannon/Getty Images
Australian golfer Adam Scott doesn't just dress well for a golfer, he's one of the most stylish athletes in the world. Don't expect to see Scott on the course rocking an Adidas teeshirt, he used to don the luxury duds of Burberry. He's since switched over to Titleist apparel, but looks as good as ever.
[Best] 1. Jesper Parnevik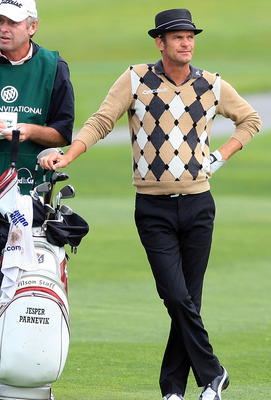 Scott Halleran/Getty Images
Jesper Parnevik is a Swedish professional golfer who played matchmaker for Tiger Woods and ex-wife Elin. Parnevik is a better dresser than a matchmaker and is known for his tight plaid pants, bold argyle sweaters and he's always donning a hat—some more fashionable than others.
[Worst] 15. Darren Clarke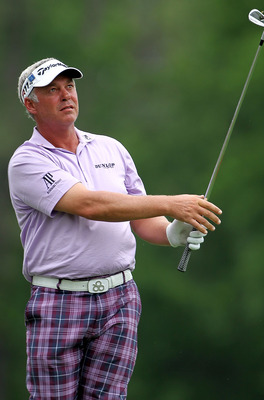 Jamie Squire/Getty Images
Darren Clarke's isn't usually over-the-top unpleasant, but he tends to shift back and forth between solid black ensembles and obscenely bright, often all purple, ensembles. Whatever he's wearing is usually paired with messy hair, a visor and a nasty cigar.
[Worst] 14. Vijay Singh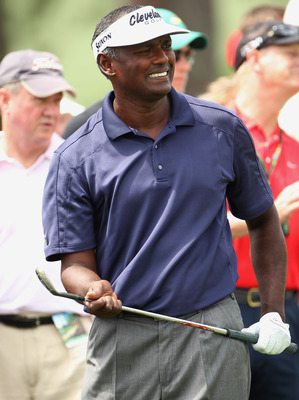 Jamie Squire/Getty Images
Vijay Singh never met a slightly oversized polo shirt that he didn't like. For the most part, Singh sticks to blue, navy blue, dark grey and white—he's usually one of the drabbest dressed players on the course.
[Worst] 13. Brandt Snedeker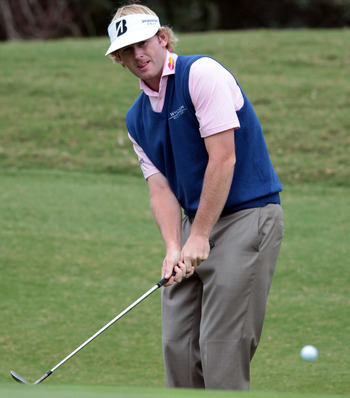 Ross Kinnaird/Getty Images
Brandt Snedeker only seems to have a couple of golf shirts in his entire wardrobe and most of them are blue. Snedeker will change it up a little every now and again, but usually he's rocking a white visor on his blonde mop top, a blue polo and grey slacks. Dullsville.
[Worst] 12. Duffy Waldorf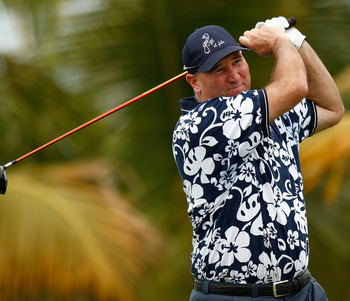 Mike Ehrmann/Getty Images
Duffy Waldorf's wardrobe might be the exact opposite of that of someone like Vijay Singh or Brandt Snedeker, in the worst possible way. Those guys might be boring and ill-fitting with the wardrobe, but at least they aren't a complete mess. Waldorf's ridiculous Hawaiian shirts and other loud patterned spectacles aren't just ugly, they're also unflattering.
[Worst] 11. Ernie Els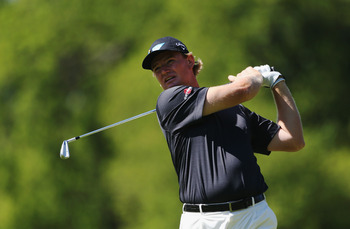 Andrew Redington/Getty Images
Ernie Els has made a number of best dressed golfers lists in the past, but his style has been going steadily down hill in recent years. Els used to put a bit more time into tailoring and coordinating, but these days he's most often seen in something monochromatic and oversized—usually light blue or grey.
[Worst] 10. Bubba Watson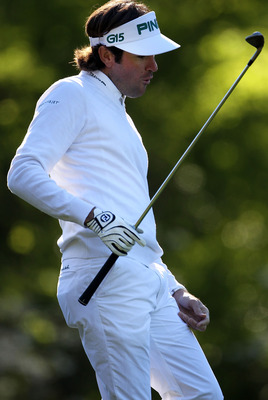 Jamie Squire/Getty Images
Bubba Watson has been desperately in need of a haircut for years, but obviously he's having none of that. Watson sometimes pulls it together and looks like he didn't get dressed int he dark, but that's the best you can expect. The worst you can expect for is a full on camouflage ensemble that makes you wonder if he's got a hunting rifle in his bag instead of his clubs.
[Worst] 9. Ryan Moore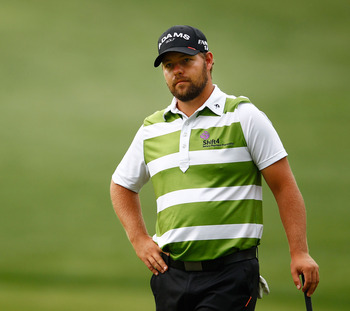 Mike Ehrmann/Getty Images
Ryan Moore is the PGA Tour's resident dirty-looking hipster. Perhaps he's trying to cultivate this niche market in the game so he can launch his own ridiculous clothing line, but the fact remains that golf is just not hip. Moore always stands out on the course in a bad way—like he should be the one carrying the bag, rather than teeing off.
[Worst] 8. Woody Austin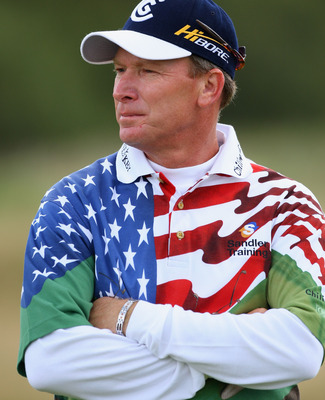 Stuart Franklin/Getty Images
Most of us (Americans) love America just as much as Woody Austin, but we recognize that draping ourselves in the flag is a bit unseemly. Austin has a never-ending supply over oversized, over-the-top ridiculous polo shirts featuring loud patterns, tropical scenes or various flora and fauna.
[Worst] 7. Billy Mayfair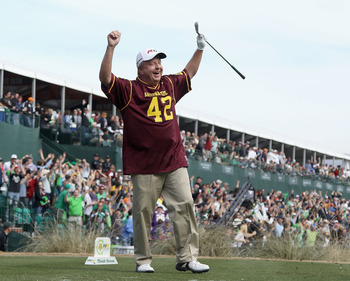 Christian Petersen/Getty Images
Billy Mayfair has reached that age where he just doesn't care anymore. Mayfair usually looks like a slovenly mess and he owns it.
[Worst] 6. Rory Sabbatini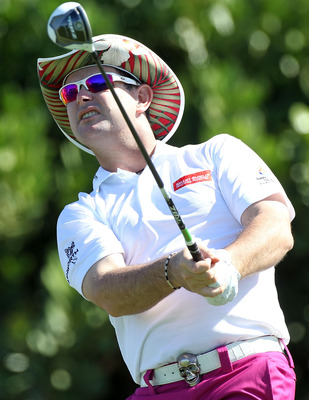 Sam Greenwood/Getty Images
At least Billy Mayfair doesn't care about fashion or looking like a clown. Rory Sabbatini, on the other hand, obviously spends a lot of time and puts forth plenty of effort and the end result is that he looks like even more of a clown. Sabbatini loves bold colors, big belt buckles and positively ridiculous hats.
[Worst] 5. Tom Purtzer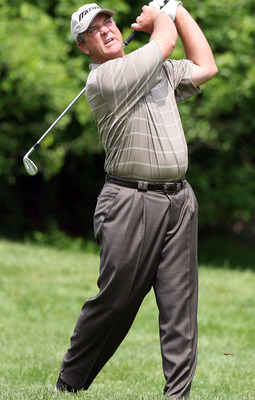 Hunter Martin/Getty Images
As golfers age, people expect far less from them in terms of style and overall appearance. But even using that sliding scale, Tom Purtzer doesn't even look okay for a man his age—or of any age. Always count on Purtzer to rock the pleated slacks with excessive room in the crotch region and a polo with not enough room in the gut region.
[Worst] 4. Ian Poulter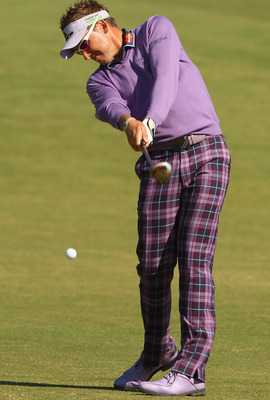 Lucas Dawson/Getty Images
For a guy with his own line of golf apparel, Ian Poulter sure looks like an idiot most of the time. When it comes to his clothes, Poulter obviously subscribes to the adage, "the brighter, the better."
Patters, plaid and purple are Poulter's absolute must-haves—on the right day you just might find him donning all three at once.
[Worst] 3. John Daly
Mark Nolan/Getty Images
John Daly sure knows how to attract attention. If he's not getting arrested for drunken disorderly contact outside Hooters, he's draping him nether regions in the Union Jack and pairing it with a neon green polo—bumping up his fashion crime from misdemeanor to felony.
But we all know Daly is generally judged on a sliding scale; much of what's acceptable for him wouldn't be for most other golfers. I guess if he's not stumbling drunk and taking a leak on the course, everything is fine.
[Worst] 2. Shingo Katayama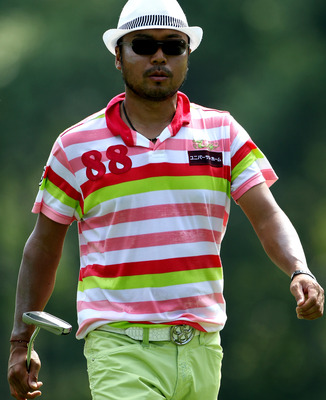 Andrew Redington/Getty Images
Japanese golfer Shingo Katayama is well known for his interesting sense of style. On the tour he's been known to rock a snakeskin cowboy with a matching snakeskin belt—often paired with various shakes of pink.
And then there's this specific monstrosity from the 2010 Malaysian Open. I'm not sure what Katayama was thinking, but perhaps someone told him they were going to a Miami night club instead of golfing that day.
[Worst] 1. Rickie Fowler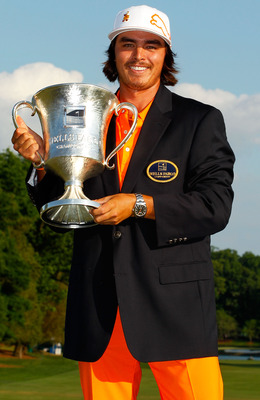 Streeter Lecka/Getty Images
Head-to-toe orange is really never a good idea and Rickie Fowler often opts for this look. All that orange has a carroty effect on his skin and even breaking up the orange with his winner's jacket doesn't do much to help the situation.
Fowler's fashion sense is bad, but that's pretty common in the PGA, but it doesn't even stop there. That scruffy beard with an accentuated mustache and long hair just compounds this mess.
Keep Reading