Pacquiao vs. Bradley Predictions: Round-by-Round Projections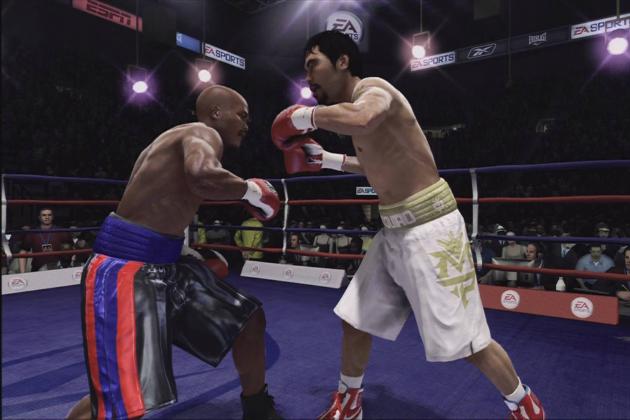 On June 9, Manny Pacquiao will defend his WBO Welterweight Title against Timothy Bradley, but much more is at stake than this championship.
Bradley wants respect, and he wants to guarantee more big paydays are in his future. Even though he is 28-0, many had not heard of him before the hype for this fight. After June 9, Bradley wants to make sure the world knows his name.
Pacquiao has the prospects of a potential super-fight with Floyd Mayweather Jr. in the back of his mind—no matter what he says to the contrary. He must fight through the political and religious interests that could be a distraction.
He hasn't been spectacular in his last three bouts, though he's been victorious, and though he's already proven his mettle his legacy is on the line again.
Who will be victorious?
Here is my round-by-round prediction.
(Images are from EA Sports Fight Night Champion)
(The game was not used to predict the outcome, just to convey my predictions)
Begin Slideshow

»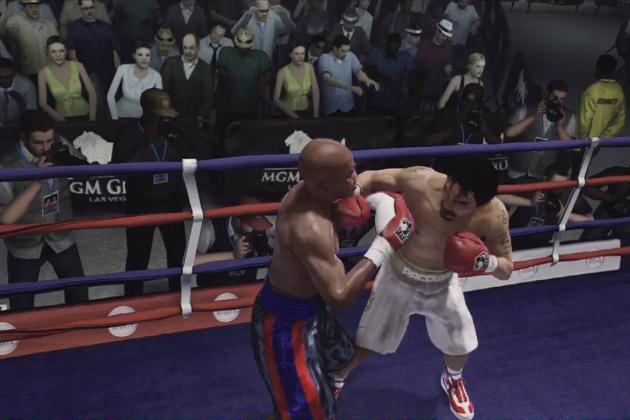 Both men look confident, but Bradley looks serious and eager to clash with the legend.
He aggressively stares Manny down as the two meet in the middle of the ring to take instructions from referee Robert Byrd.
We are ready to go.
Manny comes out looking to land power-shots early. Bradley isn't surprised by his aggression—he dips to avoid the shots and pushes Manny back with both gloves to earn his respect.
Pacquiao continues to dive in and out, throwing hard straight lefts. Bradley blocks or slips many of them, but the pace is a bit too fast for him right now.
He tries to bang the body as Pacquiao approaches, and he lands, but Manny doesn't slow down. The bell sounds, and though Manny doesn't hurt Bradley, he overwhelms him with activity and takes the round.
Score: 10-9 Pacquiao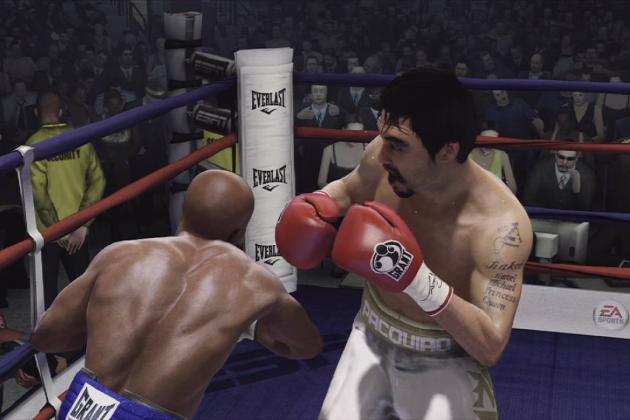 Bradley comes out ready to handle Pacquiao's onslaught in this round.
He is slipping and attempting to counter now, as opposed to just escaping.
He lands a body shot, and Pacquiao lands a right hand. The two have the fight's first nice exchange, and the crowd cheers.
Bradley seems more confident and comfortable in this round.
Pacquiao begins to try the jab, and he lands a couple in succession. Bradley ties him up, but begins to throw punches to separate, as opposed to waiting for the referee to separate him. He looks physically stronger than Manny, and Pac-Man works to break free.
Bradley comes forward with a straight right lead and lands on Pacquiao's chin. It doesn't hurt him, but it gets his attention.
The bell sounds and Bradley is pumped walking to his corner—he knows he just took Round 2.
Score: 19-19 Even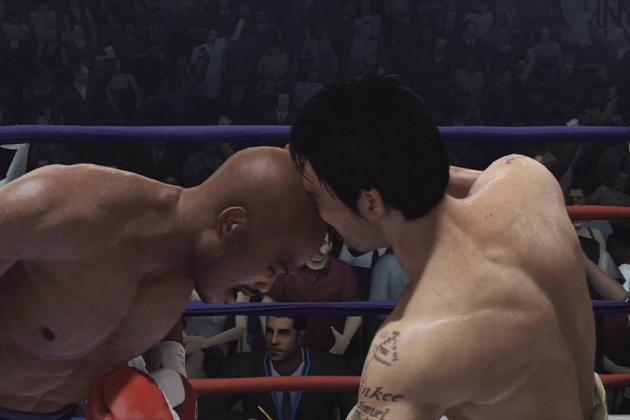 Fans are cheering loudly at the start of Round 3.
They can sense they are in for an exciting bout.
The two fighters meet in the middle of the ring. Bradley is crouched low, looking to get under Pacquiao's punches.
Manny backs away, but Bradley immediately walks forward. He throws a lunging right hand, Pacquiao sidesteps him, and barely misses a big left-hand counter.
Bradley's corner cringes as they see their fighter getting wild and fighting off balance.
Bradley collects himself, but Pacquiao begins to land the jab in the middle of the ring. Bradley eats a couple and lunges in to Pacquiao's body. Then it happens—the seemingly inevitable headbutt from Bradley.
Pacquiao backs away, but you can see the blood begin to trickle from his left eye region. Bradley seems disgusted, but it's unclear whether the headbutt was intentional. Pacquiao is visibly bothered by the cut, both men are sent to their corners and Manny's corner begins to work on the wound.
It's not a huge gash at this point, and the round continues, but Manny isn't himself for the rest of the round.
Pacquiao takes the round based on early sequences, but the cut may be a problem.
Score: Pacquiao 29-28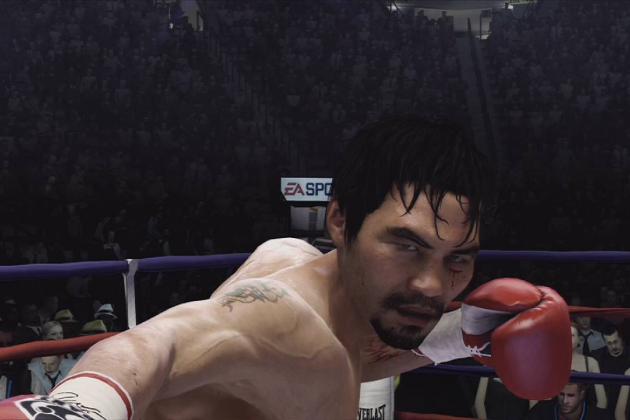 Manny's corner worked feverishly to patch up the cut above his left eye.
Manny comes out with a sense of urgency—he is trying to take it to Bradley.
The two have a nice flurry in the middle of the ring. Both land shots, but neither man is rocked. They clinch, and Pacquiao angrily snatches away.
He throws the left-hand lead, and it scores on Bradley's right cheek, it was Pacquiao best punch of the fight thus far.
Manny tries to come in with hard punches, but Bradley ties him up again. The blood begins to appear under Pacquiao's eye again.
During the tie-up, Bradley works his right hand free and bangs the body. He has been trying to tie Pacquiao up, not just to rest, but to work on the inside as well.
The bell sounds and Manny takes another round, but Bradley is in the fight.
Score: 39-37 Pacquiao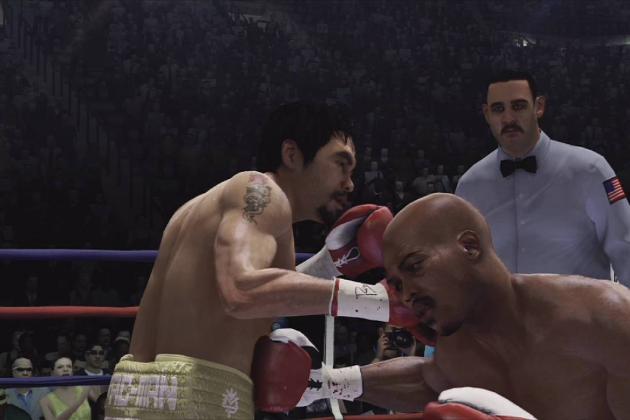 In Round 5, Bradley is crouched low again.
This time, Pacquiao takes the bait by darting in with a left-hand lead.
Bradley counters with a hard right hand to the body of Pacquiao.
That one hurt, as Manny momentarily stops punching to defend his ribs. Bradley tries another shot to the ribs, but Pacquiao blocks it—still, the body shot has taken Pacquiao's aggression for the time being.
Bradley comes forward and Pacquiao doesn't throw punches to stop him. Bradley barrels in, pushing Manny into the ropes. He has his head down, and he's winging wide shots to Manny's body.
They aren't doing a ton of damage, but they are getting a crowd reaction, and scoring.
Manny's heart and pride take over. He escapes and throws a flurry to the delight of the pro-Pacquiao crowd. They don't score big, as Bradley takes the round.
He rode the momentum of the hard body shot he landed earlier in the round.
Score: 48-47 Pacquiao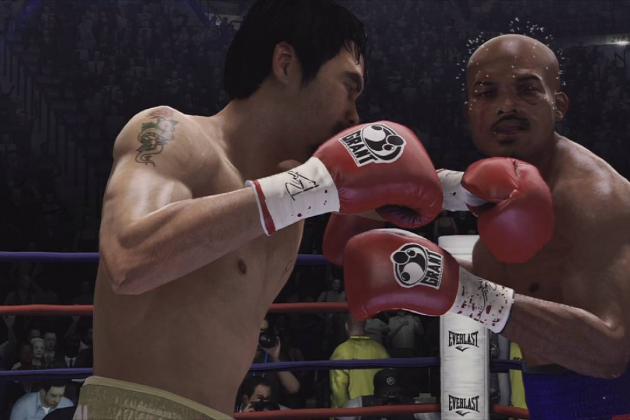 Bradley's confidence is really high at the start of this round.
He immediately attempts to close distance on Manny, but Manny isn't avoiding the confrontation.
He throws a couple jabs that land and stop Bradley's progress.
It seems Pacquiao realizes he'll need the jab in this fight. Bradley tries to work the body, but Pacquiao is beating him to the punch.
Manny is doing a good job keeping Bradley back in this round, and the cut is holding up as well. Pacquiao wins the most uneventful round of the fight thus far.
Score: 58-56 Pacquiao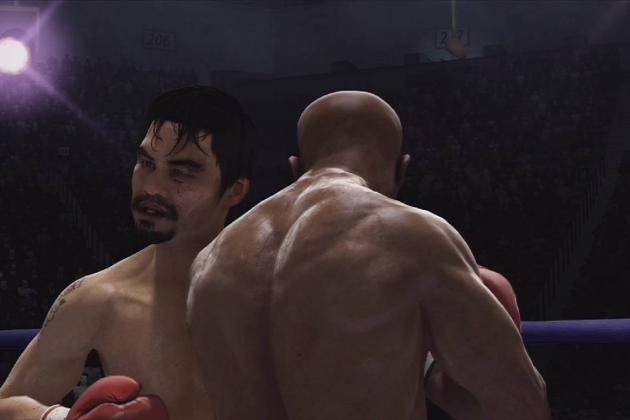 Pacquiao comes out trying to set up the power shots in this round, but he isn't landing them.
Bradley continues to try to tie up Pacquiao on the inside, but in this round, he can't work his hands free, and the two are separated several times by the referee.
The spoiled crowd gets a little restless and begins to boo the inactivity—a rarity in any Pacquiao fight.
The fight has taken a turn for the sloppy in the past two rounds, and that is exactly what Bradley wants, though he also has a small cut under his right eye now.
Neither fighter lands big shots in this round, and this one is even. However, Pacquiao's cut is bleeding again, and it seems to be bothering him.
Score: 68-66 Pacquiao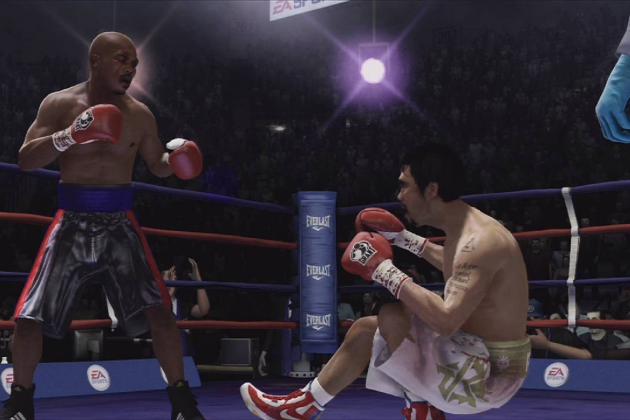 Round 8 begins with a flurry from Pacquiao.
He lands a hard right-left combination, and Bradley backs up. This is clearly the best combination of the fight for Pacquiao.
Bradley protects, and his back touches the ropes. Manny charges in to try to finish him, but Bradley is blocking the punches, and then he counters with a hard right uppercut.
It catches Pacquiao right on the chin, and Manny is dazed. The tables have turned, and Bradley is trying to land finishing blows on Pacquiao now. He is far more cautious than Pacquiao, as Manny is still throwing punches as opposed to trying to cover.
Bradley counters a right hand from Pacquiao with a overhand right that catches Manny on the top of the head. Manny stumbles to a seated position, and it is a knockdown.
Pacquiao has been knocked down for the first time in nine years. He isn't terribly hurt, so Bradley can't finish him, but things just got real interesting at MGM Grand Garden Arena.
Pacquiao's corner is splashing him with water and treating the cut near his eye—there is a bit of panic in his corner.
Score: 76-76 Even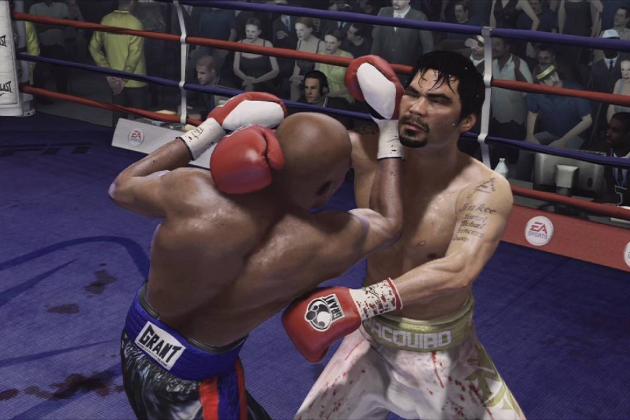 In Round 9, the crowd is still buzzing over the knockdown in Round 8.
Pacquiao wants to prove he isn't finished, and he comes out aggressively.
He lands a few power shots, but they don't have the same sting on them as the shots he threw earlier in the fight.
Bradley tries to go back to the body. He lands a few hard right hands to Pac-Man's ribs. Both fighters have lost a little steam on their punches, and both look a little tired.
After the body shots, Bradley begins to physically push Pacquiao's body. He's really showing his strength advantage now. Round 9 has made the fight sloppy again, but this time Pacquiao is not punching as often.
Bradley controls the tempo and the round. For the first time in this fight, I have Bradley ahead.
Score: 86-85 Bradley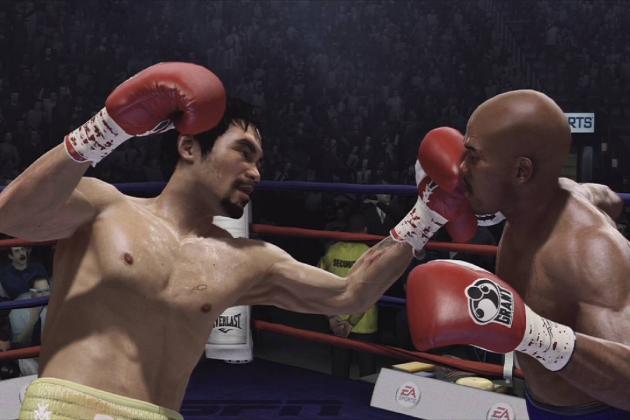 Bradley is confident, but not overly aggressive.
He seems to be waiting for Pacquiao to attack so he can counter. Pacquiao isn't rushing in, and he looks tired.
The two fighters come together, and now Bradley is trying to land uppercuts.
Pacquiao backs away and releases a combo. It lands, but Bradley smiles and shakes his head.
This is a combination that would usually daze a Pacquiao opponent, but in this situation Bradley takes the combo well.
Manny is doing a good job keeping the distance in this round and he takes it, but Bradley is still brimming with confidence.
Score: 95-95 Even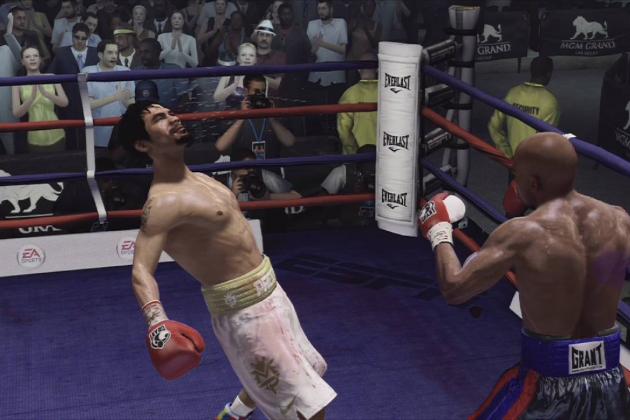 In Round 11, Pacquiao is trying to claim this fight. He knows it's close, and he wants to take control.
He opens up with a combination, but Bradley slips both and counters with another right hand to the body.
This punch hurts Pac-Man, and he stops his assault. Bradley barrels into Pac-Man's chest, throwing more body shots. Again, they aren't landing, but they look good.
Pacquiao is trying to move away, and gets caught with a lunging right hand from Bradley. It catches him flush and he stumbles back into the ropes. Bradley pounces on him, and Pacquiao is trying to stay up by bobbing and weaving.
Bradley doesn't land many shots in the flurry, but he has hurt Pacquiao again. The blood from the cut is running into Manny's face now, but he survives the round.
Bradley has a one-point lead on Pacquiao heading into the 12th and final round.
Score: 105-104 Bradley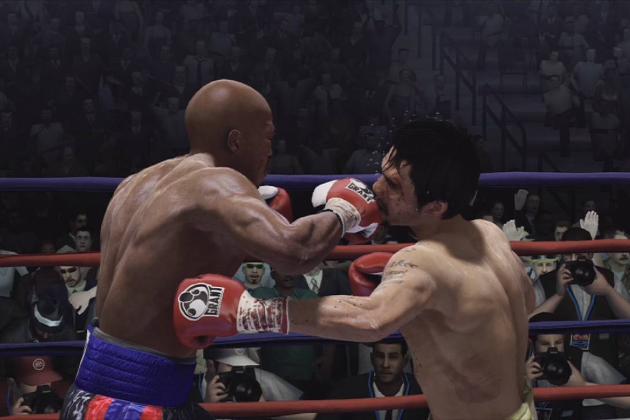 In the final round, both men know the fight is on the line.
They begin to throw shots with bad intentions.
Manny is not himself, but he's throwing on adrenaline and heart.
Bradley knows he can't win from the outside, and he tries to get inside again. He closes the distance and throws to the body.
Manny counters with a flurry to the head, and both men are throwing power shots to the crowd's delight.
Both men are cut and marked in this final round.
Bradley lands a hard right that momentarily stops Pacquiao, but he keeps firing shortly after. Neither man can finish the other, but Bradley takes a close round because he looks to be the fresher of the two.
Bradley wins an instant classic.
Score: 115-113 Bradley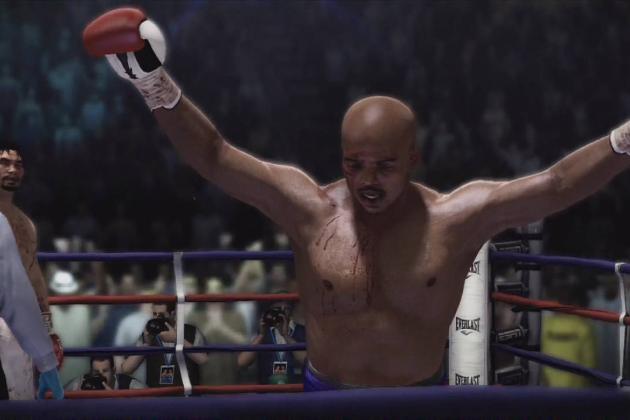 I predict Timothy Bradley pulls off the biggest upset of the year and the biggest win of his career.
I think he wins a split decision where two judges have it scored correctly at 115-113, and one visually impaired judge has it 114-113 for Pacquiao.
Bradley will become the new WBO champion, but more importantly he has knocked off a legend.
The prospects of a super-fight are now in even worse shape, as Pacquiao has some serious questions to answer about his future in the sport.