NL Worst of the Night: Starlin Castro Goes 0-for-4 with 4 Ks as Cubs Lose Again
May 23, 2012

The season is quickly spiraling downward for the Chicago Cubs. With Tuesday's 2-1 loss to the Houston Astros, the Cubs' losing streak extended to eight games. That slide has pushed them down to the worst record in baseball at 15-28. 
Yes, that's correct: the worst record in baseball. Worse than the Padres or Rockies, even worse than the Minnesota Twins. No wonder Kerry Wood decided to retire. 
Shortstop Starlin Castro has been one of the few bright spots for the Cubs this season, batting .316/.326/.411 going into Tuesday night's play. But he was most certainly part of the problem in his team's latest loss. 
Castro went 0-for-4 with four strikeouts, exchanging his blue Cubs cap for a golden sombrero. But if there's one major league city where Castro had to wear a sombrero, it might as well be Houston. 
J.A. Happ sent Castro down swinging in his first three plate appearances, with Wilton Lopez getting him that fourth time.
Two of those strikeouts were especially costly, coming when Castro had a chance to drive in a run or two that could've made the difference in the ballgame.
In the third inning, Castro came up with runners on first and third and two outs, but ultimately flailed at a slider for strike three to end the threat. 
But Castro squandered his best opportunity to help the Cubs in the eighth, with a runner on third and one out in the inning. He had no answer for Lopez's sinker, however, fouling off two of them before swinging and missing at the fourth pitch to end the inning.
As ESPN Chicago's Doug Padilla points out, the four strikeouts left Castro with 31 on the season, third on the Cubs behind Bryan LaHair and Alfonso Soriano. Making matters worse, Castro has only four walks, the worst among Cubs batters with at least 50 at-bats. (Castro has 175.)
Obviously, that's not what a team needs from its No. 3 hitter, where Cubs manager Dale Sveum has batted Castro all season. 
Of course, it's certainly worth noting that we're talking about a player who's still just 22 years old.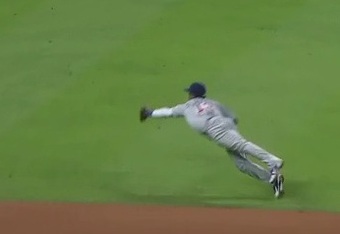 And though Castro has eight errors in 43 games, advanced metrics view him as a good defensive shortstop.
He can make some stellar plays such as the diving stop made on Tuesday night, ranging onto the outfield grass and throwing out Chris Johnson at first base. (Though replays showed Johnson may have been safe.)
With that kind of defensive play, the Cubs will likely put up with a few strikeouts. Maybe not four per night, however.
Follow @iancass on Twitter