Manchester United Transfer News: What You Need to Know About Robert Lewandowski
The Bundesliga decided to disregard statistics when it came to awarding their Player of the Season.
Robert Lewandowski was influential in Borussia Dortmund's most important games, hence why he received the award.
With regards to his UEFA Champions League performances, he wasn't the worst, while Shinji Kagawa was terrible. Their relationship may not be as fractious as Fernando Torres and Daniel Sturridge's, but there certainly was friction.
After dissing Lewandowski, Kagawa threw the interviewing journalist under the bus by stating he was misquoted.
Either way, Lewandowski's performances in the Champions League is a blip as opposed to a trend—he'll come good next season.
Let's see how Lewandowski, Klaas-Jan Huntelaar, Marco Reus, Claudio Pizarro and Lukas Podolski performed against Bayern Munich this season.
| | | | |
| --- | --- | --- | --- |
| vs. Bayern Munich | Games | Goals | Assists |
| Lewandowski | 3 | 4 | 0 |
| Huntelaar | 2 | 0 | 0 |
| Reus | 3 | 1 | 1 |
| Pizarro | 2 | 0 | 2 |
| Podolski | 2 | 0 | 1 |
Unlike Andy Carroll, who is devoid of dribbling ability, Robert Lewandowski does have the ability to dribble.
He isn't a dribbler per se like Marco Reus, but when the Polish forward needs to get past his opponent, he'll find a way to dink past him—like when he nutmegged Holger Badstuber.
When compared to Sergio Agüero and Robin van Persie, Lewandowski's dribbling statistics are quite similar.
| | | |
| --- | --- | --- |
| League Only | Completed Dribbles | Dribbles Per Game |
| Lewandowski | 49 | 1.4 |
| Agüero | 56 | 1.6 |
| van Persie | 42 | 1.1 |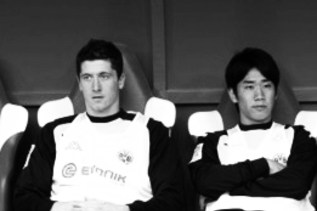 Image via cantletup.tumblr.com/
Despite Shinji Kagawa's assertions that Robert Lewandowski is selfish, statistics prove otherwise.
If Lewandowski was purely a goal poacher, he would have no assists like Mohammed Abdellaoue.
Instead, Lewandowski accumulated eight assists in the Bundesliga and created 34 shots.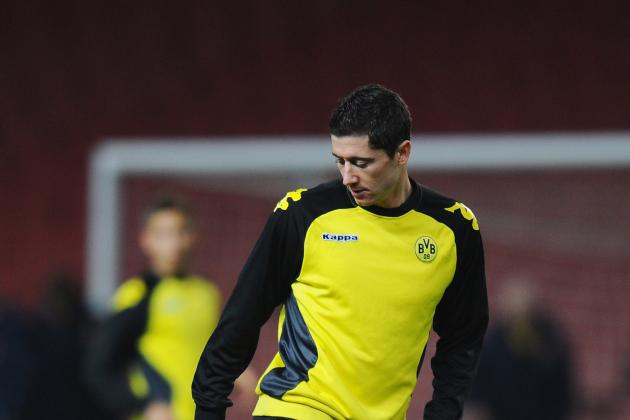 Mike Hewitt/Getty Images

Manchester United have Wayne Rooney, Chicharito, Danny Welbeck and Will Keane.
Why would they sign Robert Lewandowski?
Sir Alex Ferguson's two main priorities in the summer transfer window is to buy a left-back and a dominant, ball-winning defensive midfielder.
Robert Lewandowski is an all-around forward.
He can poach goals, he can dribble, he can create goals, and he is an aerial threat.
If Lewandowski is one of the best forwards at Euro 2012, it will dispel my belief that he can only succeed in Borussia Dortmund's system, as opposed to the club falling apart without him.
If Lucas Barrios didn't injure his thigh during the Copa América, Lewandowski wouldn't have been given a chance—when Barrios started against Kaiserslautern, he scored a hat trick.
Here's an idea of how good Jürgen Klopp's system is:
Nuri who?
Chris Löwe deputised well for Marcel Schmelzer. Felipe Santana was great when Neven Subotić was out. Ivan PeriŠić was superb whenever he was given an opportunity. And how about Jakub Błaszczykowski doing a wonderful job in place of Mario Götze?
If Lewandowski does leave, so be it; it won't be the end of the world for Dortmund.
Just like there was life after Lothar Emmerich, Manfred Burgsmüller and Stéphane Chapuisat, there will be life after Lewandowski.
Does Lewandowski feature in the Bundesliga team of the season?
Statistics courtesy of WhoScored.com and Football-Lineups.com.