All-Time US Men's Soccer Team Best XI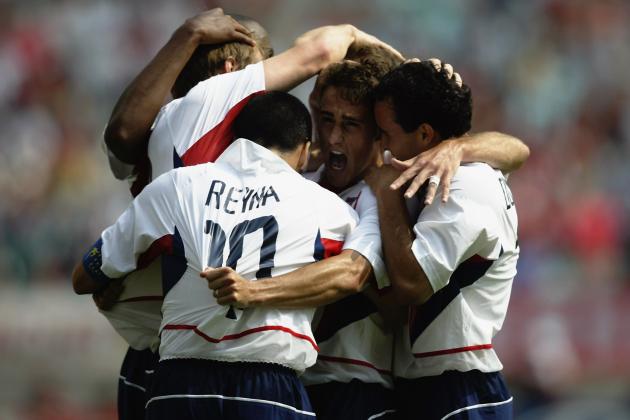 Gary M. Prior/Getty Images

Probably one of my favorite things about USA soccer is that, for once, we're the underdog. No one goes into a World Cup expecting the American team to win.
Which is a departure from expectations in nearly every other major team sport.
So it's refreshing, because you don't have to feel like a winner-picker.
In virtually every instance when the U.S. has done well, it's been built on heart and hustle far more than skill or tactics.
In 1950, a team of semi-pros famously beat England 1-0.
In 1994, the host team did us proud, advancing with a 2-1 win over dark horse favorites Colombia.
2002 saw a great upset of a star-laden Portuguese side and an advance all the way to the quarterfinals (a game which probably still causes consternation to German fans when they think about just how close they came losing).
And finally, the 2010 World Cup. Who can forget? It was glorious.
Yet, who's the best U.S. team of all time? Who would I pick if I had one game to win and could choose any USA players during their primes?
Let's take a look.
Begin Slideshow

»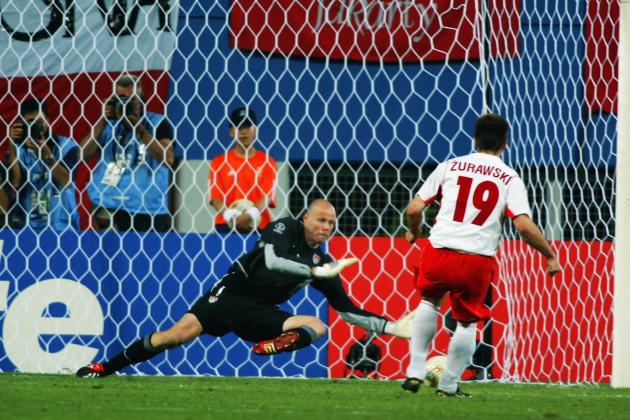 Ben Radford/Getty Images

Since this is America, and we do goalkeepers pretty well around these parts, choosing only one is actually pretty tough.
There's Tim Howard, who could end up on this list before it's all said and done.
And also Tony Meola and Kasey Keller.
But with a Premier League record 304 consecutive appearances and as the only man to save two penalty kicks at a World Cup in open play since 1974, Brad Freidel gets the nod.
He was a force of nature at the 2002 World Cup. And if ze Germans hadn't pulled some questionable shenanigans to keep it 1-0 (ahem, that was a handball!), then Freidel might have presided over a bit more magic.
And it's so tough to define when his "prime" was because he's pretty much been in it since Bill Clinton was president.
So why argue with that?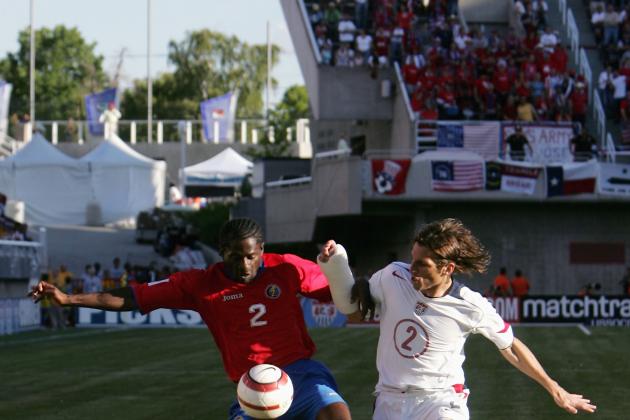 Stephen Dunn/Getty Images

Hedjuk is the type of player all coaches want. He hustled relentlessly and gave USA an outlet on the flanks.
Unquestionably fearless, his role in 2002 was vast, as was his missed presence in 2006.
He's the quintessential guy you turn to if you need to win one game.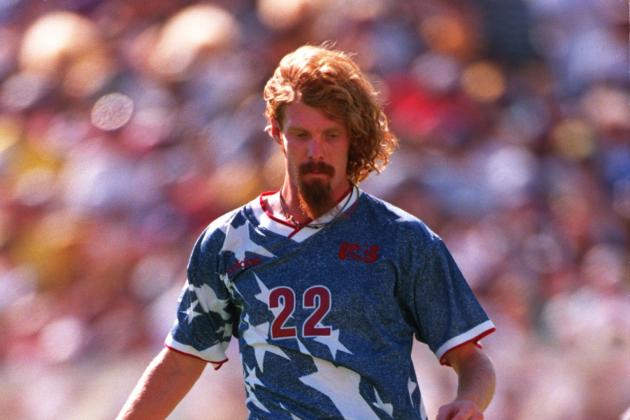 David Cannon/Getty Images

If you can get over his occasionally withering criticism of the current Team USA, then it's easier to remember Lalas as a player.
And what a defender he was. One of the first Americans to play with conviction in a top European league, Lalas scored goals against both A.C. Milan and Internazionale.
At the 1994 World Cup, he withstood the pressure of being the host country and helped guide America to a second round qualification—more than most could dream of.
With his distinctive red beard and trademark physicality, he was an imposing force.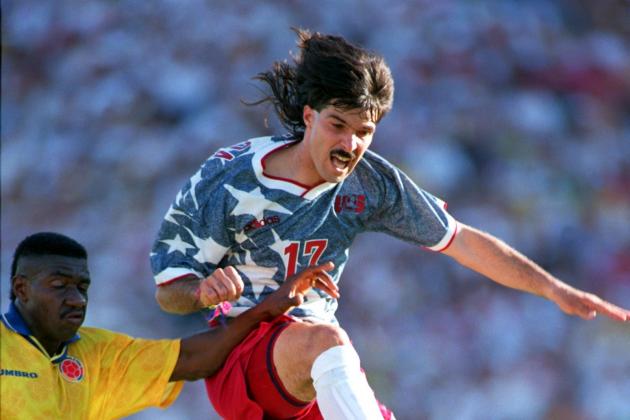 Shaun Botterill/Getty Images

Like Lalas, his finest hour with the national team was at the 1994 World Cup.
He almost hit what would have been one of the great goals in the tournament's illustrious history.
Nevertheless, he had a remarkable career and was a force of nature on defense.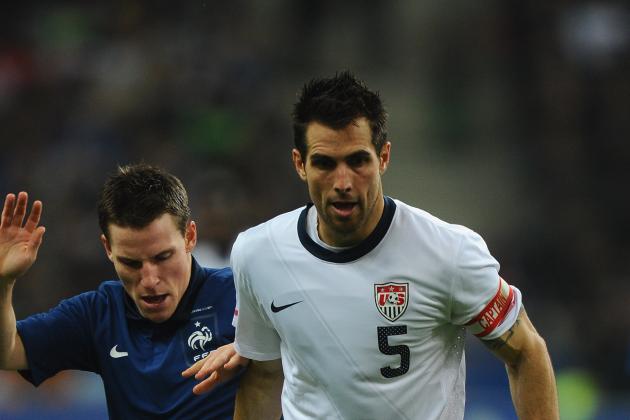 Mike Hewitt/Getty Images

A current member of the team, Bocanegra is still one of the most trusted men in U.S. soccer.
His heart and versatility have been crucial to the success of the team.
And his play at both the 2009 Confederations Cup and the 2010 World Cup more than warrant a spot here.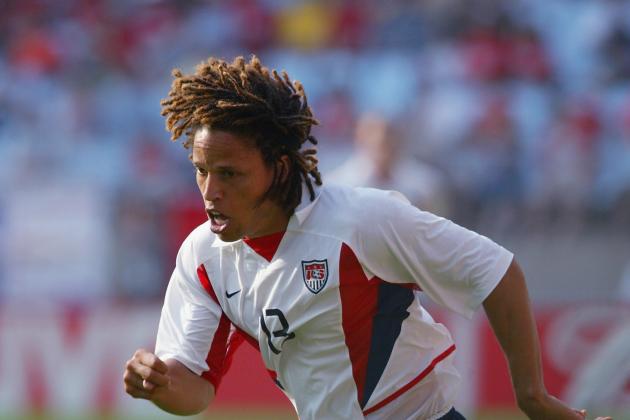 Ben Radford/Getty Images

Cobi Jones was essentially the face of American soccer for much of the late 90's and early part of last decade.
Constantly shuttling up and back along the outside, he was the consummate winger.
And he wasn't one to shy away despite his lack of size. USA fans will forever remember when Rafael Marquez got a red card for venting his growing frustrations on Jones (and Jones fondly remembers the USA winning the game, 2-0).
Doug Pensinger/Getty Images

I'm employing a little Rafa Benitez rotation here in order to include both Harkes and Reyna.
Reyna was arguably the first U.S. midfielder who was a great passer, setting up play with his pinpoint precision and, more than that, superb vision.
Harkes was perhaps the best all-around midfielder America has ever had. A great combination of heart, skill and athleticism, he scored England's "Goal of the Season" in 1990.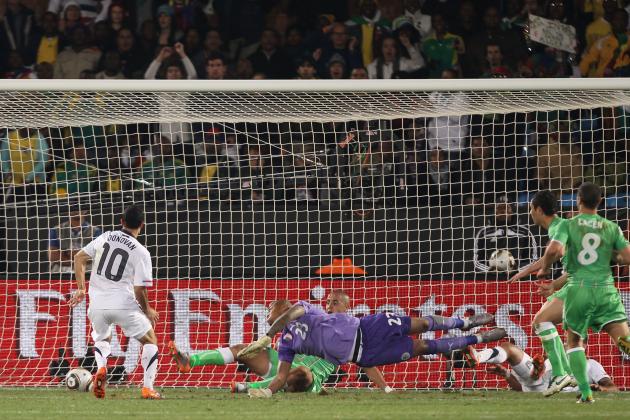 Ian Walton/Getty Images

Someday, when U.S. soccer finally wins a major international tournament, they'll remember Donovan as the first of his kind.
He was the first American soccer star who was born and raised in the U.S. and thrived in an American league.
And his history as a player is synonymous with the World Cup.
He announced his career to an unsuspecting world in 2002 at the age of just 20 against Portugal and the USA's other World Cup opposition, scoring goals and wreaking havoc on defenses he faced.
2010 saw a return to dominance at the Cup, as his goal against Slovenia jump-started the American comeback.
And then there's this...
...need I say more?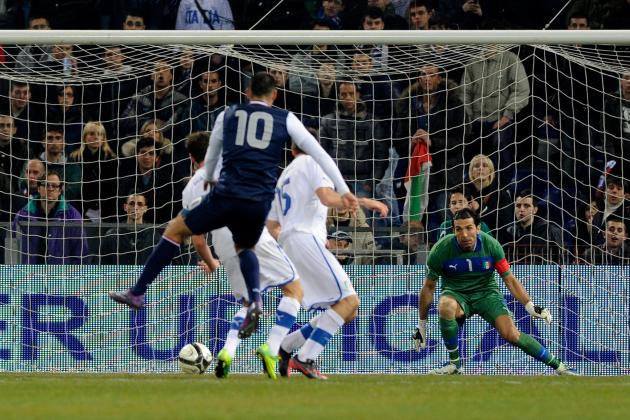 Claudio Villa/Getty Images

While Landon Donovan may be remembered as the first USA soccer superstar, Clint Dempsey will be remembered as the first American to be a star in Europe.
His remarkable tally of 21 goals this season for English club Fulham are a record for an American in a season in England.
And the 15 precious goals he scored for Fulham in the Premier League in the 2011-2012 season are a club record.
As the first American field player to receive any votes for Footballer of the Year, he has set a precedent which will surely be followed by future generations.
But let no one forget that he was the first.
(Also, his goal against Italy in a friendly earlier this season, pictured above, allowed the U.S. to record their first ever win against the four-time World Cup champions).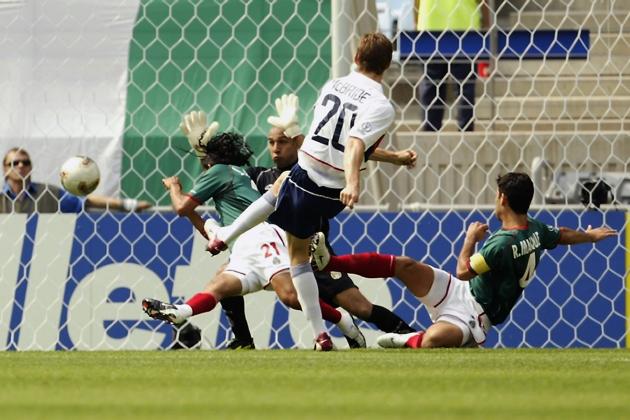 Brian Bahr/Getty Images

Many of the American records that Clint Dempsey is now smashing in England were set by Brian McBride.
He was a genuine target man as a forward, capable of heading the ball anywhere.
His goals in the 2002 World Cup were top quality, ensuring wins against Portugal and Mexico during their remarkable run.
And his leadership was vital, as McBride's work ethic set the tone for a team that has always been built around toughness.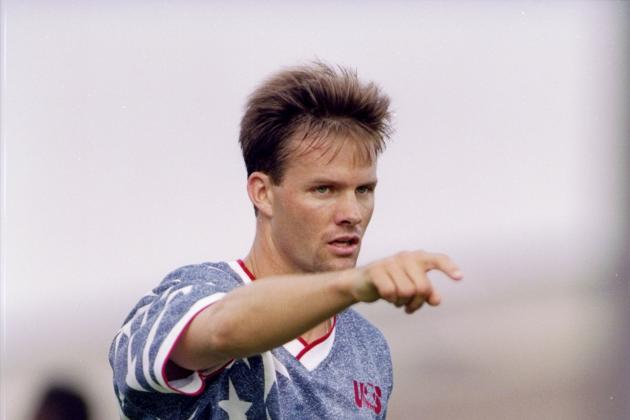 Simon Bruty/Getty Images

An original fixture on the U.S. team, Wynalda helped to establish USA soccer as a respectable force.
Before him, America was in the soccer abyss, having not qualified for a World Cup in decades.
After him, the U.S. has only known qualification. He's one of only a handful of players to ever play in three World Cups.
Wynalda's free kick masterpiece against Switzerland in the '94 Cup allowed the U.S. to notch their first Cup result that wasn't a loss since 1950.