Muhammad Ali, Floyd Mayweather and the Biggest Trash Talkers in Boxing History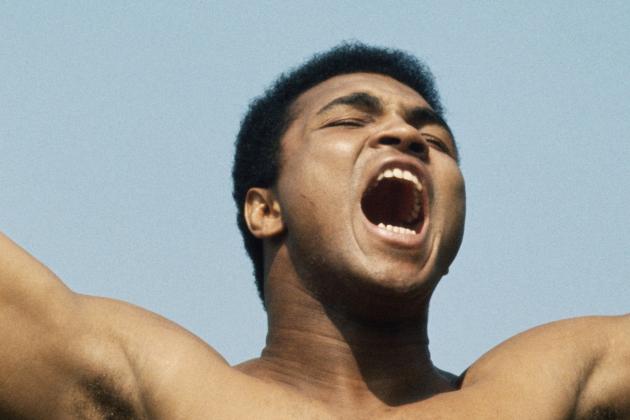 Getty Images/Getty Images
Muhammad Ali telling the world how pretty he is
Muhammad Ali and Floyd Mayweather represent just a few fighters in a long history of trash-talkers with big mouths that knew how to get their opponents riled up or further hype a fight.
In the sport of boxing, a figther's personality is key to his ability to sell out stadiums or have a hit pay-per-view. And one thing remains true in boxing as in anywhere else: controversy sells.
From threats to "take care" of a fighter's family when said fighter is deceased to insinuations that the opposing fighter is less than a real man, here are some of the biggest trash-talkers and their trashiest moments.
Begin Slideshow

»
Jan Kruger/Getty Images
David Haye
David Haye is a diabolical genius. He talked his way into the biggest heavyweight event since Lewis-Klitschko. How did he do it?
Years of trash talk.
He even made a t-shirt of the Klitschko Brothers and their decapitated heads. Eventually a showdown with Wladimir Klitschko went down, and Haye survived to collect a fortune.
David Haye showing up at the Klitschko-Chisora post-fight press conference to bother and interrupt the proceedings to start up one of the best boxing riots in recent history easily takes the cake.
If boxing already didn't have enough "Jerry Springer" moments under its belt, this one is without a doubt the worst, and it looks like it'll make a nice chunk of change.
Haye-Chisora has already sold out of live tickets to see the show.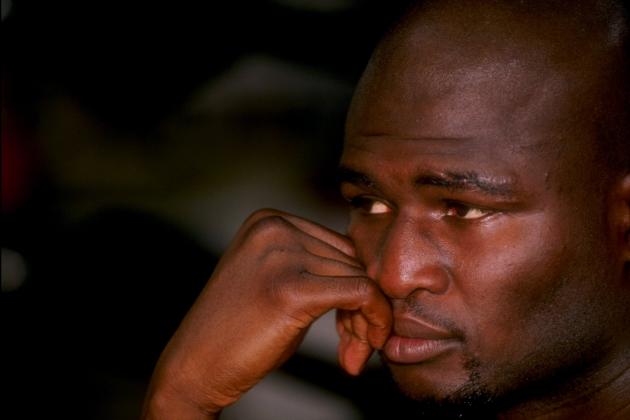 Al Bello/Getty Images
James Toney
James Toney, a talented former champion from middleweight to cruiserweight is also an outspoken boxer. Sometimes, it's to his detriment.
When he began to become very vocal in his disdain for mixed martial arts as a sport, he ended up getting submitted in his lone attempt to fight in the UFC.
James Toney's all-out assault on Oscar De La Hoya's career in the aftermath of the beating he received at the hands of Manny Pacquiao is equal parts cruel and funny.
Ever since De La Hoya quit on his stool, Toney has called De La Hoya a "fake-ass fighter" and "sissy."
Toney even criticized the choice of Pacquiao as an opponent to begin with, stating:
Oscar's a good fighter, but he's fought too many times to be fighting a guy like Manny Pacquiao.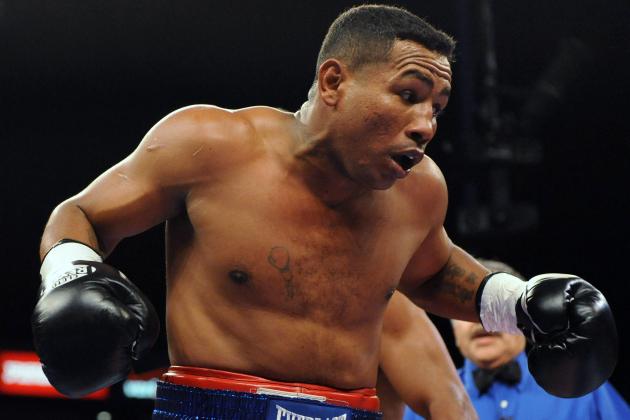 Harry How/Getty Images
Ricardo Mayorga
Ricardo Mayorga is pound-for-pound one of the best trash talkers of all time. His only problem is backing it up.
When he repeatedly called Oscar De La Hoya his woman, he still managed to get knocked out by the Golden Boy.
For all the hell he gave Miguel Cotto in their fight announcement and weigh-ins, Cotto was able to easily handle him.
It's too hard to narrow down Mayorga's trashiest moments.
Will it be his comments about Fernando Vargas' wife that sparked a near riot during the pre-fight press conference?
How about Mayorga holding up a giant number nine to represent the number of the round he planned to take Felix Trinidad down in?
Or maybe the assault on De La Hoya's sexuality should be considered Mayorga's worst moment?
How about a three-way tie? Works for this writer.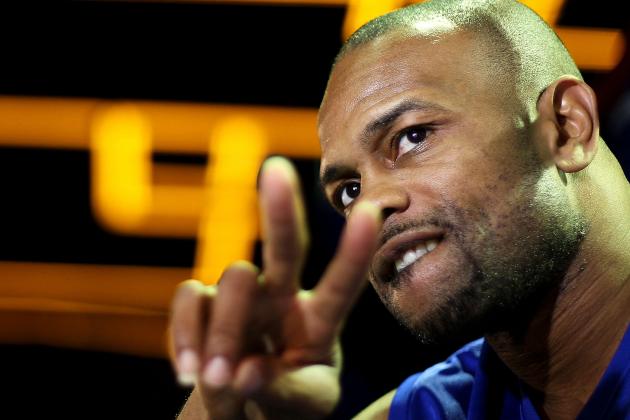 Mark Kolbe/Getty Images
Roy Jones
Roy Jones is one of the most gifted athletes of this generation. He's also one of the cockiest to ever do it.
Jones is so cocky that he created his own rap group, the Body Head Bangerz.
Roy Jones gave a summary of his career before his second-round knockout loss to Antonio Tarver during the song, "Ya'll Must've Forgot."
The song is an all-out assault against every critic and naysayer of Jones' career and place in history as the best pound-for-pound to ever step in the ring.
It offers such nuggets as this:
"I got disqualified in March of '97 after/giving a whoopin' to Montell Griffin/Late hit, my title, they had to take it/(Why?) I guess that's the only way I could lose/Five months later, rematch I needs my crown/First round, one punch and he sat down."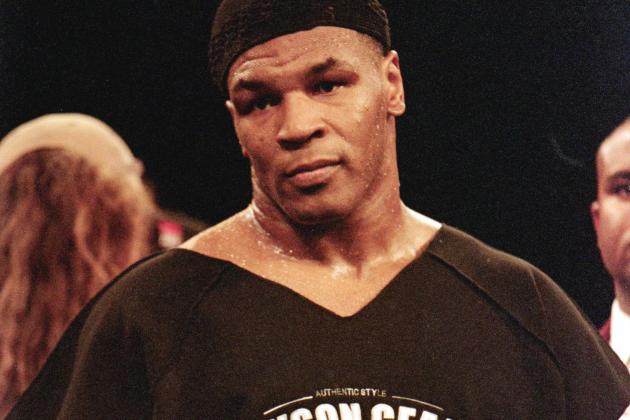 Al Bello/Getty Images
Mike Tyson
Mike Tyson is a funny guy, but he means what he says. That's probably why he's a very funny guy.
When Tyson defeated Tyrell Biggs, he had this to say afterward about the body punches he landed, "When I hit him in the body, he was making these noises.... something like a woman screaming."
Tyson would even go as far as to suggest his popularity has out-grown that of all-time greats such as Muhammad Ali and Joe Louis:
It's interesting that you put me in the league with those illustrious fighters [Muhammad Ali, Joe Louis, Jack Johnson], but I've proved since my career I've surpassed them as far my popularity. I'm the biggest fighter in the history of the sport. If you don't believe it, check the cash register.
Here lies Tyson's biggest and most off-the-wall and funny rant in a post-fight interview.
Tyson begins to offer a somber moment in discussing his best friend's passing but goes on a tangent against Lewis that ends with threatening to rip his heart out and eat his children.
All praise be to Allah!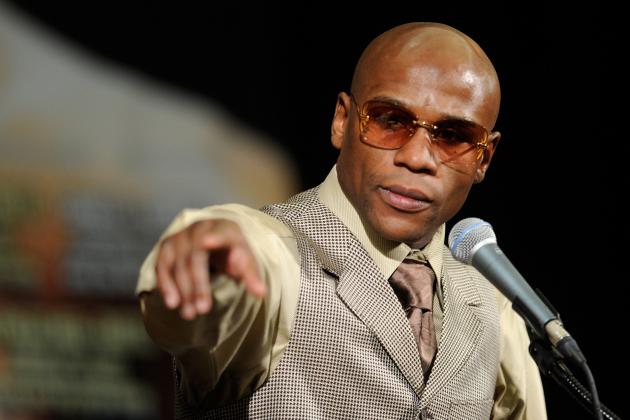 Ethan Miller/Getty Images
Floyd Mayweather
Floyd Mayweather is known to spit venom at any fighter he faces in order to hype the fight to the million-selling pay-per-view mark he cherishes so much.
As one of the few superstars today who can sell over a million PPV buys against almost anyone, he can't be blamed for continuing a well done strategy.
Sometimes his words can go a bit too far, such as his now infamous Ustream rant against Manny Pacquiao. Even then, he attracts more haters who will gladly pay to see him knocked out someday.
The UStream rant is hard to get over. Floyd Mayweather had no fight on the horizon, let alone a Manny Pacquiao one.
Mayweather instantly gave access to a rant that would verbally demolish a fighter he has yet to face yet.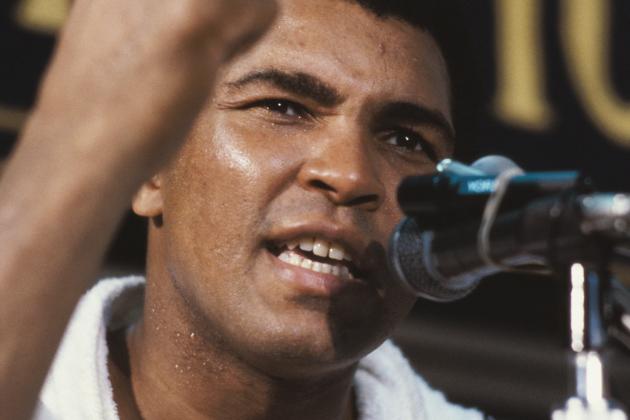 Steve Powell/Getty Images
Muhammad Ali
Muhammad Ali was always "too pretty" to not be the world champion while his opponents, especially the large fighters such as Sonny Liston and George Foreman, were "too ugly."
From calling Liston "The Bear" and Foreman "The Mummy," Ali always had a witty word or two to describe his opposition.
Perhaps one of his greatest moments of trash-talking came in the form of a poem to Liston in the build up to their first meeting in 1964.
Clay comes out to meet Liston and Liston starts to retreat,

If Liston goes back an inch farther he'll end up in a ringside seat.

Clay swings with his left,

Clay swings with his right,

Look at young Cassius carry the fight.

Liston keeps backing but there's not enough room,

It's a matter of time until Clay lowers the boom.

Then Clay lands with a right, what a beautiful swing,

And the punch raises "The Bear" clean out of the ring.

Yes the crowd did not dream, when they laid down their money,

That they would see a total eclipse of the Sonny.
For slides like this one as well as sports and entertainment news, follow me.