5 Ways the Chicago Bears' Roster Has Improved This Offseason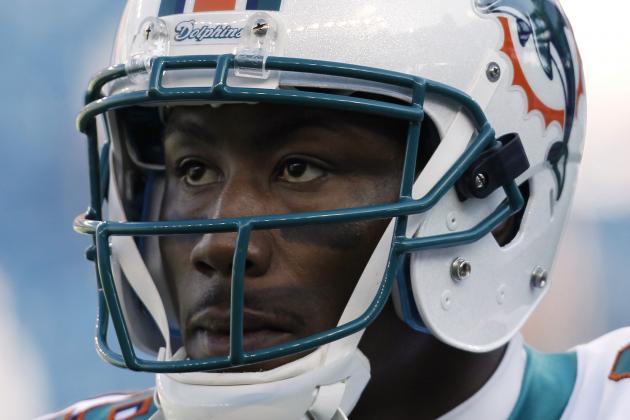 Winslow Townson/Getty Images
Brandon Marshall
Now that OTA's are on deck, we have a pretty good idea of what this Chicago Bears team will look like going into training camp. New GM Phil Emery has already put his stamp on the roster, making a multitude of moves via trade, free agency and the draft.
There is no question that the Bears have a better roster going into this season than they did last year. The names are out there and we know the positions they are going to play, but why do these guys make the team better?
Here are five ways the Bears have improved their roster this offseason.
Begin Slideshow

»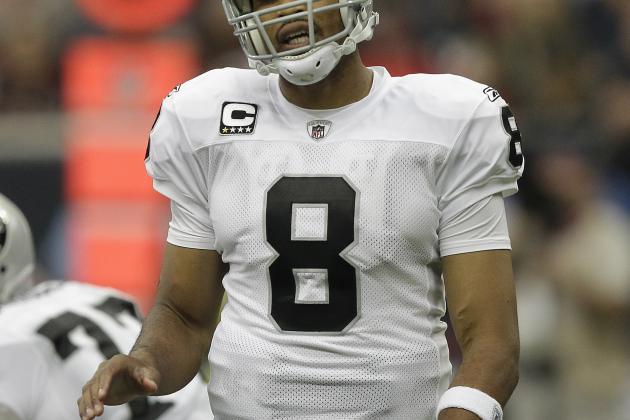 Bob Levey/Getty Images
Jason Campbell
Every team in the NFL has a next-man-up mentality. Only the better teams have the depth chart to support this method.
Last year, the Bears' season went down the drain when Jay Cutler and Matt Forte suffered season-ending injuries. Injuries along the offensive line, in the secondary and to the wide receiver corps also caused the team to struggle in some spots and really showed their lack of depth.
Phil Emery made it a point to address the depth of the Bears via free agency and the draft. Unlike Caleb Hanie, Jason Campbell is a proven starter in this league and will serve as a player fully capable of handling the job if called upon for some reason. Michael Bush will provide Matt Forte a breather without a big drop-off, and the defense has gotten some veteran depth with the additions of Geno Hayes, Kelvin Hayden and Jonathan Whilhite.
The rookies will come in to provide solid depth on both sides of the football as well give the Bears one of their deeper teams in years.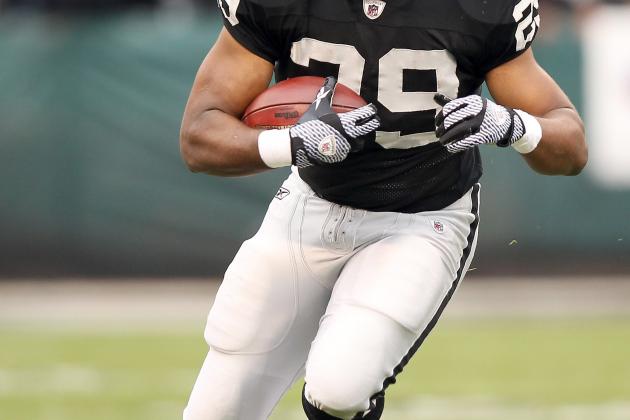 Ezra Shaw/Getty Images
Michael Bush
You want to keep up with the Detroit Lions and Green Bay Packers? You better be able to score some points with them. You want to go far in the NFL? You need to have some offensive playmakers.
Last season, Kellen Davis led the team with five touchdown receptions. Of the wide receiving group, Johnny Knox and Roy Williams led the way with only 37 receptions apiece. Up until his injury last year, Matt Forte was the only consistent playmaker on offense.
Expect to see Matt Forte still be a focal point when the Bears have the football. However, he will no longer be needed as a guy who makes up over 40 percent of the team's offense. Brandon Marshall, Michael Bush, Alshon Jeffery and Evan Rodriguez are all playmakers in their own right, and they'll make the Bears a more balanced offensive team.
Marshall and Jeffery will allow Knox, Earl Bennett and Devin Hester the space to make plays underneath while Bush becomes a threat from anywhere on the field—running or receiving—and a great goal-line option.
Jay Cutler has the ability to make big plays. Now he has the tools on offense to do just that. Look for the Bears to put more touchdowns than field goals on the board this year with their new toys.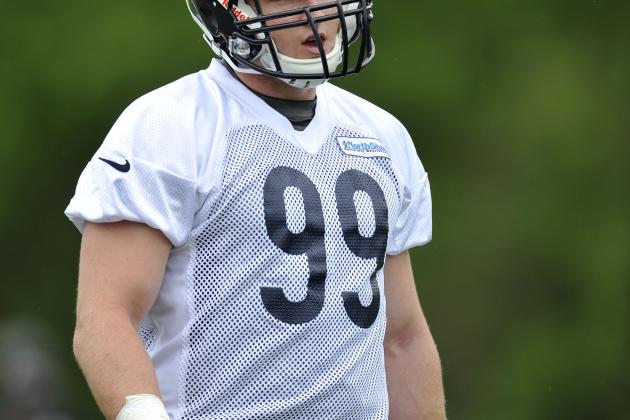 Brian Kersey/Getty Images
Shea McClellin
There was a theme in Phil Emery's first draft as Bears GM: versatile football players who give the coaching staff multiple options.
First-round pick Shea McClellin was drafted primarily as a pass-rusher, but don't think his ability stops there. He has played some middle and outside linebacker and also could be a high motor guy on special teams. McClellin has the ability to put his hand in the dirt and go after the quarterback or drop back in coverage and cover a back or tight end.
Brandon Hardin played corner in college, is built like a linebacker but will see the majority of his time at safety. Still, with those kind of cover skills and size he can be a flexible player all over the field. Imagine bringing Hardin in at corner on a goal-line spot to cut down on the jump ball play with Detroit's Calvin Johnson. Maybe he uses his size and speed to blitz from a linebacker spot or covers a tight end down the seam. His possibilities are endless.
Is he a fullback? Maybe he's a tight end? Will he line up in the backfield or in the slot? How about all of the above when you talk about Evan Rodriguez. He's already garnered comparisons to New England's Aaron Hernandez, a tight end who happened to have 61 rushing yards in a playoff game against the Broncos. Rodriguez will be lined up wherever the Bears feel they can get a mismatch they can exploit.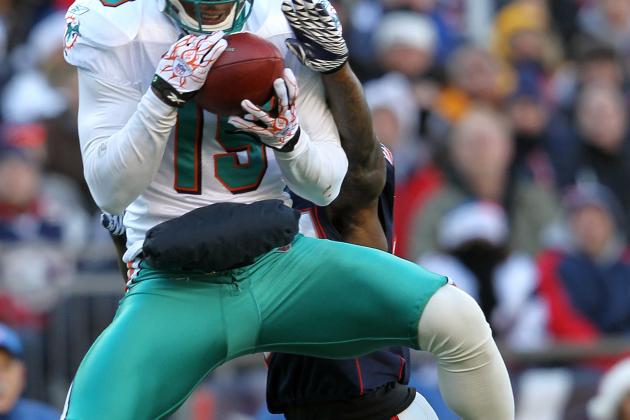 Jim Rogash/Getty Images
Brandon Marshall
One thing not talked about enough is how big the Bears are as a football team. There is a good amount of size now on this football team at each position.
Last year, Roy Williams was the only receiver over six feet on the team. Now the Bears have a 6'4'' Brandon Marshall and 6'3'' Alshon Jeffery, both big, wide targets for Jay Cutler to target down the middle or in the red zone.
Brandon Hardin's versatility has already been discussed, but did you realize he is 6'3'', 217 lbs? That is a very big and physical safety. Shea McClellin is a legit 6'3'', 255 lbs coming after the quarterback, and good luck trying to bring down 245 lbs of Michael Bush when he gets a full head of steam.
Every corner the Bears either drafted or signed is not under 5'10''. The team has brought in 14 undrafted free agents over six feet tall, including two kickers! All jokes aside, the team has made a conscious effort to get bigger on both sides of the football without sacrificing speed. The new look will help tremendously, as teams will struggle to deal with the Bears' size.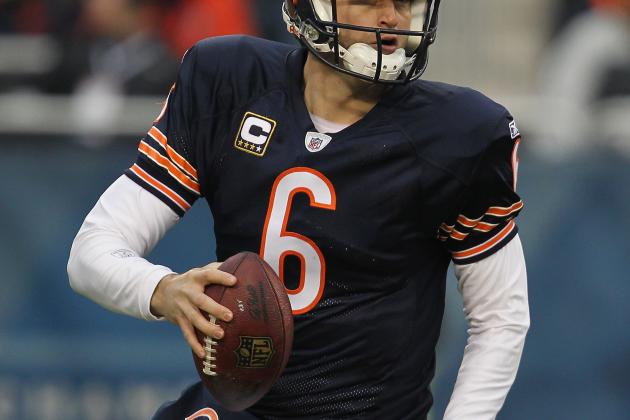 Jonathan Daniel/Getty Images
Jay Cutler
The Bears got better and didn't have to do anything except heal. You can never underestimate the importance of getting key players back healthy. Remember, the Bears were rolling last year before injuries to Jay Cutler and Matt Forte. Various injuries to other key positions like the offensive line and safeties did not help in the demise of a season that had the team lose five out of their last six games.
We know what Cutler and Forte bring to the table, but how about other injured players from last year? How important does last year's first-round pick, Gabe Carimi, become this season? He could prove to be one of the bigger keys to the team this year if he is able to start every game at right tackle. Chris Williams only played nine games last season, and he very well could be the team's left tackle opening weekend.
Having a healthy Cutler and Forte along with two starting-caliber offensive tackles becomes so important for the Bears' long-term success in the upcoming season. Having those pieces penciled in every week could result in a long playoff run in Chicago.