10 Creative Ways to Wake the New York Yankees from Their RISP Nightmares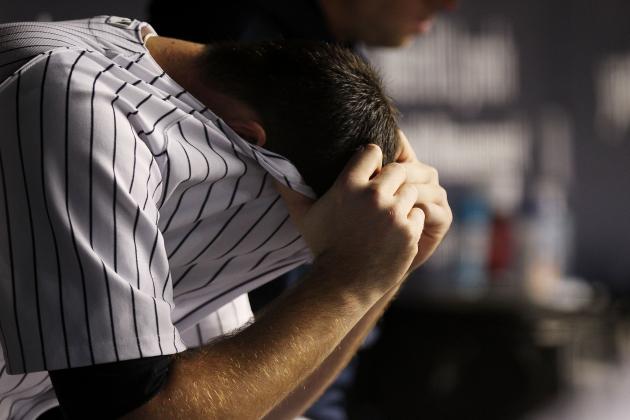 Nick Laham/Getty Images

Much like how everyone knows The Avengers is a great movie, Monopoly money isn't accepted at McDonald's, and rock beats scissors, everyone knows the New York Yankees have some issues with runners in scoring position.
The Yankees are fighting to stay out of the cellar in the AL East. Luckily for them, no one's run away with the division as of yet. Not helping their case is their inability to score runs, especially with runners in scoring positions.
There's nothing more frustrating for a team than leaving runners on base, especially if the bases are loaded.
Now last night's game may have woken up the team, but it still doesn't solve their RISP problems. Those homers were either solo shots or with one guy on. The Yankees have relied on the homer too much for too long. They need to find other ways to score if they ever enter a power drought like they've been in.
The Yankees' troubles are well documented to the point that it's trending on Twitter. If your team is on Twitter for a bad reason, it might be time for a change.
Now because of the contracts and names involved, the Yankees can't just send people down and call people up like they did with Robinson Cano when he came up. The guys on the team don't have options which means the Yankees are probably stuck with them for now.
Instead, here are some ways to make some changes with the guys they have now.
Begin Slideshow

»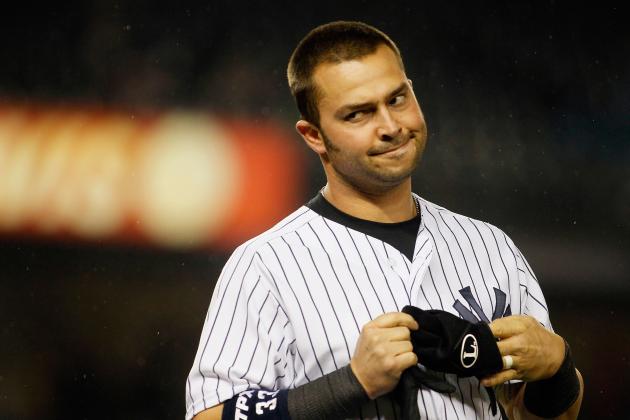 Mike Stobe/Getty Images

Not the most creative of ideas, I know, but working the pitch count is what helped the New York Yankees before. The Yankees are notoriously known to be a patient team (see their 4.5 hour long games against the Boston Red Sox). And yet, for some reason, they're now as patient as Scooby-Doo with a box of Scooby Snacks.
By working the count, the chances of a pitcher making a mistake increases. The more pitches a pitcher throws, the more tired his arm will get leading to easy hits, even homers. It's as simple as that, but the Yankees are chasing every ball that comes their way.
The Yankees are averaging roughly around 3.83 pitches per plate appearance and that's below the league average. Let's round that number up to four which means 12 pitches per inning which comes out to be 108 pitches per game, assuming the game is nine innings long.
Most pitchers hit the 100 mark around the sixth inning, just not against the Yankees.
One of the reasons the Yankees are having trouble with runners in scoring position is simply because the pitcher is not exhausted enough to make mistakes. He can still throw the pitches he wants to throw and get them where he wants them to be.
When the Yankees have runners in scoring position, the pitcher is able to get out of a jam simply by not being tired. At the very least, the Yankees should be making the pitcher work for the out in a RISP situation and not being too worried about being the hero.
And hey, a walk with the bases loaded still counts as an RBI anyway.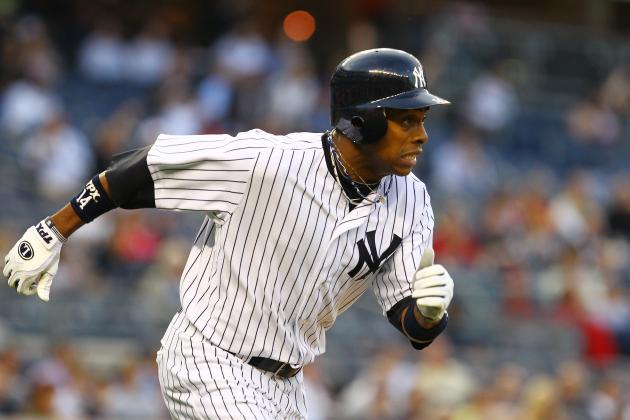 Al Bello/Getty Images

Stealing bases has both negatives and positives. At this point, the New York Yankees need to do anything to get a run in so I'm gonna say ignore the negatives with this.
This lackluster offense clearly misses the presence of Brett Gardner, the Yankees' fastest player and possibly the fastest player in the majors. He would be able to create runs by himself by stealing bases and turning singles into doubles.
Without him, there hasn't been very much base stealing or aggressive base running going on. Sure, I don't trust Raul Ibanez and Mark Teixeira to swipe any bags, but Curtis Granderson, and to a lesser extent, Derek Jeter and Alex Rodriguez, can do the job.
I'm not saying steal a base every single time, just when the moment is right. A runner on first makes a pitcher uneasy, but if the pitcher knows he's not gonna steal the base, that's less for him to worry about.
Stealing bases can disrupt the pitcher's game by getting into his head. If he's too worried about the base runner, then chances are he'll make a mistake at the plate.
How many times have we seen a pitcher miss a throw to first, or the fielder bobbling the ball, or the catcher just completely missing second base? Little mistakes are little, but sooner or later, they'll start to add up.
Then there's the simple fact that by stealing a base, the runner is placing himself in a better scoring position. It's easier to score from second than it is from first. The same goes for third instead of second.
I'm just not advising anyone on the Yankees to try to steal home, however.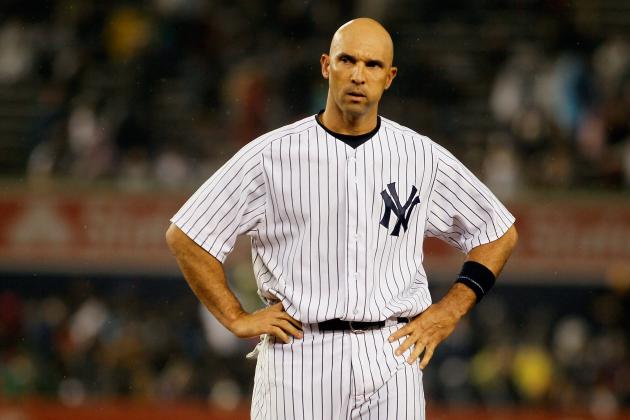 Mike Stobe/Getty Images

In the New York Yankees' game against the Kansas City Royals on Tuesday night, Dewayne Wise laid down a beautiful bunt that was intended to move the runners over but ended up getting on base himself.
That was a great play by Wise as it lead to the Yankees' game winning runs later in the inning. As much as I love a homer, seeing a well-executed bunt like that is great. That bunt broke a 0-for-16 stretch for the Yankees with RISP.
Right now, the Yankees can't rely on the homer. Sure, Robinson Cano hit a home run earlier that night to get the Yankees on the board, but it wasn't a grand slam that gave them the win, just a series of clutch hits and good plays.
Since Brett Gardner is out, the Yankees shouldn't be running the squeeze every time a guy's on third. Instead, they should be focusing on moving guys over. The Yankees haven't been hitting very well recently so bunting the runner over might be the answer.
Of course, only guys who can actually bunt should be the ones doing it. Mark Teixeira and Alex Rodriguez probably haven't bunted in their entire career. If Kevin Long wants to teach them how to bunt, I'm all for it. But I'd rather have them hit homers like they used to.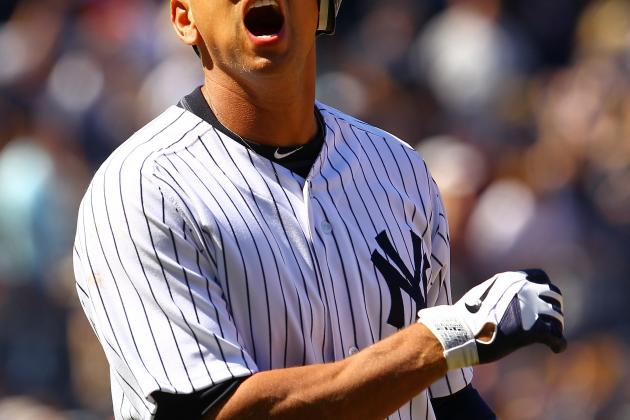 Al Bello/Getty Images

Fans, talking heads, and sports writers have all been saying the New York Yankees can't afford to have Alex Rodriguez to be the clean-up hitter. He hasn't been driving in runs, seeing many pitches, or hitting homers like he used to.
As a clean-up hitter, A-Rod believes it to be his job to drive in every big run and hit the home run that matters. He hasn't been able to do that recently, but moving him down in the lineup isn't the answer.
The way A-Rod is now, hitting in the No. 2 spot might benefit him. He's more of a doubles guy and a contact hitter. A-Rod still gets on base and has a higher on-base percentage than Curtis Granderson and Robinson Cano.
Ideally, Derek Jeter would get on base by getting a hit and A-Rod can drive him in with a double. Taking him out of the clean-up spot relieves him of the pressure of batting there. Moving him up to the No. 2 spot won't wreck his confidence.
It shows that the team still believes he can contribute, just not where he is right now.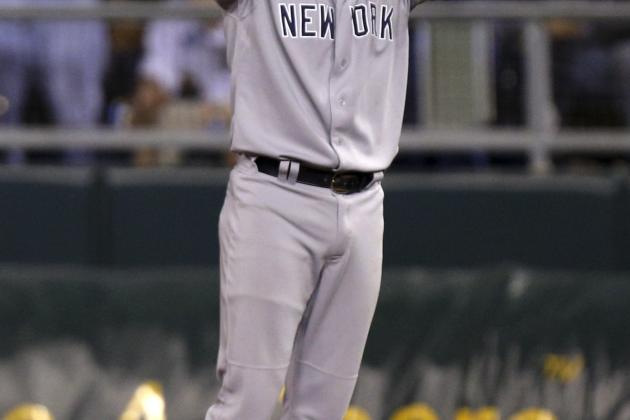 Ed Zurga/Getty Images

Out of sight might be a little harsh, but by batting in the seventh spot, Mark Teixeira might as well be.
He's used to being in the heart of the order but his nagging cough and robotic-heart-cold bat is preventing him from being there. Unlike Alex Rodriguez however, Teixeira does not have a high enough batting average or on-base percentage to warrant him moving up in the order.
The seventh spot is where he belongs as of now until he can prove otherwise. His stats show that the shift isn't exactly affecting him all too much. They're about the same from whichever side of the plate he bats from.
Now I'm not sure if that means he's no longer affected by the shift or that he's just bad from both sides. Either way, Teixeira isn't helping anyone with that .227 batting average of his. Same goes for his .280 OBP.
Of course, Teixeira's as happy to be in the seventh spot as Loki is to face the Hulk. Another option here is to bat him seventh against right-handed pitchers and sixth against lefties. His previous stats have shown that he's better from the right side anyway.
Also Nick Swisher, the guy who'd he be swapping with, is better against righties than he is.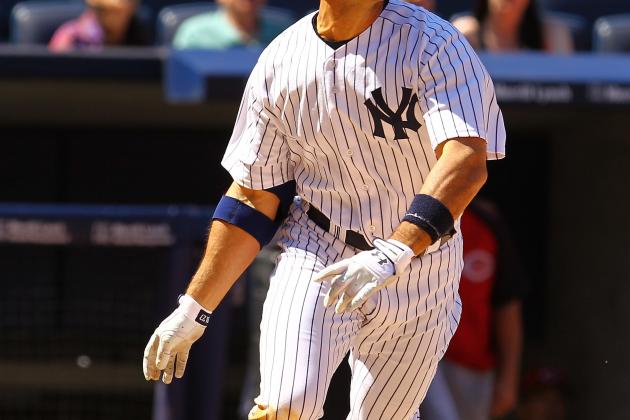 Al Bello/Getty Images

Personally, I'd much rather have Curtis Granderson bat in the clean-up spot, but it's hard to argue against what Raul Ibanez's done for the New York Yankees.
Surprisingly (and I can't stress that word enough) Ibanez has been the Yankees' most clutch hitter other than Derek Jeter. With runners in scoring position, Ibanez is batting .270/.349/.622 with 17 RBI and three HR.
With runners on, but not necessarily in scoring position, he's batting .271/.343/.661 with 24 RBI and six HR. Needless to say, Ibanez is the pretty much the only guy who's driving in the runs.
Granderson is a far better hitter when nobody's on. Compare his .262/.339/.621 with 10 HR with no one on to his .219/.375/.406 with runners in scoring position. Out of the two, I'd rather have Ibanez batting clean-up.
Sure I'm a little worried about Ibanez's age and if his numbers will drop because of it. For the time being, the Yankees need runs and Raul Ibanez is the one guy who can give the team those runs. They might as well ride him until something better comes along.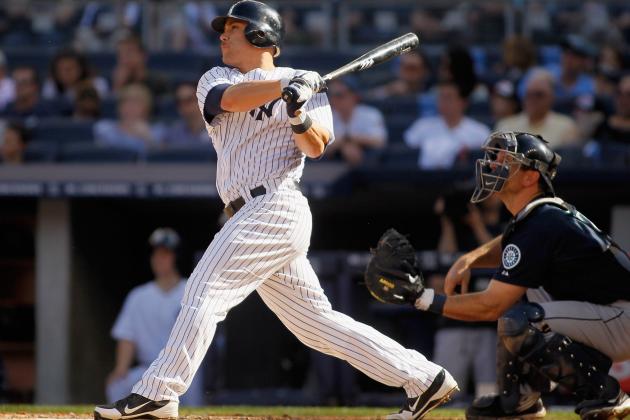 Mike Stobe/Getty Images

Russell Martin has a batting average of .179. Not good. He has an OBP of .331. Not good, but not bad either. It's a whole lot better than some of the other guys on the team.
There are only four starters who have a better OBP than Martin but he's stuck towards the bottom of the lineup where he hasn't been productive. Granted, Martin wasn't brought in smash homers and drive in runs, but he also wasn't brought in to give up three to four outs a night.
Russell Martin was once an All-Star catcher with the Los Angeles Dodgers. He still has a chance to reclaim some of that luster if the New York Yankees can figure out what to do with him.
Martin is better against lefties than he is against right-handed batters. Against lefties Martin's batting .250/.419/.458, and against righties it's .159/.303/.293.
Martin should be moved up against lefties and stay in the bottom for right-handers. But who to move? Alex Rodriguez is my No. 2 hitter, but Martin is better than him against lefties. A-Rod's batting .233/.377/.395.
Joe Girardi can switch between the two depending on who's on the mound for the other team. Hopefully this will wake some bats up in the lineup.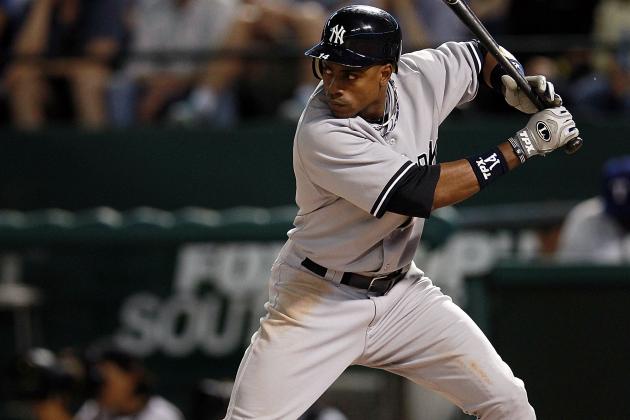 Ronald Martinez/Getty Images

Curtis Granderson is the New York Yankees' best power hitter as of now. Even as I write this he hits another homer. He now has 14 home runs and is slugging .530. Only Raul Ibanez is better than him.
I would've had Granderson clean-up, but Ibanez has better RISP numbers than him. Instead, Granderson can provide some protection for Ibanez by hitting behind him.
Batting fifth is something that he's not used to, but he's got the power to do it. Granderson even said himself that he considers himself to be more of a runs guy than a RBI guy, but the other Yankee hitters aren't getting the job done.
I'd be fine with Granderson being the two hitter but Alex Rodriguez and Mark Teixeira aren't getting the job done. Granted he's better with no one on than he is with runners in scoring position, but I'm betting on him to hit a homer or get a hit to move the guys over.
I'm even fine with Granderson bunting in the fifth spot to move a guy over. It's unconventional, then again, so is the Yankees having trouble scoring runs.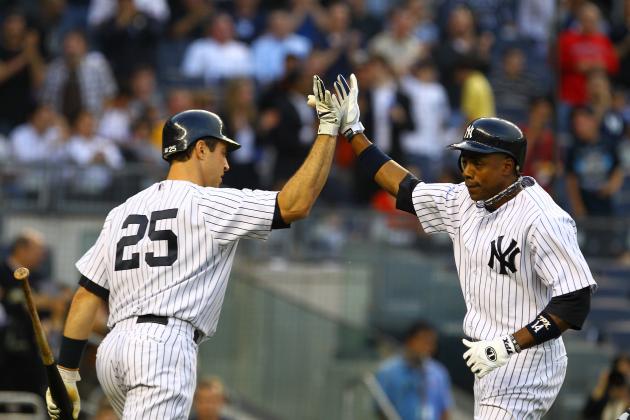 Al Bello/Getty Images

Here's my lineup against lefties:
1. SS Derek Jeter
2. C Russell Martin
3. 2B Robinson Cano
4. CF Curtis Granderson
5. 3B Alex Rodriguez
6. 1B Mark Teixeira
7. RF Nick Swisher
8. DH Andruw Jones
9. LF Jayson Nix
The main difference here and what I've said before is Raul Ibanez is missing from the lineup. Ibanez is batting .200/.250/.267 against lefties which is why I would sit him, depending on the lefty of course.
If he's facing someone like David Price, I say give him a rest. If not, let him play. Ibanez is borderline 40 years old so he needs some days off here and there.
Jones will give the New York Yankees some power against lefties. Nix is another right-handed bat that fares well against left-handers.
Granderson has a higher average against lefties and a better ratio of homers per at-bats. This lineup isn't perfect, but it takes into account who's good at what. Hopefully this will get some runs for the team.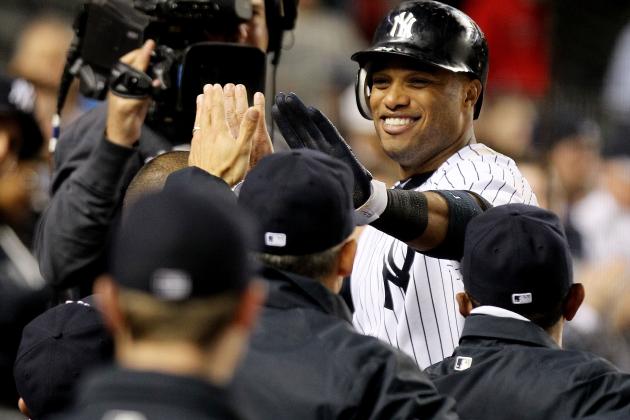 Nick Laham/Getty Images

Here's my lineup for righties:
1. SS Derek Jeter
2. DH Alex Rodriguez
3. 2B Robinson Cano/CF Curtis Granderson
4. LF Raul Ibanez
5. CF Curtis Granderson/2B Robinson Cano
6. RF Nick Swisher
7. 1B Mark Teixeira
8. 3B Eric Chavez
9. C Russell Martin
Cano and Granderson are interchangeable depending on the matchups. If Cano's better against the starting pitcher than Granderson is, I'll put him at the fifth spot to give Ibanez protection.
Cano is batting .339/.407/.569 against righties but his numbers with runners in scoring position aren't as good. That's what keeping me from having Cano bat cleanup or in the No. 5 spot.
Eric Chavez gives the New York Yankees a left-handed bat. Chavez has also been a good hitter for the Yankees kinda like Ibanez. The only difference against the two is that Chavez can't play everyday because of injuries.
Ibanez's age has me worried, but I'd rather have him play everyday than risk getting Chavez injured.
Like the other lineup, this is far from perfect and will get some getting used to. But at this point, I'm sure the Yankees would welcome a little change that doesn't involve a fire sale of the team.