UFC News: Jon Jones Meeting with Dana White and Lorenzo Fertitta over DWI Arrest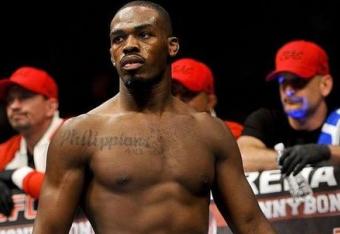 Photo by Paul Abell-US Presswire

UFC President Dana White has finally addressed Jon Jones' recent DWI arrest in detail, and he isn't remorseful.
As a matter of fact, he's "super disappointed and bummed out," according to an interview with the Boston Herald.
White essentially said that what happens next is entirely up to the 24-year-old "Bones," the youngest champion in UFC history:
It's really sitting down and figuring out what is it you want to do. You're 24 years old, you could be a force in this sport for the next 10 years and go down as the greatest ever – beat everybody, do all this stuff, be the first guy to break through and get a Nike deal, the first guy to get Gatorade and all these other things. Do you want to be that guy or do you want to go the other way? You can go the other way, too, and you can be the total bad guy, make a few million here or there and then go tell everybody to go, '(Expletive) off.' It's no different whether it's the UFC, boxing, the NBA, the NFL – it's the guys who really focus and get their (stuff) together no matter how old you are, whether you're 21 or 31. That's what we've got to figure out where Jones is at and what he wants to do.
"The road is littered with talented guys who didn't live up to their potential," White added.
According to the report, Jones was on the way to meet up with White and UFC chairman/CEO Lorenzo Fertitta Tuesday night in Las Vegas, Nevada. Vegas is playing host to UFC 146 Saturday evening.
Jones crashed his Bentley in Binghamton, New York at the intersection of Grand Boulevard and Helen Street at 5:02 a.m. Saturday, according to the Broome County Sheriff's Department.
Many initial reports stated that Jones was arrested for suspicion of a driving under the influence (DUI), but he has officially been charged with driving while intoxicated (DWI), according to many subsequent reports.
Jones had an amazing 2011 inside the Octagon: he defeated season eight winner of The Ultimate Fighter Ryan Bader, won the title from Mauricio "Shogun" Rua, then successfully defended the belt against Quinton "Rampage" Jackson and Lyoto Machida.
Jones secured a stoppage in all four of those victories.
Most recently, Jones defeated former Greg Jackson MMA teammate Rashad Evans via unanimous decision at UFC 145.
Therefore, it was a major shock to fans and fighters alike to see him get arrested when his stock was at an all-time high.
Jones is scheduled to return to action against Dan Henderson at UFC 151, set to take place on Sept. 1.
This article is
What is the duplicate article?
Why is this article offensive?
Where is this article plagiarized from?
Why is this article poorly edited?