Mariano Rivera: Blood Clot Still Delaying Yankees Closer's Surgery
May 23, 2012

Ed Zurga/Getty Images
The surgery of New York Yankees closer Mariano Rivera continues to be delayed and the date when he goes under the knife remains unknown.
After tearing the ACL in his right knee shagging fly balls back on May 3 against Kansas City, surgery was the obvious next step.
Instead, as first reported by the New York Post, a blood clot that was previously discovered in his calf that delayed surgery still hasn't gone away.
According to ESPN New York's Wallace Matthews he was treated with blood thinners, but they have not extinguished the clot. There is still no timetable for the surgery.
How is Mo taking all of this? Considering it's out of his hands, he sounded just fine about it (via New York Post): "It's not frustrating because there's nothing I can do."

The only thing Rivera can do is continue to strengthen his leg through training, and make sure it's as strong and sturdy as possibly heading into the surgery.
Luckily for Yankee fans, the delayed surgery will not have any sort of effect on his opportunity to return healthy and ready to roll at the beginning of the 2013 season according to manager Joe Girardi.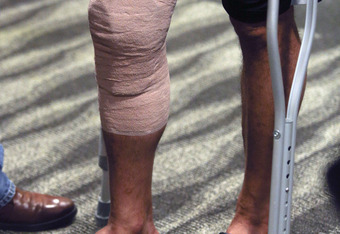 Ed Zurga/Getty Images
The team has played rather mediocre baseball in his absence, posting an 8-10 record. What's incredible about their play since the injury is the lack of save opportunities. There have only been five since Rivera went on the DL.
It's a good thing considering Rivera's replacement David Robertson was placed on the 15-day DL with a strained muscle in his left ribcage back on May 15. Now it's Rafael Soriano who is holding down the fort.
It has certainly been a rough year for the backend of the Yankees bullpen and the blood clot of Rivera is just the latest example.