Why Firing Jim Leyland Would Be a Terrible Mistake for the Detroit Tigers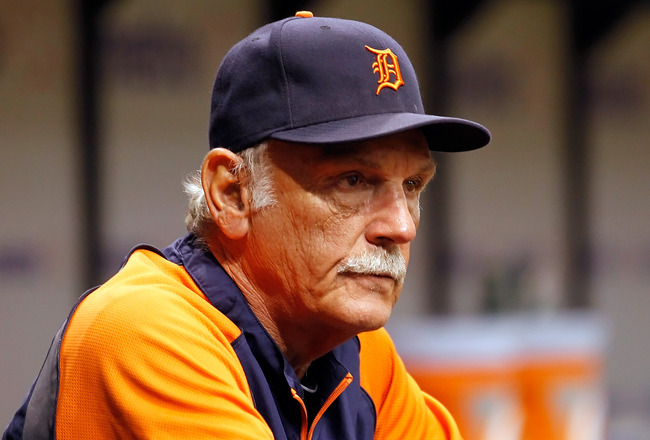 J. Meric/Getty Images
The Detroit Tigers were unanimous favorites to win the American League Central this year and advance to the playoffs in back-to-back seasons for the first time since 1934 and 1935.
But the Tigers have stumbled to a dreadful start, going 20-24, as they sit six games back of the Cleveland Indians for the division lead, now over a quarter through the season.
Usually, when a team fails as epically as the Tigers have so far, the blame, the finger pointing, and more often than not, the firing, goes to the person in charge.
In this case, Jim Leyland is on the hot seat, and after every loss, his seat gets a degree or two warmer.
But Leyland has put his blood, sweat and tears into this team, and has taken them to places the Tigers haven't been in almost 30 years, since the vaunted "Roar of '84."
People expected the 2012 Tigers to have similar success to the 1984 world champions, but thus far, the team just hasn't put it together.
But if general manager Dave Dombrowski and owner Mike Ilitch fire Leyland, they'd be making a terrible mistake.
Here are the six reasons why Leyland is still the right manager for the Tigers.
1. Team Turnaround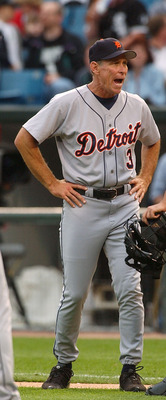 Jonathan Daniel/Getty Images
Jim Leyland took over as the Tigers manager in 2006, replacing former shortstop Alan Trammell.
Trammell was a fan-favorite as a player in Detroit and was expected to match that success as a manager.
But Trammell failed miserably in his first year at the helm in 2003, guiding the Tigers to the second-worst record in MLB history, 43-119. Although he improved the next season, going 72-90, the team went 71-91 in 2005, and Trammell got the axe.
Trammell didn't have much to work with after succeeding Luis Pujols, Phil Garner, Larry Parrish and Buddy Bell.
In 1996, Bell became the manager in Detroit after Sparky Anderson managed the team for 16 years. Anderson's teams were declining in the early '90s and Bell went 53-109 in his first season in Detroit.
He improved to 79-83 in his second season as manager, but was fired after starting the 1998 season 52-85.
Parrish finished the '98 season 13-12 as interim manager, but suffered through a 69-92 season in 1999 and the Tigers showed him the door.
Phil Garner took over for Parrish and went 145-178 in the 2000 and 2001 seasons. The Tigers started 0-6 in 2002, and Garner and GM Randy Smith were both fired.
Luis Pujols became the interim manager and finished the '02 season 55-100, and was relieved of his managerial duties in favor of Trammell.
After Trammell didn't get it done, Leyland was hired, much to the dismay of Tigers fans, but after taking Detroit to the World Series in 2006, Leyland was loved by the team, the fans and the city.
Leyland is the first manager to have a winning season with the Tigers since Anderson in 1993 and has only had one losing season in his six years with the team.
2. Players Love Him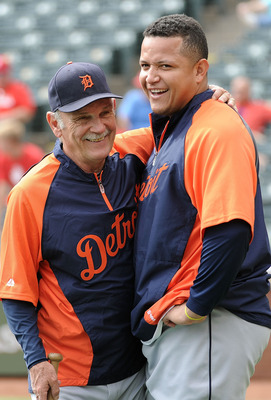 Harry How/Getty Images
Believe it or not, Leyland is beloved by his players.
He looks like a tough guy on camera, but his players would go to the end of the Earth for him.
In the clubhouse, Leyland is much more mellow than the public sees. He's often caught joking around, collecting money on bets and exchanging stories with players.
He's taken in players who other teams didn't want to handle and fit them into a winning, drama-free puzzle.
Leyland always goes with his gut when making tough decisions, but is always honest with everyone. If he makes an unpopular move, he explains it with grace and remorse.
Last season, when he was forced to send down former outfielder Casper Wells to Triple-A Toledo, Leyland fought back tears when he explained the decision.
That's how he is, and unfortunately, most people don't get to see that side of him. In spite of that, he has an endearing personality that players fall in love with.
3. Makes the Right Moves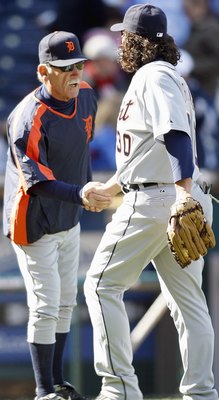 G. Newman Lowrance/Getty Images
Although he's made some questionable moves in his tenure in Detroit, at the end of the day, Leyland usually makes the correct move.
Curtis Granderson, Brandon Inge, Craig Monroe and Marcus Thames all had breakout seasons in Leyland's first year in Detroit.
Granderson got his first shot to play every day in center field for Leyland. He played 159 games in 2006, after only playing 47 games in 2003, and would eventually cement himself as an MVP-caliber player.
After the 2006 season, Leyland and Dombrowski traded three minor league pitchers to the New York Yankees in exchange for outfielder and designated hitter Gary Sheffield.
Sheffield fell out of favor with the Yankees and a wrist injury kept him out most of the 2006 season. He hit just six home runs and had 25 RBI his last year in New York, but in 2007 with the Tigers, Sheffield had very few problems with the media and in the clubhouse while hitting 25 home runs and racking up 75 RBI.
Leyland also helped acquire Miguel Cabrera in 2008.
Cabrera moved from playing primarily third base to manning first every day for the Tigers for four seasons. His numbers since the move speak for themselves.
He's parted ways with, and shut down former stars at the right time without creating drama, or a distraction in the clubhouse. He dealt with the declining careers of Magglio Ordonez and Pudge Rodriguez, and masterfully dealt with the Brandon Inge situation before too much damage was done on either side.
Leyland always makes the tough decisions, and those decisions often draw ire from the fans. He is an old-school manager who goes with his gut and always makes decisions in the best interest of the team.
And while he's not perfect and makes an occasional mistake like any red-blooded human, he owns up to his mistakes and never throws his players under the bus.
But more often than not, Leyland pushes the right buttons.
4. His Proven Resume
Jonathan Daniel/Getty Images
Leyland has proven his worth as a successful MLB manager.
In 1986, Leyland made his managerial debut with a Pittsburgh Pirates team which hadn't been to the playoffs in seven seasons, and finished last in the division back-to-back years before Leyland's arrival.
He struggled during his first season in Pittsburgh, going 64-98, but rebounded in 1987, going 80-82, and by 1990, Leyland had the Pirates back in the postseason.
Pittsburgh advanced to three consecutive NLCS' from 1990 through 1992, but couldn't advance to the World Series.
His team averaged 96 wins over those three seasons, and Leyland was named Manager of the Year in 1990 and 1992, and was the runner-up in 1988 for his effort in the team's turnaround, and again in 1991.
He became the manager of the Florida Marlins in 1997, and in his first year at the helm in Florida went 92-70 and won the World Series.
He struggled through a tough season the next year in Florida and moved on to manage one year for the Colorado Rockies before making his way to Detroit.
But he did it again with the Tigers, advancing to the World Series in his first season.
Leyland's teams are resilient and stubborn, just like their manager, and they always seems to bounce back. His resume speaks for itself. He's a proven winner, and can handle a rough stretch, because he's been there before.
5. Nobody Else Better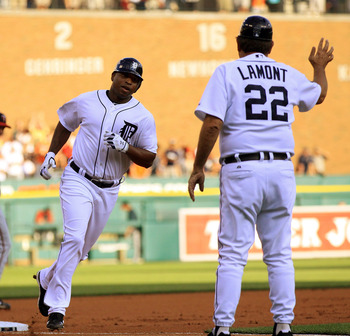 Dave Reginek/Getty Images
If the Tigers fire Leyland, who is there to turn to?
Lloyd McClendon, the Tigers hitting coach who becomes the acting manager when Leyland gets thrown out of games, has a hotter seat than Leyland.
His offense has badly underachieved this season, and fans want him gone first.
So, internally, the only other option is third base coach Gene Lamont. But I just don't see Lamont as a suitable replacement, especially given the type of team the Tigers are.
Lamont was one of the final candidates up for the open Boston Red Sox managerial job this offseason, but the job went to Bobby Valentine.
That should be enough of a red flag.
We've seen the job Valentine has done with the Red Sox so far this season. The Sox are in last place in the AL East and have been a disaster on the field and in the media.
Lamont doesn't seem like he could handle running this Tigers team. He's not even in charge when Leyland gets tossed now.
Which begs the question, then who else?
There doesn't seem to be any names floating around of any suitable manager who's recently retired and looking to get back in the major leagues. I don't know of anyone else who's a bench coach, a hitting coach, or a pitching coach that could take over this team and do a better job with the pieces that Leyland has done and will do.
Leyland knows his team, will go to bat for his team and will eventually start winning with this team.
6. His Passion
Leon Halip/Getty Images
Leyland has a passion for the game unlike many other managers in MLB history.
Some managers were more outspoken and provided more entertaining on-field rants, but Leyland truly cares about his players, his team, the league and the game.
He is a players manager, but knows it's a business and finds a unique way to intertwine the personal side of the game with the business side, while he is making it all work.
Although his rants don't measure up to Ozzie Guillen, Bobby Cox, Lou Pinella and some of the other managers who made the highlight reel kicking dirt and throwing bases, Leyland holds his own.
Would you want to be on the wrong side of a call in a Tigers game?
But unlike the others listed above, Leyland never makes the game about him, and his arguments are never contrived.
He takes all the blame when something goes wrong and deflects the credit when he presses the right buttons.
At the end of the day, he wants to win games, the right way.
Keep Reading

Detroit Tigers: Like this team?