2012 NCAA Football: Oregon Ducks Recruiting off to a Great Start
May 23, 2012

While some people would argue that defense wins championships, one thing that's even more true in the world of college football is the fact that champions win recruiting.
For the Oregon Ducks coming off their first Rose Bowl championship since 1917, the feeling that the program has finally turned a corner has never been more evident. With a BCS victory now under their belt the Oregon coaches have hit the recruiting trail hard in search of the top prospects in the class of 2013.
To get things going the Ducks have already received commitments from two high school athletes, Thomas Tyner and Evan Voeller, both of whom hail from the Portland area.
Having committed to the Ducks in November of 2011, Tyner will likely remain the class headliner regardless of who else Oregon can attract to Eugene. Ranked as the No. 9 prospect in the country by Rivals and the No. 20 prospect by Scout, Tyner is a five-star recruit through and through.
At 6'0", 200 pounds Tyner may be built like a bruising running back but his track numbers tell a completely different story. After taking second place in the 100 meters as a freshman, Tyner broke the state record four times as a sophomore—including a mark of 10.35 seconds which would have placed him fifth at this year's Pac-12 Championships.
So put Tyner's size and speed together and it's clear that Oregon has everything they could hope for in a running back just waiting in the wings. Having seen Tyner play at Aloha High School once before, his ability to both run through arm tackles and then leave defenders in the dust is like no prep athlete I had ever seen before. It's no wonder he led his team to a state title as a sophomore.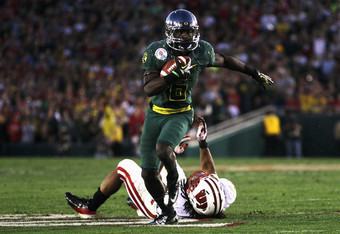 The second commit for Oregon is Voeller, a four-star offensive lineman from West Linn High School. The 6'5", 285 pound Voeller is a major coup for Oregon—a school that has surprisingly struggled to recruit within its own state at times in the past few years.
While Tyner doesn't necessarily fill a massive need for the Ducks, Voeller's signing is much more practical with the graduations of Carson York, Nick Cody and Ryan Clanton.
In total the Ducks are projected to lose a total of 16 players to graduation this offseason, meaning they have quite a few more scholarships left to hand out. Given the Rose Bowl victory, it's actually the class of 2013 and not 2012 that benefits most from that success since coaches will have the entire recruiting cycle to remind players of their success.
One position in particular that I expect the Ducks will aggressively pursue is linebacker. With just one linebacker in their 2012 class, Oregon will graduate two starters next year in Kiko Alonso and Michael Clay. While there are plenty of capable backups roaming the sidelines the infusion of new talent will be desperately needed come 2013.
One name to keep an eye on in the class of 2013 is Michael Hutchings, a five-star linebacker from De La Salle High School in the Bay Area. Hutchings has reportedly expressed some interest in the Ducks and has already narrowed his school list down to 12.
With Oregon's track record of successful linebackers both collegiately and professionally (Spencer Paysinger, Casey Matthews, Kiko Alonso and Michael Clay), it's safe to say that Oregon will have an impressive package to offer any high school linebacker.
As for some other positions that the Ducks are sure to target during the season, keep your eye out for cornerbacks and a couple more offensive lineman.
In 2012 the Ducks attracted just one cornerback—three-star Stephen Amoako—probably due to their abundant youth at the position. Now starting two sophomores at cornerback, the Ducks will need to begin finding some youngsters who can come in and learn the ropes before before being called upon in crunch time.
Unfortunately for the Ducks it doesn't appear as if any high-profile corners have expressed interest, but that doesn't mean that it will be the case until signing day. At the moment there are a bevy of three-star players who have Oregon on their short list, and we can't forget that the Ducks used to build their program with three-star recruits.
On the offensive line, the story is a bit different.
Among the offensive linemen that Scout.com indicates have expressed some interest in the Ducks are a number of four-star recruits. The two top names on the list are Nico Falah from Bellflower, Calif. and Tyrone Crowder from Rockingham, N.C.
Falah is listed as the No. 3 tackle in the class of 2013 and Crowder is listed as the No. 3 Guard. As we mentioned above, the Ducks failed to recruit a strong class of offensive linemen last year and a duo like Falah and Crowder would go a long way in suppressing some fears.
So as the countdown to signing day 2013 begins, the feeling amongst Oregon Duck fans is one of more confidence than ever. With flashy uniforms, an exciting brand of football, three straight conference championships, and now a Rose Bowl Championship, the Oregon football program is as attractive as ever—leading many to believe 2013 could bring the best recruiting class in school history.