WWE: The Top Five Feuds the WWE Universe Wants to See
The WWE Universe has been spoiled in the past year with some great feuds and some five-star-caliber matches. Now, while the WWE seems to be at a high point since last year, some fans still think that the company can do better with their storylines and feuds. I believe it's true, as there are so many great feuds the WWE needs to capitalize on and use over the summer and into the fall run of the calendar.
This list counts down the top five feuds that I believe the WWE Universe wants to see happen. I feel like this is a list that will make wrestling fans excited because each feud is something fresh and is something that fans will want to see, either for the epic promos or classic matches.
I feel the readers here on the B/R website should have some say in the list as well, so I would like to ask that readers please leave a comment, in the box after the article, describing how you feel about the list and maybe to place your own list below.
So without further ado, these are indeed the top five feuds that the WWE Universe wants to see.
Begin Slideshow

»
These two men have battled before inside of the ring but imagine a feud between these two for the WWE Title.
Now, this feud has seen a few in-ring battles, but we haven't seen anything serious from these two. CM Punk has been the WWE Champion since November of last year, and during that time, he has defeated five former world champions in one-on-one matches to retain the title. While that's an impressive stat, CM Punk has never been placed in a title match against Tensai.
Since re-debuting in the WWE back in April, Tensai has been a wrecking machine inside the ring while not speaking very much. This man has also been excellent inside the ring while not having a loss to his record since April.
Now, Tensai has been in several squash matches against sub-par talent, but he has also defeated some main-event players like John Cena and CM Punk. While he continues to be pushed as one of the top heels on RAW, the fact is that he won't be seen as such until he goes after the WWE Title.
I feel that fans will want to see this feud because CM Punk has not been tested against a talent the size of Tensai, while Tensai has never been given an opportunity in his long career to compete for the WWE Title in a high-profile feud such as this would be. I feel that both men would have something to prove in this feud, and thus, would be able to have a quality match for the WWE Title.
The best way to book such a feud would be to have them battle for the WWE Title and have them collide at SummerSlam in an Extreme Rules match. This sort of stipulation would allow both men to prove their toughness by using weapons and would also allow a quality balance of wrestling in the match.
If the conditions are right, then this feud could be a money-maker for the WWE and could further establish CM Punk as the best wrestler in the world today.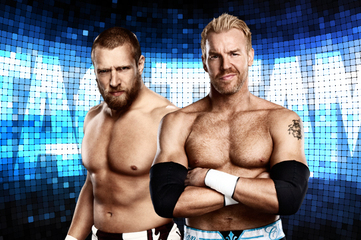 These two men are former world champions in various companies, but we have never seen these two do battle in a feud. Just imagine the hype that could be around this one.
Christian made his long-awaited return to the WWE at Over The Limit, where he won a battle royal and then on the same night, defeated Cody Rhodes to become the new I.C. champion. The return has sparked some serious spark into Christian, as he also made his return to being a babyface.
With Christian being a babyface, that allows him to feud with some top heels in the company, and there is no better heel to work with than Daniel Bryan.
Daniel Bryan is still engaged in a main event feud with CM Punk at this time, but many fans figure that Punk will come out on top in that feud, so Bryan must be able rebound in a very strong way in order to not fall into mid-card hell like former NXT coach The Miz.
This would be the perfect way to keep Bryan on television each week, and it would allow both men to bring some more prestige to the IC title by having classic matches for the title.
If this feud does happen, then fans will be split because both men are very excellent inside of the ring on the microphone, so this could be the opportunity for WWE to allow the IC Title to gain some exposure and be contended for on a weekly basis.
I think that the WWE will go with this feud because it's a natural fit between those two, and it could be a great way to preview the Money In The Bank pay-per-view event. I think that it's a great idea to allow these guys to wage war on each other and be able to bring some new viewers to Smackdown each and every week—the WWE has to take advantage of this potential feud.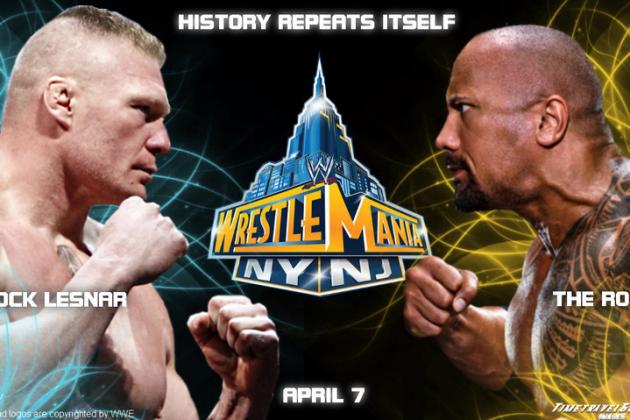 Could WresteMania 29 be the place for these two legends to do battle yet again?
Back in 2002, Brock Lesnar was getting his main event pushed by the WWE because he was viewed as the top guy to lead the company into a new era of pro wrestling. The Rock was still seen by many as the top guy in the WWE, as he was the undisputed champion, but at SummerSlam of that year, everything would change in a big way.
Lesnar defeated The Rock in a classic match for the title and was pushed to the moon until he quit the company in March of 2004. The Rock, meanwhile, made a few runs in the WWE, but decided to put his main focus towards becoming a movie star.
These two men made huge impacts outside of the WWE, but this past year, both men made their return to the company that gave them their starting point.
The Rock has vowed to again become WWE Champion, while Lesnar has accepted the role as the ass-kicking machine that he once was in the UFC, Now while there are many men that deserve to main event WrestleMania 29, I feel that The Rock and Lesnar could be the perfect match for the billing.
Both men are still immensely popular in pop culture, so this match would not only have the attention of the WWE Universe, but it would have mainstream television coverage as well. This move would drive sales up for the event, and it would get the WWE some much-needed exposure at this point in time.
I don't know if those two can put up a five-star match like they did in 2002, but what I do know is that they will have the fans very excited, and they will get the main focus each and every week until WrestleMania 29 (if they are allowed to compete for the WWE title). I think fans want to see this match, and if they indeed get it at WrestleMania, expect some fireworks to come out of that feud.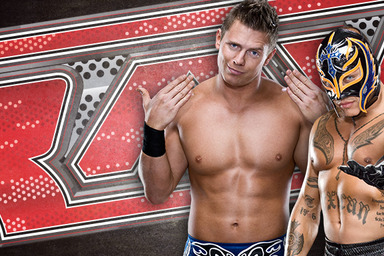 These two superstars aren't well-regarded by the WWE management at this time. The best way to get the most out of these two now is to have a feud between them—and demand great matches or else fire them.
Every person knows that there is the so-called "doghouse" that we all are in—either at work or at home. It's just a fact of life. There are two superstars now that have made the doghouse their personal hotel as of late, and that would be The Miz and Rey Mysterio.
The Miz has been put down by many superstars for his backstage antics and attitude towards the industry.
The Miz has also been buried by the WWE because of the poor ratings for his WWE title reign and for his role at Survivor Series last November. All of those facts have indeed molded Miz into a jobber now, and the fans are tired of seeing Miz being buried.
Another former WWE champion has been dogged by the WWE, but for a completely opposite reason. Rey Mysterio recently failed a drug test and was suspended for 60 days by the WWE. He was also notified by Vince McMahon that he would not receive a major push for his return to the company.
With both men being viewed poorly by WWE management, it would make sense to place these two former champions in a feud against each other. I think that both men can make their matches look good, and they can bring back some credibility to their characters.
I think the fans would also like to see these two battle in the ring because they are complete opposites in and outside of the ring. The old saying is that opposites attract—if this feud is done right, then that will be proven in a wonderful manner.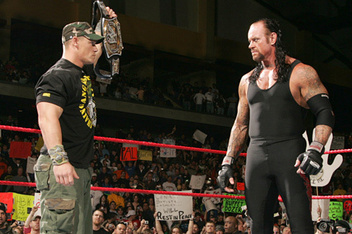 John Cena and The Undertaker are two of the biggest names of all-time, but they haven't feuded since 2003. This could be the main event of WrestleMania 29 and I believe it's the number one feud that the WWE Universe wants to see.
The Undertaker is now 20-0 at WrestleMania with his huge win over Triple H at WrestleMania 28 inside of Hell In A Cell. The Undertaker seems like he has done it all in his time as a WWE superstar by defeating the top guys the wrestling industry has ever seen like Hulk Hogan, Shawn Michaels, Triple H, Batista, Ric Flair, Randy Orton and Big Show. The list of fallen superstars reads like a who's who, but there is one superstar that Undertaker has never really gotten the chance to work with in a main event environment, and his name is John Cena.
John Cena has been the face of the WWE since 2005, and during his run as champion and media darling, he has defeated all of the top superstars the WWE has had to offer. The list includes guys like CM Punk, Triple H, Shawn Michaels, Randy Orton, Alberto Del Rio, The Miz and Chris Jericho.
Cena had a WWE title reign that lasted 13 months before being stripped of the title due to injury. Over the span of his career, Cena has always been viewed as the champion of children and viewed as big as guys like Stone Cold and The Rock, but the one guy that Cena has never gotten a chance to defeat in a high-profile situation is The Undertaker.
Now, both men feuded in 2003, but so much has changed since then most fans don't really remember the feud. I think the WWE Universe wants to see this feud for one main reason, and that is the streak. John Cena is the one guy that fans could realistically see ending the streak because of his track record in high profiled matches. If Undertaker could beat Cena, then he could then be brought up in the conversation of who is the greatest superstar of all-time.
I think this feud needs to happen at WrestleMania because it's a money-making match that could have everyone on the edge of their seats. John Cena and The Undertaker are two of the greatest superstars of all-time so to see these two battle at the grandest stage of them all would be memorable. It would be the match the WWE Universe would most want to see.