Danica Patrick: Will She Get "Racy" in the 2012 NASCAR Sprint Cup Series?
May 28, 2012

Jamie Squire/Getty Images
Danica Patrick faced one more grueling test of her mettle in her journey to achieve success at NASCAR's highest level. The Coca-Cola 600 was the longest race of her career, but she made it to the finish.
The driver of the No. 10 Chevrolet is the second woman to have driven at the 1.5-mile Charlotte Motor Speedway in the Cup series. This was the 53rd running of the Coca-Cola 600.
Janet Guthrie was the first woman to run at CMS back in 1976, when it was then known as the World 600.
There were many skeptics who doubted that a woman could compete on a high-speed, banked oval and have the endurance to run 600 miles. It had never been done before.
Guthrie qualified with a lap of 157.797, which secured the 27th-place slot in the 40-car field. Guthrie went on to finish the race with a finish of 15th place, 21 laps down to the winner, David Pearson.
Patrick was enthusiastic about the opportunity to run in the Coca-Cola 600. She was eager to build the history of female drivers at CMS during the 600-mile marathon.
Prior to the race, Patrick said, "I'm racing in the Coke 600, and that's a pretty darn big event. It's a new challenge. It's a big challenge."
She added, "I'm sure there are going to be some points in time I feel like it's going on forever, and that's because it is. But that's the fun of the Coke 600, lots of time to have fun."
Jerry Markland/Getty Images
While many drivers struggle to find sponsorship, Patrick has the ability to lure first-class sponsors.
She has just joined the Coca-Cola Racing family and will be the only one to represent Coke Zero with a multi-year contract.
This is the third race of the 10 NASCAR Sprint Cup races she is scheduled to run this season. She is simply trying to gain seat time, adapt to the faster cars and finish races.
She was criticized by many because she and her team were pleased with her performance at the Bojangles' Southern 500 at Darlington, despite finishing six laps down.
Patrick wasn't expected to mix it up with the lead drivers, make a lot of passes or finish in the lead lap. She was simply trying to get a feel for the car and do the best she could while staying out of trouble.
The driver of the No. 10 GoDaddy.com Chevrolet almost seemed lost coming in for the first green-flag pit stop. She nearly got punted by Marcos Ambrose, who was blocked by her car on pit road.
Even the influence of NASA pilot Doug Hurley, who piloted the final mission of space shuttle, Atlantis, could not speed up Patrick as he sat on her pit box for the race.
Hurley is the cousin of Nan Zipadelli, the wife of Patrick's race strategist, Greg Zipadelli.
She knows she needs seat time, but she is just riding around at the back of the field and doing little to enhance her ability to work traffic. If the Hendrick Motorsport powered car had any speed, we would never know it.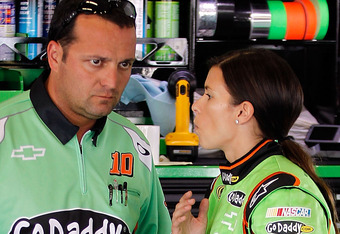 Streeter Lecka/Getty Images
Zipadelli stated, "This is a tough racetrack and a tough race. We needed to start the race tight just to be conservative, and we started the race a little too tight at the beginning. But we didn't make any big mistakes."
Zipadelli continued, "Obviously, we'd all like to be a couple positions further up, maybe 25th or 26th, something like that. That would be a big success when you look at all the people who were back there."
The 600-mile event at Charlotte Motor Speedway tested Patrick's endurance. We saw she could not finish better than Guthrie did in 1976, but at least she wasn't 21 laps down.
Patrick had a little damage to the left rear of the car, but she finished the race in 30th position, five laps down. She seems to have mastered cruise control, though she had her hands full a few times.
The GoDaddy.com girl is learning that driving a Cup car is difficult. Finishing a race is a fair goal, but so is becoming a bit competitive. Zipadelli is pleased with her continuing education.
With only seven attempts in NASCAR's premier series left for Patrick this year before her scheduled full-time run in Cup for 2013, it leads one to wonder if we will ever see her get a little "racy" this season.
Quotes were obtained courtesy of official press releases.