NBA Rumors: N.Y. Knicks Must Prepare for J.R. Smith to Become Free Agent
May 23, 2012

Jeff Zelevansky/Getty Images
When the New York Knicks acquired J.R. Smith around mid-season, they had modest expectations. After all, at the time the Knicks were deep team and there would only be so many minutes available for Smith. 
Of course, injuries sure can change the manner in which minutes are doled out. 
Jeremy Lin got hurt, Baron Davis battled on-and-off injuries until the playoffs, where he suffered what may be a career-ending knee injury. Iman Shumpert also had some nagging injuries and then in the playoffs, he also succumbed to a major knee injury.
By the time the Knicks' season was over, Smith—who averaged 27 minutes a game in the regular season off the bench—was averaging 35 minutes per contest. His role had transformed from that of a nice addition to the team to an essential cog in the rotation.
Now, he might be headed out of town. Smith has a player option for the 2012-2013 season. It's a one-year option that would pay him $2.5 million. That's not chump change, but as a free agent who possesses the ability to knock down three-pointers in bunches as well as throw down highlight reel dunks, Smith could probably get a deal with more money and more years on the open market.
It's by no means a foregone conclusion that Smith is headed out of town. While cleaning out his locker after the season had concluded, he had this to say about the prospect of leaving New York.
"Without a doubt, hands down, I wouldn't want to play anywhere else,'' Smith said on Trash-Bag Day Thursday. "It's the greatest place to play. It's the greatest city in the world. This is my ultimate home.'- J.R. Smith via The New York Post 
Of course, should another team make a sizable offer with multiple years then that sentiment would probably be pushed by the wayside quickly. The Knicks don't need to start shopping yet, but they do need to prepare to start the 2012-2013 season without Smith. 
Smith's role on the team is an issue as well. Could he start on another team? It's debatable that starting Smith would be a wise move, but there are probably some teams that would give him a shot.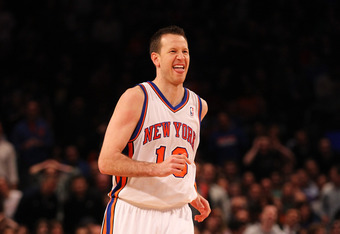 Al Bello/Getty Images
That won't happen in New York. If the Knicks retain Jeremy Lin then he'll start at point guard and if they don't then they will go out and acquire someone not named "J.R. Smith" to man the point guard position. 
Unfortunately for Smith, he is a man without a position. He's too short to be a solid defensive shooting guard and yet he is too prone to shooting to be a competent point guard. He could easily be a valued contributor off the bench in New York. Steve Novak is likely to depart via free agency and that would leave Smith as the primary off the bench shooter.
The issue will be one of what Smith actually wants versus what he says he wants and of course, what other teams are willing to pay him.
There are reasons to think Smith will return in a Knicks uniform, but New York's upper management needs to be prepared for his departure as well.