MLB Draft 2012: CC Sabathia and Coolest Picks to Represent Clubs on Draft Day
May 22, 2012

Mike Stobe/Getty Images
Kudos to Major League Baseball for doing its part to make the MLB Draft a spectacle worth watching.
While baseball's affair, which goes 40 rounds deep (plus compensatory picks), still has a ways to go to (though it might never) catch up to similar events staged by the NFL, the NBA and the NHL, it's certainly made all the more interesting by having teams invite players and figures, past and present, to serve as representatives.
You can find the full list here, though these three baseball luminaries figure to be among the biggest names on hand for the festivities in Secaucus, New Jersey on June 4.
CC Sabathia
CC Sabathia will surely stand out among the crowd of legends at the draft, and not just because he's 6'7" and nearly 300 pounds.
Though those measurements certainly make him tough to miss.
More importantly, the New York Yankees ace will be the only active player in attendance. It certainly helps that his team plays just across the Hudson River from Secaucus and that he, as a pitcher, only has to partake in a live game once every five days.
Still, having a lefty stopper and a former AL Cy Young winner (not to mention the 20th-overall pick in the 1998 draft) gives the Bronx Bombers a nice dose of swagger to balance out Tim McIntosh's anonymity.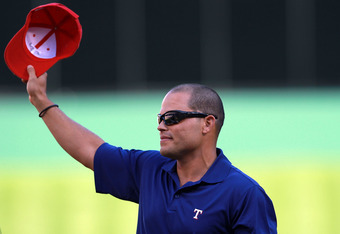 Ronald Martinez/Getty Images
Apparently, the Texas Rangers couldn't convince Nolan Ryan (who owns the frickin' team, by the way) to represent the ball club at the draft, but they deserve some props for doing the next best thing—inviting two of the best catchers in franchise history.
Nowadays, few will recall Jim Sundberg, who was twice an All-Star and won six Gold Gloves while with the Rangers.
Though even fewer can forget the great Ivan Rodriguez, who will accompany Sundberg on Texas' behalf at the draft. Pudge was elected to the All-Star Game, was awarded the Gold Glove 10 times apiece and was once named the AL MVP during his time in Texas.
Rodriguez went on to win the World Series in 2003, immediately after leaving the Rangers.
Ironically enough, Pudge was never drafted, having instead come through the minors and up to the big leagues after signing with the Rangers out of Puerto Rico at the tender age of 16.
Frank Robinson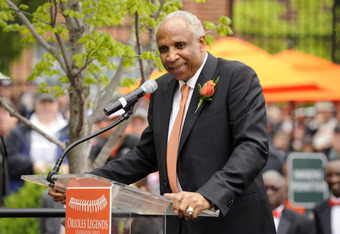 Mitchell Layton/Getty Images
Frank Robinson won't have the privilege of calling in picks for the Cincinnati Reds or the Baltimore Orioles, with whom he spent the most prominent years of his illustrious playing career.
Instead, the Hall-of-Fame outfielder and former manager will stand in for the Office of the Commissioner, alongside fellow player/manager Joe Torre.
Not bad for a guy who still ranks ninth all-time in career home runs and will forever be known as one of the true pioneers of the game, carrying Jackie Robinson's torch for African-American ballplayers everywhere.